This page contains archived information and may not display perfectly
FIA F3 World Cup Macau Grand Prix Preview
Reviving rivalries from around the globe, the FIA F3 World Cup draws the best ever field to the Macau Grand Prix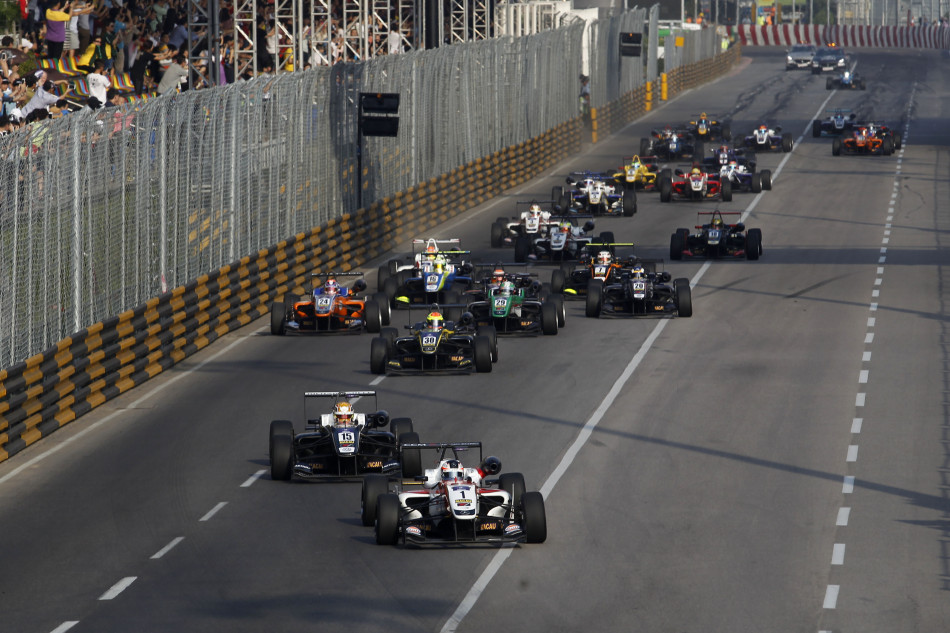 With F3's highest honours and motor sport history at stake, 29 of the world's finest open-wheel drivers are deep in preparation for the FIA F3 World Cup at the 63rd Macau Grand Prix.
New variables, including a change to a Pirelli control tyre and a selection of drivers who have not driven F3 this year, mean the 2016 edition will challenge a field that mixes seasoned veterans and promising debutantes at the infamous Circuito Da Guia.
High temperatures with cloud, a chance of rain and certain humidity are forecast for the race weekend, while daily reopening to city traffic will see circuit conditions vary by session. The track offers limited overtaking opportunities. Race craft will be on show with drafting expected to be a defining factor on high-speed waterfront stretches.
The Lisboa corner, slowing from the main straight's 275km/h peak into a hard-right hand turn, will see the lion's share of overtaking.  
Swedish driver Felix Rosenqvist is on form. With pole position and a third outright at Formula E in Marrakesh just last weekend, The Prema Powerteam member has raced in six Macau Grands Prix with two wins. One of only two drivers (Edoardo Mortara is the other) to win consecutive F3 Macau Grands Prix, the Swede challenges for a triple title, and the first FIA F3 World Cup.
"I am certainly among the most experienced in the field… How that affects things remains to be seen, but I'm going into it aiming for victory," said Rosenqvist.
"Having won the race two times, I can only really have one goal going into it this year, but I also know how treacherous it can be. There are so many things that can go wrong in Macau, and you need that little bit of luck along the way if you're going to win it.
"Frontrunners from the FIA F3 European Championship are there, as are the top Japanese guys and some other exciting talents. Alexander Sims has been around for a long time and was on the podium in Macau last year, so he should be quick.
"Then of course there's Dani Juncadella and António Félix da Costa, two other previous winners and really good friends of mine. We had so much fun in testing and I know they will want to beat me just as much as I want to beat them!"
Trading friendly barbs on social media, four Macau Grand Prix podiums are shared among the trio of Rosenqvist (2014, 2016), Juncadella (2012) and Da Costa (2011).
Da Costa was excited at the chance to reprise what he considers the highest achievement of his career.
"My F3 experience is a little bit limited but the team is giving me good preparation. There are a lot of young kids who are super quick from the European series and the Japanese championship. Going back with Dani and Felix will be cool. We have our little internal competition. In the end I am going there to win it, but I would be happy with a top five result."
Da Costa believes his Formula E street circuit experience will give him an edge, despite lacking the F3 credentials of other drivers.
"You learn how to approach it and deal with bumps… I am older now. I know more and I have seen more. In that area you have an advantage over a 15 or 16-year old kid."
Guia circuit lap record holder Sergio Sette Camara rejoins the F3 fray with demonstrated pace at the circuit. The Portuguese Formula E driver told Chequered Flag that his second outing on Guia would see familiarity make the difference.
"Last year was my first time in Macau; I was very competitive through the weekend and scored the lap record of the circuit," Sette Camara said.
"This year I carry the experience with me, and I am racing with such a successful team like Carlin, powered with the Volkswagen Spiess engines which always perform well! I'm feeling very confident with that package."
At the opposite end of Macau experience, FIA European F3 Championship fifth place-getter, Rookie Champion and Masters of F3 winner Joel Erikson will take his first steps in Macau.
"It's the most difficult track in F3, and possibly in all of racing. They say it takes a lot of laps to master. For me, it will be about racking up as many laps as possible in practice and qualifying on Thursday, learning the track, and then going for it from Friday. Staying out of the barriers will be important.
"To begin with, I'd like to lead the way among the first-timers, and then we'll take it from there," Eriksson said.
FIA F3 European Championship drivers are not the only threat on the grid, with 1st, 2nd and 3rd from the tightly contested All-Japan F3 Championship out to challenge continental favourites.
Toyota TOM's entrant Kenta Yamashita, 21, who sealed the All Japan F3 title at the season finale, will resume competition against main rival British B-Max driver Jann Mardenborough on the streets of Macau. It will be Yamashita's third appearance at Macau, and the first for 25-year-old Mardenborough.
The 63rd Macau Grand Prix begins on Thursday 17 November, with the FIA F3 World Cup race to take place on Sunday 20 November. The FIA will host a livestream of the race, with a full race schedule, driver facts and circuit details available here.