FIA AND ITS MEMBERS ADVOCATE FOR ROAD SAFETY IN VIETNAM
On 19 March, FIA President Jean Todt took part in the launch event of the #3500LIVES Global Road Safety Campaign organised in Hanoi by the Vietnamese Motorsport Association (VMA).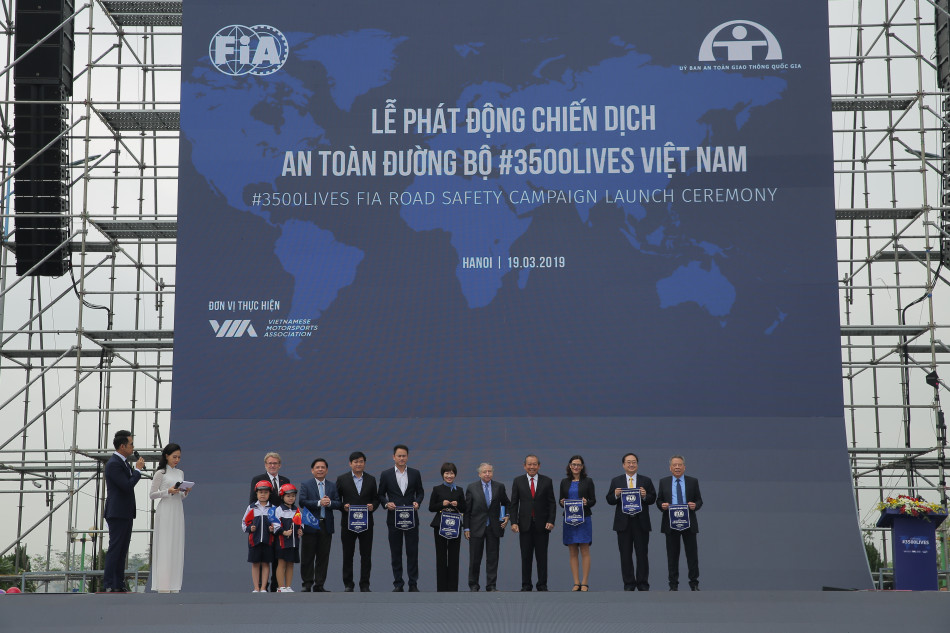 In Vietnam, 95% of vehicles are two-wheelers. More than 8,000 people die yearly in road crashes and, according to the World Health Organization, the real number is estimated to be up to 3 times higher. Most of the victims are motorcyclists, cyclists and pedestrians, the most vulnerable road users.
The #3500LIVES launch ceremony gathered key road safety stakeholders. Deputy Prime Minister Mr. Truong Hoa Binh, who is also the Chairman of the National Traffic Safety Committee, encouraged the audience to participate in the #3500LIVES Campaign and take action for Road Safety in Vietnam.
FIA President Jean Todt started his speech by thanking VMA CEO Mrs Nguyen Thi Quy Phuong for organising this Road Safety event. He also greeted Greig Craft, President of the Automobile Association of Vietnam and of the Asia Injury Prevention Foundation (AIP Foundation), which works in partnership with local governments and communities around the world to address the road safety issue.
FIA President then gave a general overview of the #3500LIVES Campaign: "The #3500LIVES Campaign draws attention to the major risk factors on the road and calls on all road users to behave responsibly, and I am pleased to see that FIA Members have collaborated to help promoting these messages here in Vietnam. The Campaign is the first ever worldwide road safety publicity initiative of this scale and has already been displayed in more than 80 countries and now it will also be displayed across Vietnam." He concluded his speech by insisting on the fact that "every child and every person should have the right to move safely."
During his visit to Vietnam and in his capacity as United Nations Secretary-General's Special Envoy for Road Safety, Jean Todt also had the opportunity to meet with Minister of Transport Mr. Nguyen Van The and welcomed the commitments from the Deputy Prime Minister and NGO sector on tackling the road safety challenge.