F4 - U.S. Championship vets feeling the pressure from improving series rookies
26 rookie drivers are vying to make their mark in the second season of the F4 U.S. Championship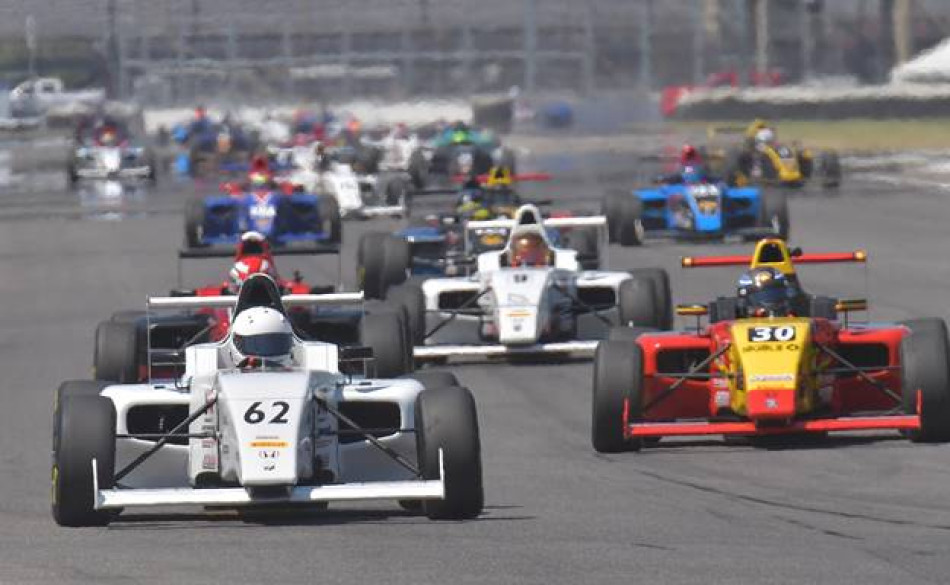 The 26 Formula 4 United States Championship Powered by Honda rookies have pressured the veteran series drivers since the season debut at Homestead-Miami Speedway, and with individual race entries from competitors like Braden Eves from Gahanna, Ohio, and Flinn Lazier of Veil, Colorado, swooping in, grabbing valuable points from championship contenders, each remaining round becomes more critical for the season-two drivers to capture the 2017 championship.
Rookie pilots like Timo Reger of San Antonio and Ben Waddell of Denver have been crucial point earners for their second-place JDX Racing team. Other rookies like Jacob Loomis of Corinth, Texas, and Mathias Soler-Obel of Bogota, Colombia, have also consistently finished in the top-10 and hold positions in the top-five standings. Advancing to the mid-season event at Mid-Ohio Sports Car Course, the vets additionally must worry about rookie drivers who have improved from the first round.
"The more time our F4 U.S. rookies have in the seat, the better they are becoming," SCCA Pro Racing Vice President Steve Oseth said. "These drivers will soon enough find themselves competing for race wins, placing even more pressure on veteran drivers like Kyle Kirkwood and Raphael Forcier."
Jordan Sherratt of Durban, South Africa, Brendon Leitch of Invercargill, New Zealand, Jonathan Scarallo of Smithtown, New York, Austin McCusker of Glen Head, New York, and John Paul Southern Jr. of Westlake, Ohio, have shown vast improvement since the beginning of the season.
Sherratt joined F4 U.S. straight out of karts. After receiving a disqualification in his first F4 U.S. qualifying session at Homestead-Miami Speedway due to improper ride height, Sherratt was forced to start from 33rd place in the opening race. The set-back didn't stop the young Crosslink Racing pilot from proving himself, passing 26 cars to finish seventh. His success in Round 1 was tempered by a first-lap shunt that ended his race in Round 2. The misfortune forced him to start from the back of the field for the last round. Again, Sherratt showed true promise, cleanly passing cars one by one to finish the race P15. The incredible two-race performance earned Sheratt the title for the most forward position changes in a weekend in F4 U.S. history and the inaugural recipient of the JRi Shocks Hard Charger Award.  At Indianapolis Motor Speedway, Sherrtt finished just outside of the top-10 in the first two races but rallied to close out the weekend for points in the final round. Sherratt mastered the flat-out turns and elevation changes early at Canadian Tire Motorsports Park, turning his fastest times of the season. Driving the No. 37 Tiffany-blue Crosslink Racing car, Sherratt completed the event with a P6 and two top-five finishes. The points produced at CTMP shot Sherratt forward in the standings from 15th to eighth place.
"Jordan is a terrific bit of talent. He immediately showed speed but early season penalties really hindered our finishes the first couple events," said Crosslink Motorsports team owner Patrick Flynn. "From the first race to the last race at CTMP, Jordan's biggest improvement has been patience. In karting, the races are 10 minutes max. He has had to learn to be more patient and just let the race come to him. We focus on each event individually to maximize his race potential and our results from hard work are starting to show. Fans can expect to see Jordan on the podium very soon."
Leitch signed with Kiwi Motorsport just 10 days before the 2017 F4 U.S. season began. His first time driving the Crawford F4-16 car was during practice at Homestead-Miami Speedway. The 21-year-old Kiwi finished his stateside-debut weekend with a triple-round of 12th place finishes. The second F4 U.S. event at IMS was a bit problematic for Leitch. Leitch qualified 21st to start the first race, and quickly recovered nine positions before a full-course yellow flag emerged. The field ended Race 1 under yellow conditions, which ended Leitch's progress, placing him once again in P12. His fast time in the first race yielded a third-row start for Race 2, however, mechanical issues in the final minutes caused Leitch to drop from fourth-place to completing the race one lap down. After recovering from mechanical issues, the team rallied in the final round at IMS to finish mid-pack. Leitch's shining moment so far this season was at CTMP after his single-car Kiwi Motorsport team added a second car to its line-up, piloted by 2015 Team USA Scholarship recipient Dakota Dickerson of San Diego. The new addition fueled a friendly competition between the two drivers, and Leitch scored his first points of the season with two top-10 finishes.
"My confidence in the car has grown so much since the first race at Homestead," Leitch said. "I was driving the car more like my Toyota Racing Series car and after some testing during our break, I found out that was improper. Adding Dakota to the team has also helped with my confidence behind the wheel. Dakota has a lot of experience driving open-wheel cars and we have been able to share information with each other. Having the extra car has also helped our team to make minor tweaks in my set-up. It's been a learning experience so far but as the season progresses, I am positive that I'll make it to the podium."
Scarallo has perfected the art of overtaking in the F4 U.S. car. Since the season-opener, the Group-A Racing standout has accumulated 62 passes, the most of any F4 U.S. driver. His efforts even earned him the JRi Shocks Hard Charger award at CTMP. Scarollo's rookie F4 U.S. campaign has had some rocky moments with a disqualification at IMS after failing post-race tech which forfeited his first podium finish, and a DNF at CTMP from an off-track excursion. However, his skills on rolling restarts and finding openings to better position himself on the standing starts have provided spectators with exciting race-action. With efforts from his team, Scarallo is studying every detail to reclaim his spot on the podium.
"My team and I have extensively studied the car, engineering and driving this season, looking at every opportunity for improvement," Scarallo said. "The field this year is so competitive that a hundredth of a second can make all the difference in qualifying. While I haven't raced a car for nearly five years, my experience still supersedes a lot of the other rookies. I have been a student of the sport all my life which has produced a high attention to detail. This helps me make up spots on the grid. Building momentum, builds confidence to pass repeatedly. Group-A will definitely be back on the podium this season."
McCusker and Southern have also exhibited improvement in speed and stamina since the beginning of the season. Both put their first points on the board at CTMP, conquering one of the most difficult tracks on the F4 U.S. schedule this season. The pair have been testing, training and practicing on simulators to further advance their season progress.
The F4 U.S. Championship meets for its mid-season event at Mid-Ohio Sports Car Course in Lexington, Ohio, Aug. 10-12. Thirty-one drivers have entered, 20 of whom are rookies. Fans can view a full entry list and standings by visiting F4USChampionship.com.