F4 – Third season of Australian Championship starts this weekend at Sandown
EVENT PREVIEW – ROUNDS 1 & 2: SANDOWN RACEWAY, VICTORIA - FORMULA 4 DOES THE DOUBLE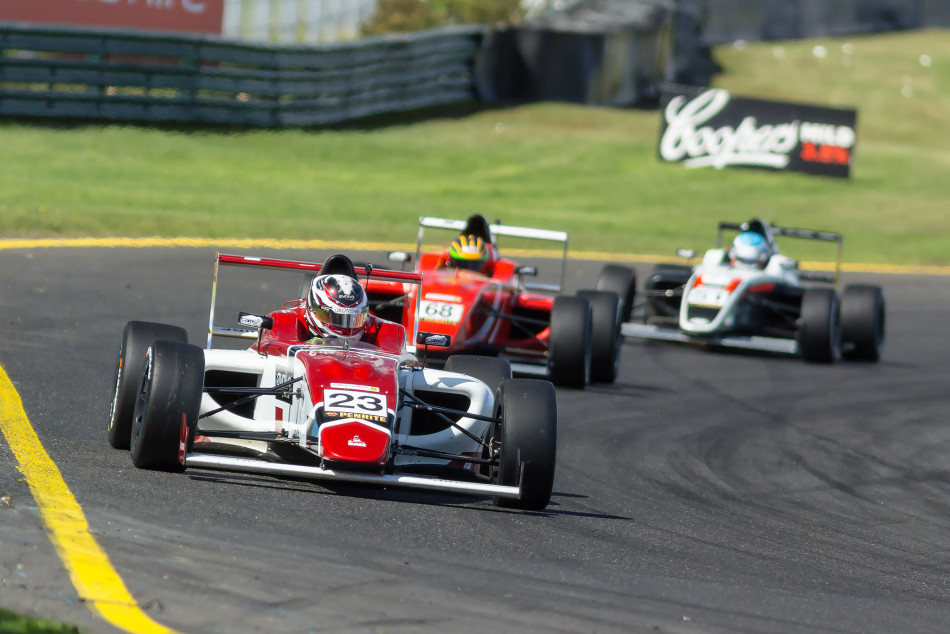 Now in its third season, the CAMS Jayco Australian Formula 4 Championship will host a double-round weekend for the first time here at the opening round of the Shannons Nationals at Sandown.
Australian Formula 4 is no stranger to Sandown, with crews last visiting the Victorian circuit last September as a support event to the Sandown 500.
Team BRM arrive at Sandown as the most successful squad, with the South Australian team claiming six out of six previous race wins at the circuit.
CAMS Foundation Rising Star Simon Fallon will take possession of Chassis #50, which has won both Championships and Sandown round wins – previously piloted by inaugural Champion Jordan Lloyd and 2016 Champion Will Brown.
Cameron Shields, who is no stranger to the Shannons Nationals after winning last year's Australian Formula 3 National Class title, and karting graduate Zane Morse are also representing the CAMS Foundation Rising Star at Team BRM.
South Australian Josh Denton has been retained by Team BRM for a second consecutive year after making his debut in the category in 2016. It is also the circuit where Denton claimed his first race win during Formula 4's last visit to Sandown.
Aaron Love, the brother of last year's 3rd place getter and 2017 Porsche GT3 Cup Challenge racer Jordan, will also make his circuit racing debut with Team BRM.
Finalising Team BRM's line-up is the recent addition of New Zealander Liam Lawson, who is the reigning New Zealand Formula Ford Champion.
After finishing 2nd in last year's championship with Nick Rowe, the West Australian racer and AGI Sport team will be aiming to go one better in 2017 as they expand to a four-car lineup.
Former Aussie Racing Car racers Harley Haber and Zak Best will make their Australian Formula 4 debut with AGI Sport, with Newcastle youngster Sage Murdoch also stepping up from state Formula Vee.
Having made their Australian Formula 4 debut in 2016, Victorian open-wheel specialists Junior Racing Development (JRD) will continue to foster fresh driving talent with Sydney's Jordan Mazzaroli graduating from karting. 
A new team also joins the Australian Formula 4 family in 2017, with Zagame Autosport fielding two cars for CAMS Foundation Rising Star Ryan Suhle and Dubbo teenager Tyler Everingham.
Further profiles and information on this year's racers can be found by visiting the news section of formula4.com.au or by following this link.
The drivers will enjoy an abundance of track time this weekend, with two rounds and six 30 minute races to be held across Saturday and Sunday. The cars will qualify twice on Friday to determine the opening races on Saturday and Sunday respectively.
Live streaming will be available via Nationals TV for Sunday only: http://www.thenationals.com.au
The CAMS Jayco Australian Formula 4 Championship will next visit Barbagallo in Western Australia on May 5–7 for Round 3, before returning to the Shannons Nationals as part of the Phillip Island weekend on May 26–28.
CAMS Foundation Rising Star
The CAMS Foundation has relaunched the Rising Star programme, having last appeared in 2013.
2016 Australian Formula 4 Rookie of the Year Simon Fallon and Australian F3 National Class Champion Cameron Shields have been selected as the programme's elite drivers, with Zane Morse and Ryan Suhle as the Rising Star's karting graduates.
"The CAMS Foundation has a great tradition in aiding the pathway for Australia's next generation of elite motor sport drivers," CAMS Foundation Chairman Valentina Stojanovska said.
"On behalf of the CAMS Foundation I would like to congratulate Simon, Cameron, Zane and Ryan on becoming a part of the new CAMS Foundation Rising Stars program."
The four drivers will receive a $50,000 scholarship loan from the CAMS Foundation to put together a racing programme to compete in the 2017 CAMS Jayco Australian Formula 4 Championship.
The CAMS Foundation has supported a multitude of aspiring Australian talent, with its alumni including James Courtney, Will Davison, Matthew Brabham, Macauley Jones, Jack LeBroq, Scott Pye, and most recently Joey Mawson.
"We were thrilled at the quality of candidates applying to be part of the next-generation CAMS Foundation Rising Stars platform," CAMS Foundation Director Mark Skaife said.
"We believe that our four selected race drivers are unquestionably talented, and it is with great anticipation that we look forward to working with them to improve them ­- both in and out of the car."
Entry List
#5 - Ryan Suhle (QLD) - Zagame Autosport (R) (CFRS)
#7 - Tyler Everingham (NSW) - Zagame Autosport
#11 - Zane Morse (ACT) - Team BRM (R) (CFRS)
#21 - Harley Haber (NSW) - AGI Sport
#27 - Simon Fallon (VIC) - Team BRM (CFRS)
#30 - Liam Lawson (NZ) - Team BRM
#44 - Sage Murdoch (NSW) - AGI Sport (R)
#61 - Jordan Mazzaroli (NSW) - JRD (R)
#73 - Cameron Shields (QLD) - Team BRM (CFRS)
#76 - Zakkary Best (VIC) - AGI Sport
#78 - Aaron Love (WA) - Team BRM (R)
#91 - Josh Denton (SA) - Team BRM
#97 - Nick Rowe (WA) - AGI Sport

Schedule
Friday 7 April
9:30 – 10:00: Practice 1
10:55 – 11:25: Practice 2
1:20 – 1:35: Qualfying 1
1:45 –  2:00: Qualifying 2 
Saturday 8 April (Round One)
9:10 – 9:40: Race One
11:35 – 12:05: Race Two
2:30 –  3:00: Race Three
Sunday 9 April (Round Two)
9:10 – 9:40: Race One
12:50 – 1:20: Race Two
3:40 – 4:10: Race Three
Graduates
Drivers from the 2015 and 2016 Championships have since graduated from Australian Formula 4 into other categories here and abroad. Reigning Champion Will Brown enjoyed a successful debut in the Super2 Series at the recent Clipsal 500, and is currently sixth in the immensely competitive championship.
Jack Smith will enjoy a busy 2017 juggling a Super2 and Kumho Series program with touring car specialists Brad Jones Racing.
Third in last year's championship, Jordan Love will feature in a Porsche GT3 Cup car this year after being awarded the Jamie Blakey Scholarship by Porsche Australia. Love's former teammate Brenton Grove will also feature in the GT3 Cup Challenge this year, following in his father Stephen Grove's footsteps into Porsche machinery.
Charismatic Sydney-sider Harry Hayek will return to Europe in 2017 to race in the BRDC British Formula 3 Championship, where fellow Australian Formula 4 colleague Thomas Randle finished fourth in last year's British Championship.
Randle will this year take part in the British LMP3 Cup Championship, and earlier this year became the first Australian to win New Zealand's Toyota Racing Series.
After previously racing both Australian and British Formula 4 Championships, Zane Goddard and Luis Leeds will step up to the Formula Renault 2.0 Eurocup Championship.