F4 - Das dominates season finale, crowned first U.S. Champion
Cameron Das swept the championship weekend (7-9 October) at Miami-Homestead Speedway to secure the inaugural Formula 4 United States Championship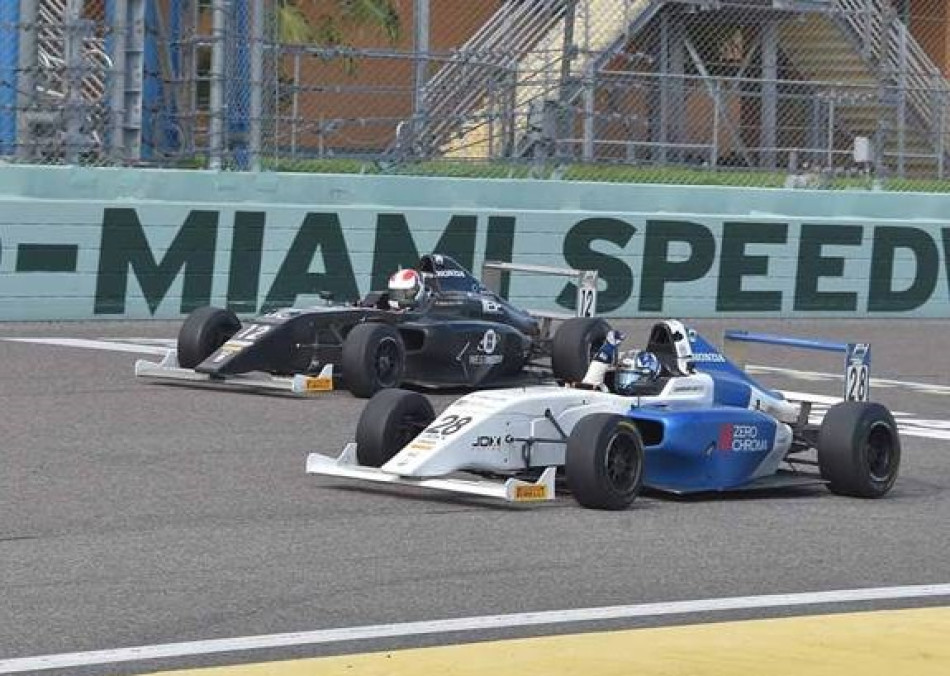 Despite Hurricane Matthew, the Formula 4 United States Championship Powered by Honda competitors battled each other at Homestead-Miami Speedway last weekend (7-9 October) for the chance to win the $25,000 championship grand prize.
Cameron Das of Brooklandville, Maryland, continued his winning streak during the first round of the F4 U.S. Championship weekend finale. Das captured his sixth consecutive checkered flag at Homestead-Miami, and has now won seven out of the last eight races. He leads the championship chase by 37 points over Konrad Czaczyk of Loxahatchee, Florida.
Das started on pole after qualifying with the fastest lap time earlier in the day. Jim Goughary Jr. of Jupiter, Florida, joined Das in the front row. Czazcyk and Skylar Robinson of Augusta, Georgia, would start from the second row.
When the green flag dropped, Das and Goughary shot from the standing grid. Czaczyk would lose momentum off the start line, allowing Robinson to pass. Going into Turn 1, Robinson and Goughary split Das with Goughary risking passing high on the outside bank and Robinson challenging the inside.
Das' car bogged down, allowing his competitors to pass. Goughary's high-risk, high-reward move would land him in position one.
"Cameron has a lot to lose here this weekend," Goughary said. "I knew if I passed him on the outside in Turn 1, he wouldn't make it very difficult on me, so I did, and it worked."
Goughary's black No. 11 Primus Racing car started to lose momentum in Lap 3 due to mechanical issues and he fell back to eighth place. Czaczyk took the lead with Skylar Robinson of Augusta, Georgia, in second and Kyle Kirkwood of Jupiter, Florida, in third. Das would fall to sixth.
Das and Goughary were determined not let early race complications stop them from placing on the podium. Both would make miraculous comebacks.
Das was patient as he picked of his fellow F4 U.S. competitors one-by-one until he had Czazcyk back in his sights. Midway through the session, Das used Czazcyk's draft to overtake him on the straight. Czazcyk tried to catch Das, but the blue and white ZeroChroma JDX Racing F4 car would not succumb its first-place position for the remainder of the race. 
"Konrad was pretty quick, and I knew it wasn't going to be easy to get rid of him," Das said. "My biggest advantage of him was that I improved my run out of the hairpin. This allowed me to gradually pull away for the win."
Goughary made his final move as the white flag was thrown. Drafting off Robinson, Goughary used lapped traffic as a pick to pass Robinson for the final podium position. 
Kirkwood, who finished the race fifth, combated mechanical issues throughout the race, which threw off his pace. He will start on the grid in tenth place for Race 2 on Sunday.
Series newcomers, Allan Miller of Indianapolis, Indiana, piloting No. 51 for Miller Vinatieri Motorsports and Brian Fowler of Cape Coral, Florida, driving for Momentum Motorsports, both experienced their first times behind the wheel of an F4 U.S. car Saturday.
After Hurricane Matthew caused a cancelation of the track test day and condensed the race schedule down to permit for only one 40-minute practice session, the pair received limited seat-time before their first showing. Miller finished 12th and Fowler finished 14th.
Raphael Foricer of Montreal did not finish the race due to mechanical complications.
On the final day of competition in the inaugural Formula 4 United States Championship, Das of won his eighth consecutive race capping off a dominating season to become the first F4 U.S. National Champion.
Das, who won nine of 15 F4 U.S. races this season, swept all three races over the weekend at Homestead-Miami Speedway and earned a $25,000 grand prize for leading the season-long points table.
"It feels surreal to be a champion" said Das, who drives for JDX Racing. "I can't wait to see what comes next."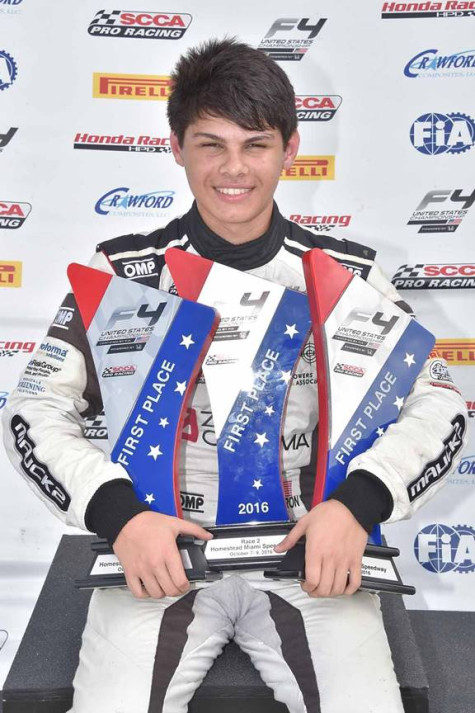 Konrad Czaczyk of Loxahatchee, Florida, finished second in the season-long points list, while Kyle Kirkwood of Jupiter, Florida, earned third place to round out the podium.
Das, who has dominated the second half of the season, was unbeatable across the weekend with three wins, three pole starts and four fast lap times.
While Das finished the season strongly, it didn't come without contention from his fellow F4 U.S. drivers.
Das, who started on pole, would make a minor mistake which slowed him down enough for Czaczyk, Skylar Robinson of Augusta, Georgia, and Baltazar Leguizamon of Buenos Aires to pass. Robinson and Czaczyk battled for first and would change positions multiple times during the first quarter of the race. The fight between the pair allowed Das to gain ground.
On Lap 3 exiting Turn 2, Czaczyk, in Position 1, took the race line too wide, putting two wheels of his black No. 47 Global Racing Group LAC car on the grass. The error would result in an exciting three-wide run for first in Turn 3 with Robinson on the inside, Czaczyk on the outside and Das between the two. Robinson moved into the lead but not for long.
As Das set his sights on Robinson, the pair raced down the front stretch and Das locked in on the draft set by Robinson. Advancing to Turn 1, Das made his move to sling-shot his ZeroChroma car to the outside of Robinson. Das succeeded with the pass for first and would not concede the position for the remainder of the race, finishing the final round of the season more than eight seconds ahead of the pack.
Leguizamon would overtake Robinson to cross the finish line second for his highest finish of the season, while Robinson finished a nose ahead of Czaczyk for third.
"It was an amazing race," said Leguizamon, who drives for Miller Vinatieri Motorsports. "I have to thank my team owner Jack Miller for trusting me behind the wheel. He promised me at least a third-place finish today, and here we are in second. This was a great way to finish the season."
In the second race of the weekend on Sunday morning, Das gained the lead quickly and would not be challenged by the other drivers for the remainder of the session.
Robinson and Czaczyk exchanged position several times before Czaczyk pulled away for second place. Leguizamon would battle with Robinson for the remainder of the season until the two crossed the finish line for a photo finish. Leguizamon beat Robinson by less than three hundredths of a second, which would end Robinson's chase for championship podium placement.
Fans can view photos and full race results from the grand finale on F4USChampionship.com
Homestead-Miami Speedway
Race 1 October 8, 2016
| | | | | | | | |
| --- | --- | --- | --- | --- | --- | --- | --- |
| Pos | No. | Name | Laps | Best Tm | Hometown | Entrant | Sponsor |
| 1 | 28 | Cameron Das | 21 | 1:25.085 | Brooklandville MD | JDX Racing | Zero Chroma |
| 2 | 47 | Konrad Czaczyk | 21 | 1:25.521 | Loxahatchee FL | Global Racing Group | LCA |
| 3 | 11 | James Goughary Jr. | 21 | 1:25.473 | Jupiter FL | Primus Racing | Primus Racing |
| 4 | 2 | Skylar Robinson | 21 | 1:25.596 | Augusta GA | Momentum Motorsports | Momentum Motorsports |
| 5 | 5 | Kyle Kirkwood | 21 | 1:25.781 | Jupiter FL | Primus Racing | Primus Racing |
| 6 | 45 | Baltazar Leguizamon | 21 | 1:25.404 | Buenos Aires Argentina | MVM | Indy Dental Group |
| 7 | 24 | Benjamin Pedersen | 21 | 1:25.534 | Copenhagen Denmark | Global Racing Group | DirtFish |
| 8 | 25 | Darren Keane | 21 | 1:26.020 | Boca Raton FL | JDX Racing | Cal Development |
| 9 | 86 | Jackie Ding | 21 | 1:25.754 | Shenzen China | Group-A Racing | Huwawei Telecommunications |
| 10 | 12 | Moises de la Vara | 21 | 1:25.553 | Guadalajara Mexico | Global Racing Group | UAG |
| 11 | 7 | Blake Mount | 21 | 1:25.942 | Littleton CO | JDX Racing | Coca-Cola |
| 12 | 51 | Alan Miller | 21 | 1:27.160 | Indianapolis IN | MVM | Blue Marble |
| 13 | 10 | Davis Durrett | 21 | 1:26.413 | Indianapolis IN | DRG | Underwood Machinery |
| 14 | 1 | Brian Fowler | 19 | 1:29.640 | Cape Coral FL | Momentum Motorsports | Momentum Motorsports |
| 15 | 34 | Austin Kaszuba | 18 | 1:25.363 | Burleson TX | GMV Motorsport | Indy Dental Group |
|   |   |   |   |   |   |   |   |
Homestead-Miami Speedway
Race 2 October 9, 2016
| | | | | | | | |
| --- | --- | --- | --- | --- | --- | --- | --- |
| Pos | No. | Name | Laps | Best Tm | Hometown | Entrant | Sponsor |
| 1 | 28 | Cameron Das | 21 | 1:24.955 | Brooklandville MD | JDX Racing | Zero Chroma |
| 2 | 45 | Baltazar Leguizamon | 21 | 1:25.483 | Buenos Aires Argentina | MVM | Indy Dental Group |
| 3 | 2 | Skylar Robinson | 21 | 1:25.426 | Augusta GA | Momentum Motorsports | Momentum Motorsports |
| 4 | 47 | Konrad Czaczyk | 21 | 1:25.013 | Loxahatchee FL | Global Racing Group | LCA |
| 5 | 11 | James Goughary Jr. | 21 | 1:25.550 | Jupiter FL | Primus Racing | Primus Racing |
| 6 | 5 | Kyle Kirkwood | 21 |   | Jupiter FL | Primus Racing | Primus Racing |
| 7 | 34 | Austin Kaszuba | 21 | 1:25.356 | Burleson TX | MVM | Indy Dental Group |
| 8 | 7 | Blake Mount | 21 | 1:25.729 | Littleton CO | JDX Racing | Coca-Cola |
| 9 | 10 | Davis Durrett | 21 | 1:26.916 | Indianapolis IN | DRG | Underwood Machinery |
| 10 | 62 | Raphael Forcier | 21 | 1:25.736 | Montreal Quebec | Group-A Racing | Group-A Racing |
| 11 | 51 | Alan Miller | 21 | 1:26.732 | Indianapolis IN | MVM | Blue Marble |
| 12 | 12 | Moises de la Vara | 20 | 1:26.341 | Guadalajara Mexico | Global Racing Group | UAG |
| 13 | 1 | Brian Fowler | 20 | 1:29.114 | Cape Coral FL | Momentum Motorsports | Momentum Motorsports |
| 14 | 25 | Darren Keane | 19 | 1:25.935 | Boca Raton FL | JDX Racing | Cal Developmen |
Not classified

 

 

 

 

 

 

 

 

 

 

 

 

25

Darren Keane

9

11 Laps

 

Boca Raton FL

JDX Racing

Cal Development

86

Jackie Ding

9

11 Laps

 

Shenzen China

Group-A Racing

Huwawei Telecommunications

24

Benjamin Pedersen

1

19 Laps

 

Copenhagen Denmark

Global Racing Group

DirtFish
Homestead-Miami Speedway
Race 3 October 9, 2016
| | | | | | | | |
| --- | --- | --- | --- | --- | --- | --- | --- |
| Pos | No. | Name | Laps | Best Tm | Hometown | Entrant | Sponsor |
| 1 | 28 | Cameron Das | 20 | 1:24.527 | Brooklandville MD | JDX Racing | Zero Chroma |
| 2 | 47 | Konrad Czaczyk | 20 | 1:25.017 | Loxahatchee FL | Global Racing Group | LCA |
| 3 | 45 | Baltazar Leguizamon | 20 | 1:25.173 | Buenos Aires Argentina | MVM | Indy Dental Group |
| 4 | 2 | Skylar Robinson | 20 | 1:24.868 | Augusta GA | Momentum Motorsports | Momentum Motorsports |
| 5 | 11 | James Goughary Jr. | 20 | 1:25.201 | Jupiter FL | Primus Racing | Primus Racing |
| 6 | 12 | Moises de la Vara | 20 | 1:25.232 | Guadalajara Mexico | Global Racing Group | UAG |
| 7 | 62 | Raphael Forcier | 20 | 1:24.894 | Montreal Quebec | Group-A Racing | Group-A Racing |
| 8 | 7 | Blake Mount | 20 | 1:25.576 | Littleton CO | JDX Racing | Coca-Cola |
| 9 | 5 | Kyle Kirkwood | 20 |   | Jupiter FL | Primus Racing | Primus Racing |
| 10 | 51 | Alan Miller | 20 | 1:26.150 | Indianapolis IN | MVM | Blue Marble |
| 11 | 10 | Davis Durrett | 20 | 1:25.914 | Indianapolis IN | DRG | Underwood Machinery |
| 12 | 34 | Austin Kaszuba | 20 | 1:24.879 | Burleson TX | MVM | Indy Dental Group |
| 13 | 1 | Brian Fowler | 20 | 1:28.842 | Cape Coral FL | Momentum Motorsports | Momentum Motorsports |
Not classified

 

 

 

 

 

 

 

 

 

 

 

24     Benjamin Pedersen

13

8 Laps

 

Copenhagen Denmark

Global Racing Group

DirtFish

86     Jackie Ding

4

17 Laps

 

Shenzen China

Group-A Racing

Huwawei Telecommunications