ETRC - Who can beat Lacko ?
ETRC - 2017 Race of Slovakia - Preview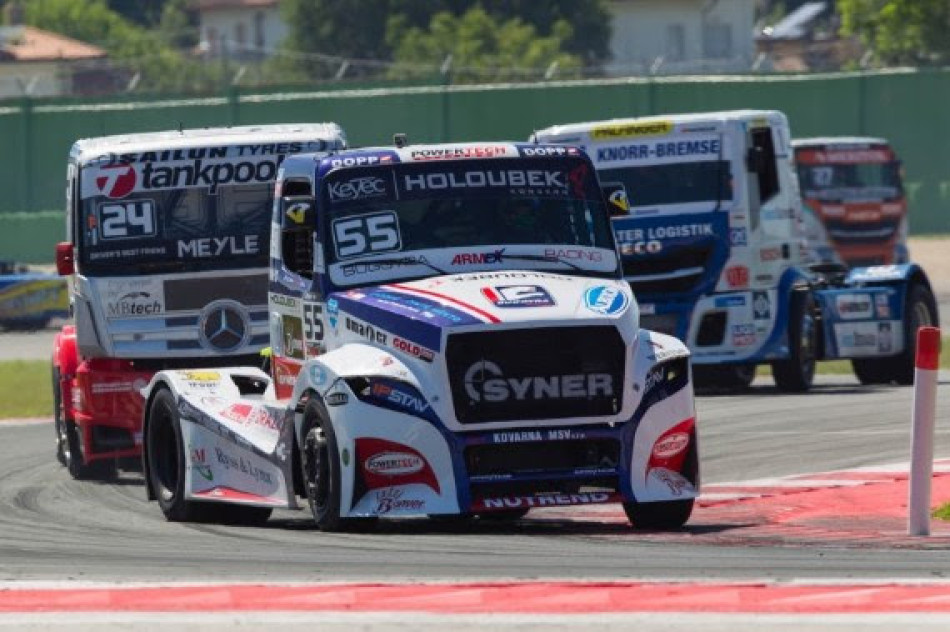 The first ever FIA European Truck Racing Championship races to take place at the Slovakia Ring will take place this weekend.

The fourth round of the 2017 FIA ETRC will see four races take place on the challenging, long and exciting 5.922-kms circuit close to the country's capital city – Bratislava.

The circuit has previously hosted WTCC and Blancpain GT racing but this weekend the 'monsters of motorsport' descend on the popular track to give an expected large crowd their first ever view of some of Europe's most spectacular motorsport.

Lacko momentum unstoppable?

Sure to be one of the most popular drivers at the Slovakia ring this weekend is Adam Lacko. The Czech driver will have plenty of support as he aims to continue his remarkable recent form.

The Buggyra International Racing System driver remains unbeaten in five races and has registered a superb six wins from 11 races held so far this season. It is a record which has seen him pull out a 46-point cushion in the standings.

Lacko has shown his prowess throughout the season as he aims for that elusive first FIA ETRC title and he is relishing the chance to add more wins to his points haul this weekend.
"It has been a good year so far and we will go to the Slovakia Ring full of confidence," Lacko said. "Slovakia Ring is a very challenging circuit with lots of different corners. I can see it being a very competitive weekend between the top drivers again, but we will be pushing hard for even more victories."

Can talented quartet hunt down Lacko?

While Lacko reigns supreme at the top of the standings there is a long queue behind him, waiting to seek revenge and chip away at his hard-won points lead.
Steffi Halm (Reinert Racing), Jochen Hahn (Hahn Racing Iveco MAN), Norbert Kiss (Tankpool24 Racing Mercedes-Benz) and Antonio Albacete (Truck Sport Lutz Bernau MAN) are all capable of winning in Slovakia this weekend.

Halm sits second in the championship stakes after a remarkably consistent run of results including a win at Spielberg and two other podium finishes. She heads reigning champion Jochen Hahn by just a point. Hahn, who despite a fine start in Austria, has suffered a couple of frustrating rounds in Italy and Germany and will be extra motivated to reduce the gap to his arch-rival Lacko.

Norbert Kiss will be a threat all weekend in the much improved Tankpool24 Racing Mercedes-Benz. The Hungarian double-champion showed flashes of race winning speed at Nurburgring last time out including his first pole position of the season, and the challenging Slovakia Ring circuit should suit his considerable skills.

Antonio Albacete will be keen to put behind him a disappointing Nurburgring weekend to get back to being a race winning challenger this weekend.
The great Spanish champion had supreme pace in Germany but a couple of race incidents halted the momentum which would have surely rewarded he and his team with podium positions.

Strength in depth through the field

Also threatening at the front of the field will be Gerd Körber (Team Schwabentruck Iveco), David Vršecký (Buggyra International Racing System Freightliner) and Sascha Lenz (SL Trucksport MAN).

Körber has unleashed some exceptional performances so far this season, including three podium places, while Vrsecky showed flashes of his talent at his first appearance of the season in Germany earlier this month.

Sascha Lenz was in position to claim a top result at Nurburgring until he was innocently taken out of third position by Albacete's wayward MAN. The young German is due a healthy slice of luck soon and could make his first podium appearance of the season this weekend.

Promoter's cup tighter than ever

After André Kursim's excellent double victory two weeks ago the Promoter's Cup continues to provide a fascinating first ever fight for the new competition.
Kursim now sits just five points behind Jose Rodrigues as the two season entries engage in an increasingly close battle for supremacy.
With several race-by-race entrants adding to the excitement there is plenty for the crowds to look forward to outside of the top six drivers.

Late additions to the Slovakia Ring entry list include the welcome return of Frankie Vojtisek and a second outing for Stefan Faas in the second Team Schwabentruck Iveco.

With very opposing levels of experience both Faas and Vojtisek will be added to the regular runners and are both likely to fight for podium placings in the Promoter's Cup.

Where and When? – Click HERE for the full timetable

Who? – Click HERE for the full Entry List

How? – For how to follow with live text commentary and timing click HERE