This page contains archived information and may not display perfectly
ETRC: Lenz emerges as point leader; dominant Kiss experiences mixed fortunes
Similarly to last year, Germany's Sascha Lenz leaves round 1 of the FIA European Truck Racing Championship as points standings leader, with local ace Norbert Kiss having his weekend compromised by a technical failure in the opening race of the event.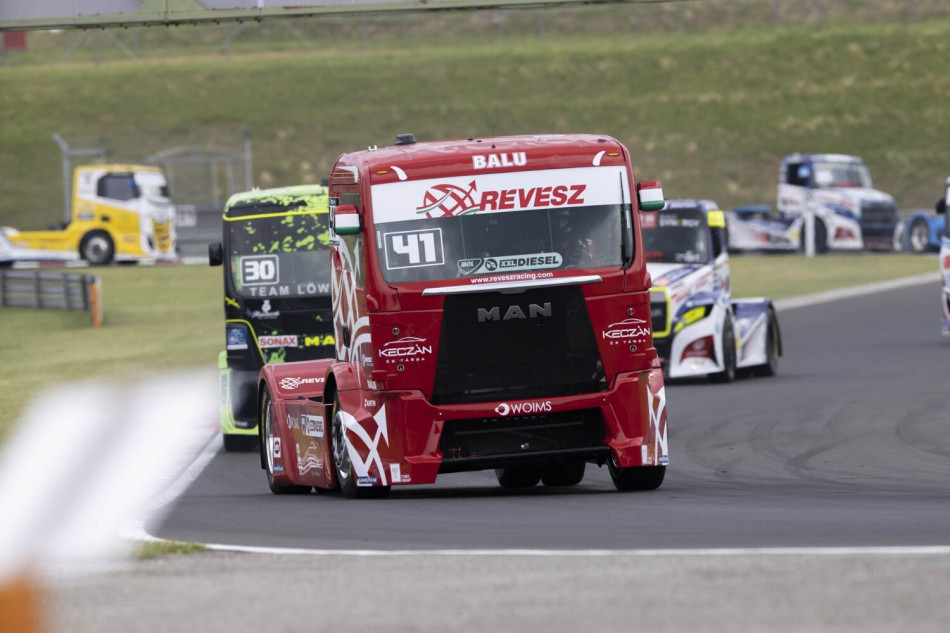 The Hungarian experienced a meeting of ups and downs at the Hungaroring, with two pole positions and as many victories accompanied by a retirement.
The Révész Truck Racing Team driver started the season-opening weekend off on a high, topping all practice sessions and claiming pole position for Race 1.
In the first encounter of the weekend, the two-time title winner got off to a good start, opening a sizeable gap over second-placed Lenz. However, few laps into the race the red MAN suffered a turbo failure, leading to Kiss' retirement.
Lenz inherited the lead, keeping two series champions, Jochen Hahn and Adam Lacko, at bay and going on to take a commanding victory, with the German and the Czech rounding out the podium.
The second heat of the day was red-flagged on the opening lap after Steffen Faas, who started the semi-reversed grid race from pole position, went off and hit the barriers, resulting in a lengthy repair. The driver emerged from the accident unhurt and took part in Sunday's part of the competition.
Following a disappointing Saturday, Kiss bounced back on Sunday, starting the day by taking his second pole position in as many days.
On this occasion, he managed to convert his first place on the grid into a victory, with Race 1 winner Lenz and Lacko completing the top three.
The Hungarian completed a clean sweep on Sunday, claiming a victory in the final encounter of the weekend.
Young gun Téo Calvet started the reversed-grid race from pole position, but it was fellow front-row starter Steffi Halm who settled into the lead early on.
Eighth on the grid, Kiss wasted no time, gaining places from the off and moving up to sixth by the time the pack reached the second corner.
He then put pressure on the 2017 titlist Lacko, with both finding their way to by the reigning six-time champion Hahn.
When the Hungarian found his way by the Czech, it was only the Iveco driver Steffi Halm that stood between him and the victory.
Kiss was patiently waiting for his opportunity, eventually making a successful move going into Turn 1 and securing his second victory of the day. Halm and Lacko rounded out the podium.
With 40 points to his name, Lenz leads the standings, having scored a victory, a second, and a sixth place. Eight points down on the German is Lacko, who completed a hat-trick of third places, with double winner Kiss a close third with 30 points to his account.
Round two of the 2021 FIA ETRC season is the renowned ADAC Truck Grand Prix, taking place at the Nürburgring on the third weekend of July.