This page contains archived information and may not display perfectly
ETRC: Kiss' hat-trick on home soil
Owing to two victories on Sunday, local ace Norbert Kiss completed a hat-trick of victories at his home round of the FIA European Truck Racing Championship held at the Hungaroring. By doing so, Kiss took the lead in the standings.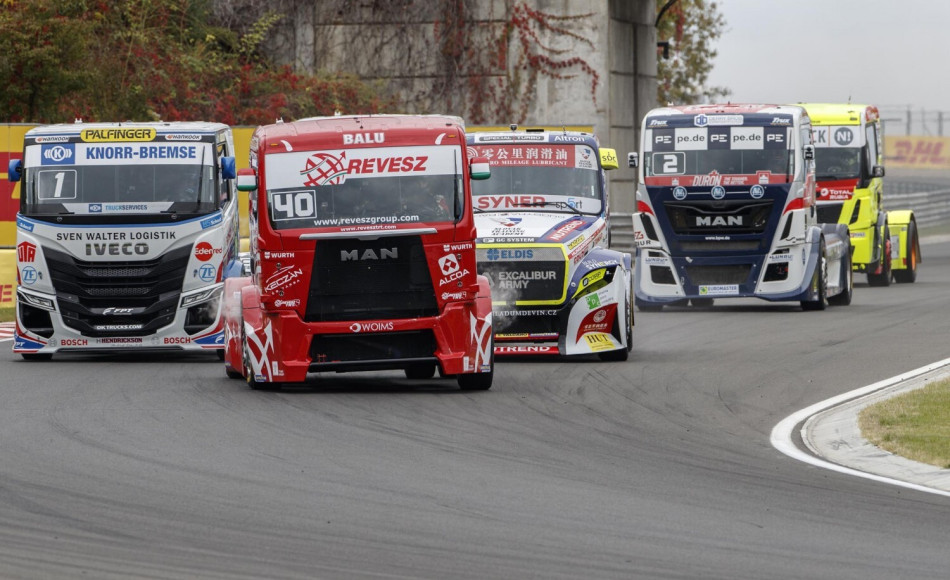 Kiss doubles up
After topping the second Super Pole session in as many days, the home hero started Race 3 from pole. When the race got underway, fellow front row starter Adam Lacko got the better start off the line, edging slightly ahead of the Hungarian. The polesitter, however, kept him at bay, holding onto the lead as the field went into the second corner.
The Czech racer was under pressure from the reigning champion for the majority of the race but managed to stay ahead to finish second and secure his third podium of the weekend, with the top three rounded out by Hahn.
Fourth went to Antonio Albacete, who finished ahead of Steffi Halm, Steffen Fass, Anthony Janiec, Téo Calvet, Luis Recuenco, and Clemes Hecker who completed the top 10.
Kiss completes a hat-trick
The 35-year-old completed a hat-trick of victories, taking his third race win of the weekend in the fourth and final heat of the event.
The Race 3 winner started the semi-reversed grid race from eighth on the grid, picking up his competitors one by one and by the end of the first lap running as high as third. He then dealt with Steffi Halm and Anthony Janiec to gain control of the race and nurse yet another victory.
Hahn was another driver on the move. The German finished second, having started down in sixth.
Frenchmen Janiec completed the podium, having led the race at one point after the performed an early overtake on his pole sitting compatriot Calvet.
Adam Lacko displayed great pace in Race 4, picking up several of his competitors. He caught up with Steffi Halm on the last lap, determined to take the place. Halm put up an impressive fight but, in the end, the Czech got the upper hand and finished fourth with Halm taking another spot in the top five.
Calvet finished sixth, ahead of Albacete and Fass, with the three having some entertaining battles throughout the race.
This year's FIA ETRC season will conclude with Round 3 held at Misano, Italy, from 14-15 November, where the European titles for Drivers' and Teams' will be awarded.