This page contains archived information and may not display perfectly
ETRC: Kiss crowned champion at Le Mans
Norbert Kiss has clinched the 2022 Goodyear FIA European Truck Racing Championship title, during the penultimate round of the series held at Le Mans Bugatti Circuit last weekend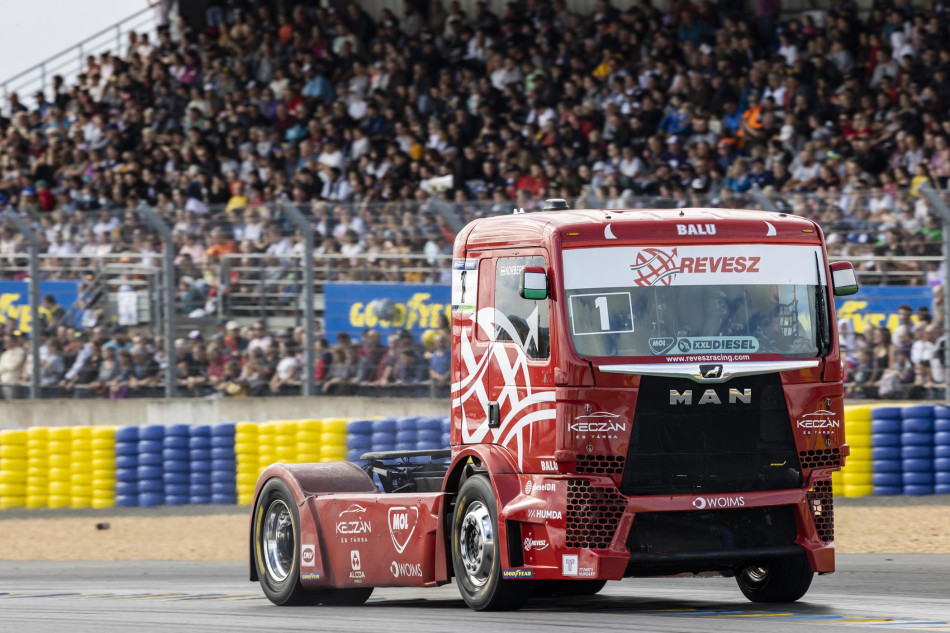 The Hungarian kick-started the weekend in his typical, dominant fashion, securing his 12th pole position of the season to begin with. He then converted his grid position into a victory in Race 1, however, Jochen Hahn's fourth place meant that mathematically the German could still deny the reigning champion from securing his fourth series crown.
In the second race of the day, Kiss followed with an impressive second place, having started down in eighth, but it wasn't until Sunday when he could finally celebrate winning his fourth title.
Having won his second qualifying session in as many days, Kiss started Race 3 from pole but lost out at the start to his front-row companion Hahn. Although second would have been enough for Kiss to secure the title, he eventually retook the lead and crossed the line with a comfortable gap over the six-time series titleist and by doing so, secured his overall triumph. Kiss rounded out his title-winning weekend with fourth place in the final heat of the weekend.
In the battle for second overall, it was status quo between the two Germans Hahn and Sascha Lenz, with both accumulating a total of 35 points from four races held over the two days at Le Mans. Neither managed to win at Le Mans and going into the season finale at Spain's Circuito del Jarama, Lenz is remains 12 points down on his more decorated compatriot.
British racer Jamie Anderson turned out to be the best of the rest at Le Mans, recording two podium finishes and gathering a total of 30 points in what has been his best result of the season so far.
The only local race in the field, 21-year-old Téo Calvet gave the full grandstands something to cheer for taking his first victory of the season Race 2, having started second on the semi-reversed grid.
Shane Brereton was another driver who had his best weekend of the season at Le Mans. The British racer came out on top in Race 4, calming his first series victory since 2018.
The season finale is scheduled for the first weekend of October and with Kiss already crowned champion, all eyes will be on the battle for second between Hahn and Lenz.