This page contains archived information and may not display perfectly
ETRC - Hahn & Reinert triumph at Hungaroring
ETRC - 2018 Race of Hungaroring - Race 3 & 4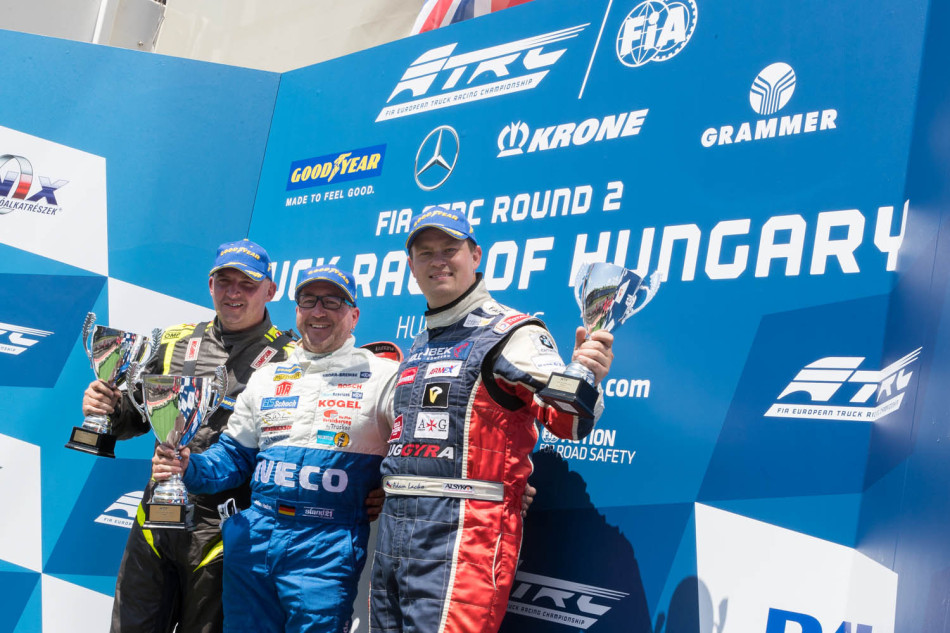 Jochen Hahn mirrored his Saturday success at Hungaroring today, while Rene Reinert ended a two year wait to stand atop the podium after more action-packed FIA European Truck Racing Championship racing today.
While Hahn cruised to crushing win in race three, Reinert was forced to work for every one of his 10-points for winning the final race.
Hahn extended his lead in the 2018 FIA ETRC standings to 31-points after another successful weekend in his Hahn Racing IVECO. However, it wasn't all plain sailing for the four-time champion as he posted a rare retirement in the final race today.
In humid and sunny conditions a typically large crowd also revelled in local ace Norbert Kiss making a second podium appearance of the weekend.
Race 3
Jochen Hahn took his second victory of the Hungaroring weekend to further extended his advantage at the top of the FIA European Truck Racing Championship points standings.
The four times FIA ETRC champion has now got as clean sweep of feature races wins this season as he guided his Hahn Racing IVECO to a comfortable win this afternoon.
Hahn led from pole to the chequered flag and was able to manage the gap to OXXO Truck Hungary Racing Teams' Ryan Smith who put in a faultless display after a fraught Saturday at Hungaroring.
Smith was slowly reeled in by Adam Lacko and had to absorb big pressure in the final four laps.
But Lacko had to settle for the final podium position in his Buggyra International Racing System Freightliner after he ran out of laps to fully attack Smith.
Behind the front three there was no shortage of drama as opening lap action saw damage for local hero Norbert Kiss' Tankpool24 Mercedes-Benz after plenty of contact. Kiss shrugged off the damage and finished fourth.
Behind Kiss there was more action as Antonio Albacete also suffered some damage and Sascha Lenz's SL Trucksport MAN had a spectacular 360-degree spin exiting Turn 11. Lenz soon recovered though and carved his way back through the field to a well-earned eighth place.
More on Race 3 HERE
Race 3 Result HERE
Race 4
Rene Reinert celebrated his first FIA European Truck Racing Championship win for exactly two years as he took his Reinert Racing run MAN to the final victory of the weekend at Hungaroring on Sunday afternoon.
It was just over two years ago that Reinert last stood atop the podium at Nogaro in June 2016 and the German revelled in the winning feeling once more as he celebrated in front of a large Hungarian crowd.
Reinert took the lead midway around the first lap when he made a move on pole sitter Sascha Lenz at Turn 4 and opened up a small advantage.
Norbert Kiss delighted his home fans by sprinting up to third position on the opening tour when he managed to clear his former Tankpool24 Racing teammate Andre Kursim.
Buggyra's Lacko also overtook Kursim and joined a top four snake at the front for the majority of the 11-lap race.
The Czech driver applied massive pressure to Kiss in the later stages of the race which allowed Reinert and Lenz to open up a brief gap at the front and they were never to be caught or threatened.
More on Race 4 HERE
Race 4 Result HERE
Championship Standings HERE