This page contains archived information and may not display perfectly
ETRC - Hahn Makes History with Fifth FIA ETRC Title Success
2018 Race of Le Mans - Race 3 and 4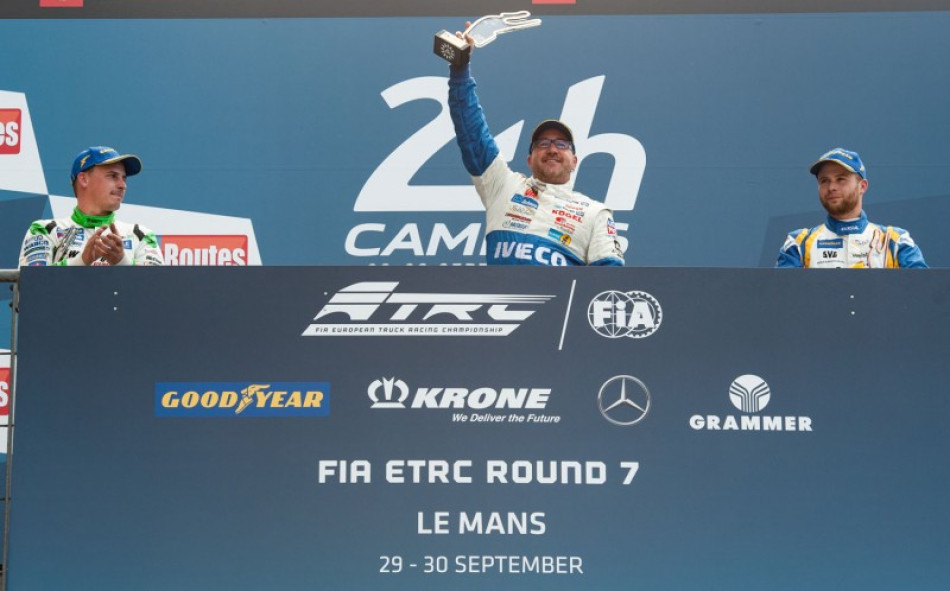 Jochen Hahn made FIA ETRC history today as he sealed a fifth title success by taking his 10th race win of the 2018 FIA European Truck Racing Championship season in front of just under 60,000 fans at Le Mans Bugatti.
The Hahn Racing ace added a fifth title trophy to his triumphs in 2011, 2012, 2013 and 2016 to become the clear benchmark in the world of truck racing.
It was also a notable day for IVECO which also celebrated not only its first championship with Hahn but also claiming the FIA ETRC Team's silverware.
There was also celebrations for Shane Brereton who took the first ever GRAMMER TRUCK CUP by making it three wins from three starts at Le Mans Bugatti this weekend.
But the day will be remembered for Jochen Hahn's remarkable and richly deserved achievement of securing a record fifth FIA ETRC title.

Race 3
Hahn was crowned FIA European Truck Racing champion for an historic fifth time as he claimed a second victory of the weekend at Le Mans Bugatti this afternoon.
 
The German, driving his Hahn Racing IVECO, completed his tenth win of the season and in so doing takes the championship with five races to spare.
He was again on imperious form as he converted pole position in to a comfortable win and he justifiably celebrated another title from the top step of the podium.
The great German led from pole position and resisted some early pressure from fellow front-row Sascha Lenz to then steadily build a small lead.
Despite Lenz's best efforts the SL Trucksport driver was unable to get on terms with his countryman and took the runners-up position ahead of fellow young charger Andre Kursim.
Don't Touch Racing's Kursim, who was victorious in yesterday's second race, initially soaked up pressure from Steffi Halm as she made a blistering start to surge from eighth on the grid to fourth.
For more on Race 3 click HERE
For Race Result click HERE
Race 4
Antonio Albacete took the final FIA European Truck Racing Championship victory of the Le Mans Bugatti weekend this evening.
The Spaniard swept to a fourth win of the season in his Trucksport Lutz Bernau MAN after thrusting to the front at the start when he got the jump on Ryan Smith as the green lights illuminated.
 
This was no easy victory though for Albacete as he was chased hard by Ryan Smith who tried in vain to make amends for losing out at the start.
Smith had regained ground at the first chicane seemingly by cutting it. This appeared to give him the momentum he needed to latch back on to Albacete's tail.
The incident was reviewed by the stewards after the race but no action was taken.
For the rest of the race Albacete and Smith ran nose-to-tail and the pair were separated by just 0.497s at the chequered flag in a race which had the large French crowd glued to their seats.
Newly crowned champion Jochen Hahn came through from eighth on the semi-reversed grid to claim a brilliant podium position.
Hahn picked off Andre Kursim (Don't Touch IVECO), Jose Rodrigues (Reboconort MAN) and Steffi Halm in decisive overtaking moves to finish an unforgettable weekend in which he won two races, became champion and claimed a hard-fought third place.
Halm was left to ward off the advances of Jose Rodrigues and Andre Kursim who both caught the Team Schwabentruck IVECO driver midway through the race
For more on Race 4 click HERE
For Race Result click HERE
Latest standings HERE