This page contains archived information and may not display perfectly
ETRC - Hahn & Kiss win after drama in Jarama
ETRC - 2019 Race of Jarama - Races 1 & 2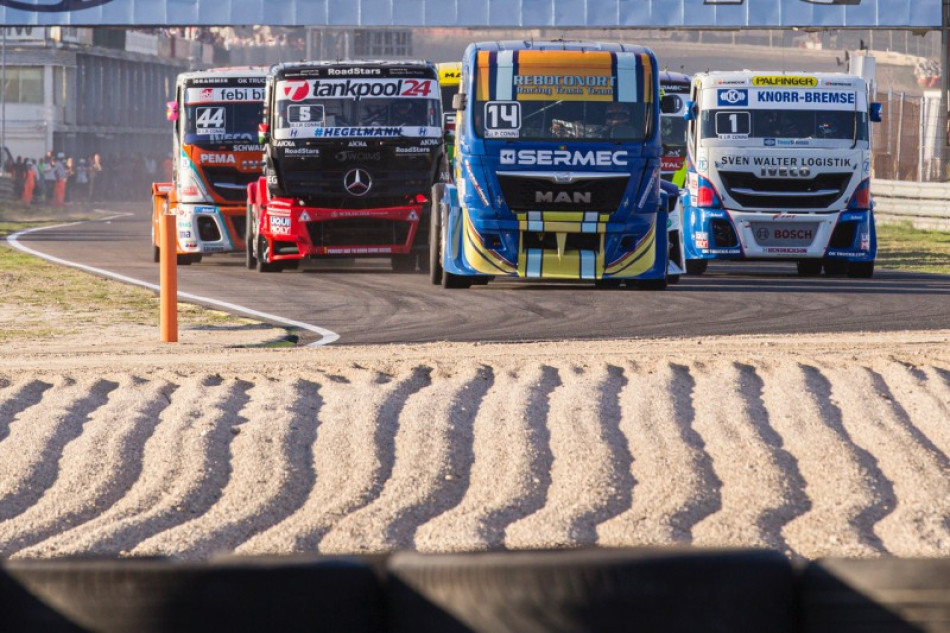 It was a successful day for Jochen Hahn and Adam Lacko at the final Saturday races of the 2019 FIA European Truck Racing Championship at Circuito Jarama today.
 
Recently confirmed champion Hahn took a convincing first win of the day after converting his pole position and taking his Hahn Racing IVECO to a remarkable and poignant 13thwin of the 2019 campaign.
 
Race two witnessed an action-packed 12-laps which saw two starts and Lacko come through to pull off a spectacular manoeuvre on Jose Rodrigues to take the 10-points.
 
Race 1 
 
Jochen Hahn took an emotional victory at the first FIA ETRC race of the weekend at Circuito Jarama this afternoon after winning from lights-to-flag.
 
The recently crowned champion led Antonio Albacete to the chequered to claim his 13thvictory of the season to date.
For Hahn it will be remembered as a special win as it came just two days after the death of his father Konrad Hahn who had been a driving force behind the formation and development of Hahn Racing for over 20 years.
 
It was a fitting tribute to the popular 'Conni' Hahn as Hahn took the chequered flag from home favourite Albacete.
 
Sascha Lenz took a comfortable third in his SL Trucksport30 MAN and was able to manage his pace in the later stages.
 
While the first three places saw a reasonable gap between the protagonists, the battle for fourth entertained the crowd throughout the 12-lap encounter.
 
Team Schwabentruck's Steffi Halm led a train of trucks comprising Buggyra Racing's Adam Lacko and Norbert Kiss' Tankpool24 Racing Mercedes-Benz.
 
The trio lapped nose-to-tail for the majority of the race but any clean move between the three was not forthcoming and they completed the race fourth, fifth and sixth.
 
However, it was a close run thing and Halm took the chequered flag just 0.2s ahead of Lacko (who lost his front bodywork) and Kiss.
 
More on Race 1 HERE
 
Race Result HERE
 
Race 2 
Adam Lacko initially won a delayed race two at Circuito Jarama today after an event packed full of incident.
The Buggyra Racing Freightliner driver had overtaken Jose Rodrigues on lap four with a forceful move to temporarily clinch his third win of the 2019 FIA ETRC season. However, after a post-race penalty Lacko dropped to sixth position after a 10-second penalty was applied.
Rodrigues had led away from the line at the second attempt but was soon but under intolerable pressure by a fired up Lacko who soon made a decisive move.
For Lacko, it had brought vital points in his battle with Antonio Albacete in the fight for second place in the championship standings. With two races remaining tomorrow the two were separated by just eight points. That gap is now 14 points after his demotion to sixth position.
Lacko had led home Tankpool24 Racing driver Norbert Kiss as the Hungarian ended his points drought which stretches back to Zolder last month.
Kiss applied massive pressure to Lacko in the second half of the race but was unable to make a clean move to challenge for the lead.
Completing the podium in race two were Antonio Albacete who fended off a charging race one winner Jochen Hahn. This pair fought ferociously, so much so that Sacha Lenz in waht was then fifth position closed on to their tails. 
Jose Rodrigues, who fell back after relinquishing the lead to Lacko earlier in the race, took fifth place in his Reboconort MAN ahead of the penalised Lacko.
Steffi Halm had run third and looked set for a second podium of the day but she dropped back to the rear of the field after a mid-race excursion. The Team Schwabentruck IVECO driver slid off on oil dropped by Fabio Citignola's Tankpool24 Racing entry, damaging her truck and ruining her race.