This page contains archived information and may not display perfectly
ETRC - Hahn celebrates 100th career victory at Le Mans; Halm and Lohr 1-2
ETRC - Le Mans 24 Heures - Races 3 & 4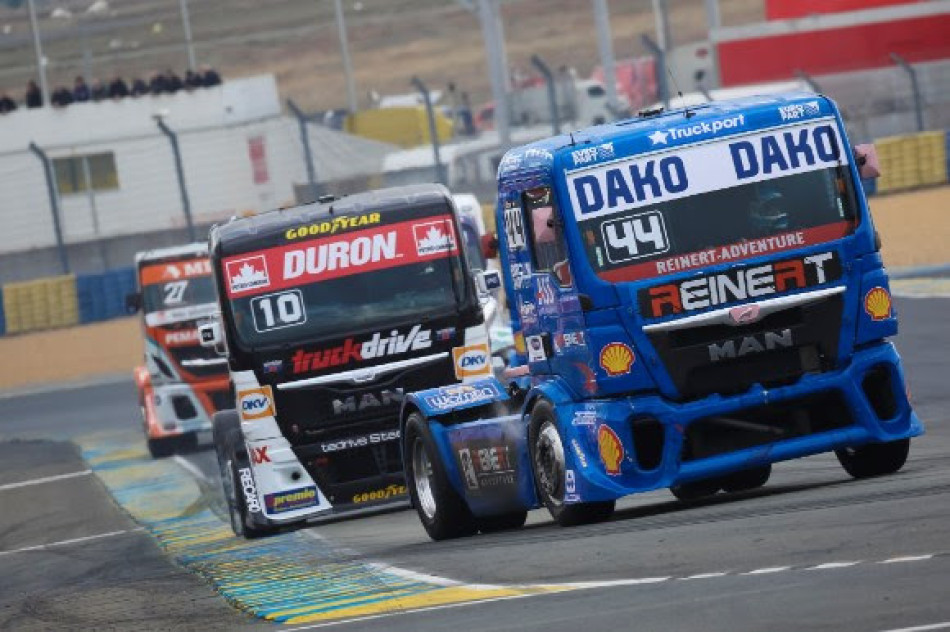 German ace Jochen Hahn triumphed to win a 14th race in the FIA European Truck Racing Championship, the 100th of his career, after a dominant display in race three of the weekend, the day after securing a fourth FIA ETRC title.
Starting from row two, Hahn's MAN had to follow pole man Adam Lacko and second-fastest qualifier Norbert Kiss to the first corner. Kiss positioned himself on the outside for the first part of the Dunlop Esses and that became the inside for the second, right-handed element and he emerged ahead of the Czech star. When Lacko ran wide at Virage de la Chapelle on the opening tour, Hahn pounced and snatched second place.
Hungarian star Kiss (Tankpool 24 Racing) led to the end of the opening lap but as his Mercedes-Benz accelerated out of the last corner, its engine belched out white smoke signifying a turbo failure which put him out of the race and gifted the lead to Hahn.
As the German pulled clear, Buggyra International's Lacko was left to fend off a feisty Rene Reinert (Reinert Racing MAN) who in turn had a charging Gerd Körber (Schwabentruck Racing Team Iveco) shadowing him. By lap six, Reinert was crawling all over the rear of the bonneted Freightliner but Lacko defended stoically and maintained his place.
For more on Race Three click HERE
For the Race Three result click HERE
Race Four
Steffi Halm (Reinert Racing) claimed a fourth win of the FIA ETRC Season, and her second of the weekend, in a superb season-closer at Le Mans. Halm fought mightily with Ellen Lohr (Lutz Bernau Racing Team) for the lead of the race which had a six-truck train fighting for honours race-long.
Halm headed home Lohr, who led nine of the 11 laps, for a female one-two result, illustrating the importance of the FIA Women in Motorsport initiative.
Lohr's MAN charged past pole-sitter Shane Brereton's MAN on the run to the Dunlpo Esses to take the lead, with Brereton being clipped by Steffi Halm at the second part of the sequence. That allowed Halm to move ahead as Brereton was nudged by Halm's team-mate Rene Reinert (Reinert Racing MAN). That forced Bererton wide as Reinert moved up to third and worse was to come for Shane at the end of the lap as he was hit by Adam Lacko's Buggyra International-run Freightliner and Brereton spun to last place.
As Lohr defended her lead, Halm vigorously attacked, taking Reinert with her, the trio then being joined by Lacko and Jochen Hahn (MAN) as they ended lap three. A five-truck fight became a scrapping six-pack as Gerd Körber's Schwaben Truck Racing Iveco joined the mix. Lacko came under pressure form Hahn as the race reached mid-distance, the Czech driver then starting to attack Reinert for third but remained trapped behind him.
For more on Race Four click HERE
For the result of Race Four click HERE