This page contains archived information and may not display perfectly
ETRC - Hahn and Reinert end 2018 FIA ETRC season on a high
ETRC - 2018 Race of Jarama - Race 3 & 4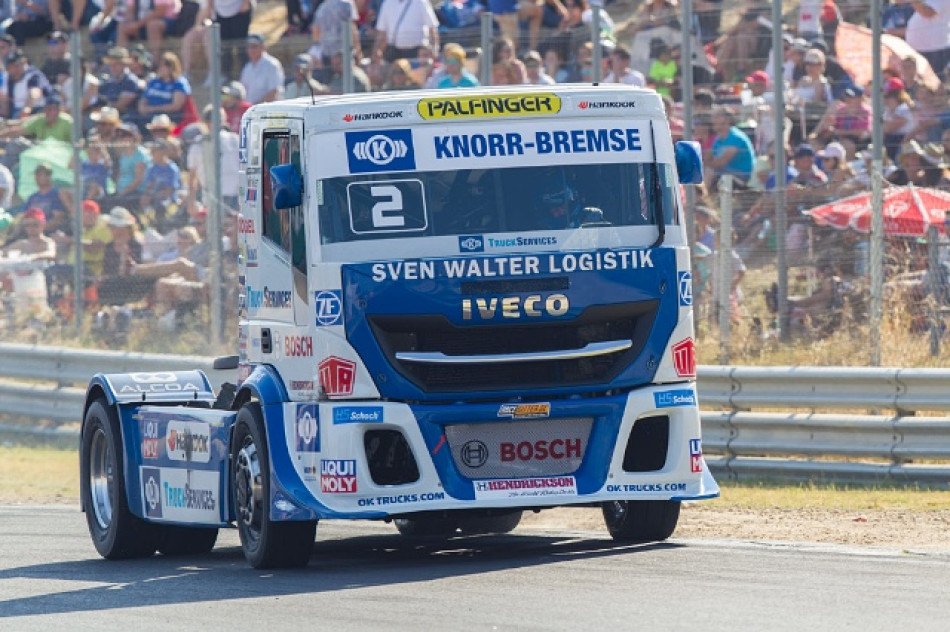 The 2018 FIA European Truck Racing Championship came to an action-packed end at Jarama in Spain this afternoon as recently crowned champion Jochen Hahn and Rene Reinert took the final wins of the year.
 
In front of a large crowd of just under 30,000 fans, the biggest FIA ETRC grid of the season once again entertained with close races, bumper-to-bumper action and exciting truck racing battles.
 
The teams and drivers are now set for a well-earned break before preparations will begin for the 2019 FIA ETRC campaign.
 
Details on the 2019 edition of the FIA ETRC calendar will be revealed imminently.
Race 3

Jochen Hahn swept to another supreme FIA European Truck Racing Championship victory in the penultimate race of the 2018 season at Jarama.
 
The recently crowned champion controlled the 12-lap encounter in his Hahn Racing IVECO to notch up a remarkable 12thwin of the year.
 
Hahn was able to hold fellow front-row starter Antonio Albacete at bay in the early stages and open up a small gap over the hometown hero. This steadily became more substantial with Hahn able to execute his famous power slide at the final corner and claim the win by just over a second.
 
Adam Lacko took third position in his Buggyra International Racing System Freightliner but was unable to get on terms and threaten Albacete's second position.
Norbert Kiss initially held fourth place but was overtaken by Sascha Lenz's SL Trucksport MAN on lap six. The Tankpool24 Racing Mercedes-Benz driver started to lose pace and was forced to pull off the track and retire on lap eight.
 
Lenz went on to take fourth position and maintain his remarkable run of scoring points in each of the 31 races held so far this season. 
 
Rene Reinert placed fifth after overtaking Jose Rodrigues mid-race. Yesterday's race two victor however was unable to hunt down Lenz's fourth placed truck, while Rodriguez was classified in sixth.

More on Race 3 HERE
Race Result HERE

Race 4 

Rene Reinert took the final victory of the 2018 FIA European Truck Racing Championship season at Jarama in Spain today.
The Reinert Racing MAN racer celebrated a well-judged and patient win to cap a successful weekend which saw him take two victories.
 
The race had echoes of yesterday's second event as Brereton led Reinert in the early running but under massive pressure from the German.
 
The race initially saw a train of eight trucks from Brereton back to Antonio Albacete as the crowd was thoroughly entertained by the on-track battles.
 
The bottleneck saw nose-to-tail action as those behind Brereton scrapped for position and more incredible pressure was applied on the TOR MAN driver.
 
The breakthrough for Reinert came on lap six when he squeezed through and took the lead. At the same time Jose Rodrigues [Reboconort], who had been holding a watching brief in third, also got passed Brereton and then started to hassle new leader Reinert.
 
Rodrigues dived this way and that to try and extract a mistake from Reinert but the German was resolute and took his fourth win of the season and his second of the weekend.

More on Race 4 HERE
Race Result HERE
Final 2018 Standings HERE