This page contains archived information and may not display perfectly
ETRC - Drama in Jarama Guaranteed at 2018 FIA ETRC Finale
The 2018 FIA European Truck Racing Championship season comes to an end at Jarama in Madrid this weekend with four final action-packed races and the biggest starting grid of the season.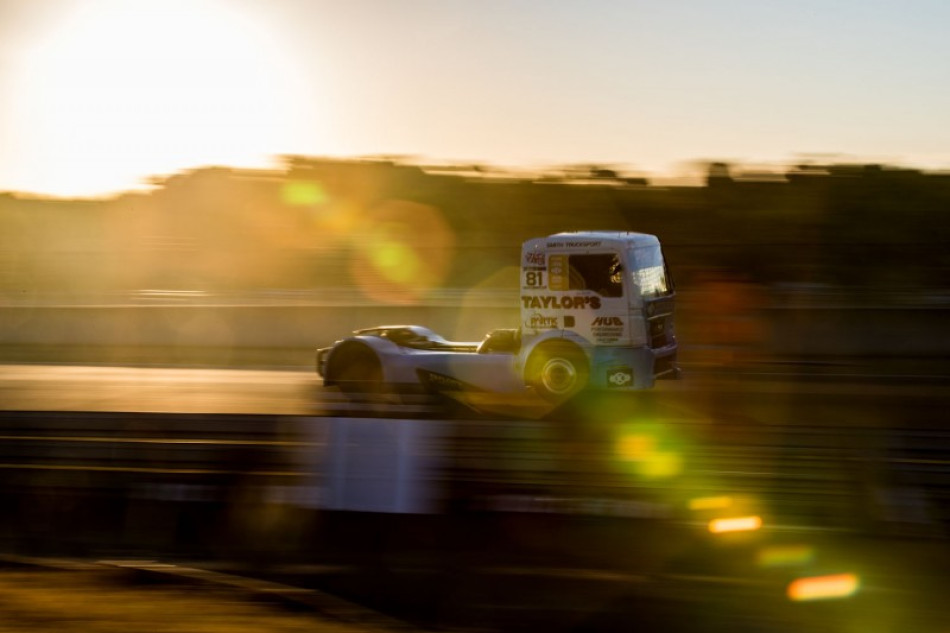 While the title was settled in favour of now five-time FIA ETRC champion Jochen Hahn, there is still plenty to play for at the popular Spanish circuit.
Hahn created history at Le Mans Bugatti last week where he sealed a remarkable fifth title to become easily the most successful racer in truck racing history.
While he justifiably celebrated his achievement with his team, he will be just as motivated to add to his race victory tally at Jarama.
Aiming to secure the vice-champion status in 2018 will be outgoing champions Adam Lacko in his Buggyra International Racing System Freightliner.
Another driver highly motivated this weekend will be Antonio Albacete who has a slight possibility of hunting down Lacko for second in the standings. With the gap at 25 points it looks unlikely but Albacete will be targeting the Czech drivers second place.
Triple champion Albacete scored two memorable wins on his home ground in 2017 and will be aiming to match that this weekend after a very good season with the Trucksport Lutz Bernau team which has seen him claim four wins already.
Norbert Kiss is also battling with Lacko and Albacete to move up the table with his Tankpool24 Racing Mercedes-Benz.
The Hungarian has scored just a single victory in 2018 and will be desperate to add to his tally at a place he tasted success in 2017.
Kiss is just six points from Albacete in third so all eyes will be on the battle for these positions at Jarama.
Sascha Lenz (SL Trucksport) and Steffi Halm (Team Schwabentruck) will also be sure to figure on the podium again.
Lenz is still the only driver in the field to score points in every race this season and will be aiming to try and topple Kiss and Albacete and claim third in the standings as he himself is just 10 points from the Spaniard in third.
Also sure to be capable of finishing the season on a high will be Andre Kursim (Don't Touch Racing, Rene Reinert (Reinert Racing) and Jose Rodrigues (Reboconort MAN).
Kursim took his new teams' first ever win at Le Mans Bugatti a week ago and showed some ferocious pace in his distinctive yellow IVECO.
Ryan Smith, who scored a fine second place in the final event at Le Mans is yet to confirm his entry for the Jarama finale.
Anthony Janiec has expressed his intention of racing in Spain in what would be a welcome return for the Lion Truck driver who scored a memorable win at Nürburgring back in July.
Champ Brereton Aiming for More Race Victories 

Newly crowned GRAMMER TRUCK CUP champion Shane Brereton has justifiably celebrated a stellar season in the hard-fought category this season.
The British ace has driven some superb races this season and will be aiming to finish off on a high to collect more race victories.
With the vast majority of GRAMMER runners racing at Jarama for the very time, the races will provide a fascinating insight in to who has the right stuff in Spain.
Brereton has been supreme this season and richly deserved his hard-won crown which he received at Le Mans Bugatti, but James Anderson (Anderson Racing), Steffen Faas (Tankpool24 Racing) and Oly Janes (Buggyra International Racing System) will also be pushing hard to add more GRAMMER TRUCK CUP wins to their portfolios.
It will be a big weekend for local racer Luis Recuenco who has campaigned a debut season in his Trucksport Lutz Bernau MAN.
Recuenco has spent a learning season in the FIA ETRC this season and is growing in confidence as he gathers knowledge and experience.
After an impressive weekend in France, Terry Gibbon will be out to grab more podium success with his well-drilled and presented T Sport squad.
Other FIA ETRC stalwarts that will be hoping to improve their standings finishing position will be Ray Coleman (LRS), Eduardo Rodrigues (Reboconort), Frankie Vojtisek (Czech Truck Racing Team) and Erwin Kleinnagelvoort (EK Race Scania).
With the usual addition of several local Spanish entrants the field is set to be a large one as the curtain comes down on another competitive, action-packed and memorable season of FIA ETRC competition.
What Happened Last Season?
Race 1: Antonio Albacete
Race 2: David Vrsecky
Race 3: Norbert Kiss
Race 4: Antonio Albacete
 
Click HERE for the Jarama Entry List
Click HERE for the Timetable
Latest Standings HERE