ETRC - Double delight for Lacko at wet Nurburgring
ETRC - 2017 Race of Nürburgring - Race 1 & 2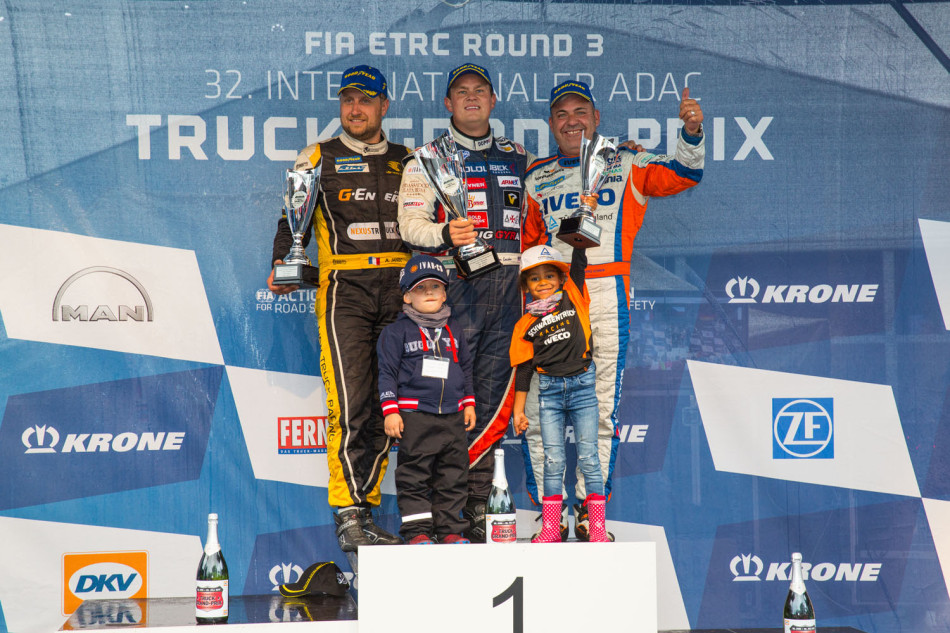 Adam Lacko Czech-mated his opponents at a wet Nürburgring today as he took maximum points with two excellent wins to extend his lead at the top of the FIA European Truck Racing Championship points table.
Lacko took his Buggyra International Racing System Freightliner to double delight and extend his winning tally to five victories in ten races so far this season.
In front of a typically large crowd at the famous ADAC Truck Grand Prix meeting, the Czech ace wowed the fans with some impressive overtaking manoeuvres on his way to collecting 30 points.
Race 1
Adam Lacko won a fascinating first FIA European Truck Racing Championship race of the weekend this morning which was held under challenging wet conditions.
The Czech ace made his race winning move on lap nine when he hunted down Norbert Kiss' Mercedes-Benz and pulled off a decisive manoeuvre. The win, his fourth so far this season, extended the Buggyra International Racing System driver's points lead in the 2017 FIA ETRC title standings.
The race began under the FIA ETRC Mercedes Pace Truck due to the fully wet conditions, but soon the 21 strong grid was unleashed and Jochen Hahn led away from his hard-won pole position to lead.
But the man on the move in the opening exchanges was Lacko. The Czech made an early move on Antonio Albacete's Truck Sport Lutz Bernau MAN at turn three to claim third position and made it a three-way fight for the lead. He then pressured both Kiss and Hahn and the trio circulated for many laps in a thrilling on-the-edge battle in the tricky conditions.
Race 2
Adam Lacko secured his second victory of the day with a dominant display after scything through the pack from eighth on the grid to complete another assured performance.
The Buggyra International Racing Driver headed home Lion Truck Racing's Anthony Janiec by a huge 10.303s at the chequered flag to extend his points lead to 31 points after ten races of the 2017 FIA European Truck Racing Championship season.
The race began with a wet but slowly drying circuit and there was drama immediately as third on the grid, Anthony Janiec, completed a spectacular 360 degree spin in front of the pack at turn two. It was a miraculous escape for the Frenchman, not to mention the chasing pack, who all narrowly avoided the Lion Truck MAN.
Pole sitter Gerd Körber initially held the lead in his Team Schwabentruck Iveco from Jochen Hahn. The reigning champion launched his Hahn Racing Iveco up the field from sixth on the grid to place second by the end of the first lap.