This page contains archived information and may not display perfectly
ETRC - Brereton takes Grammer Truck Cup Title Glory
Shane Brereton took a hat-trick of victories during the 2018 FIA European Truck Racing Championship round at Le Mans Bugatti last weekend to seal the first ever GRAMMER TRUCK CUP.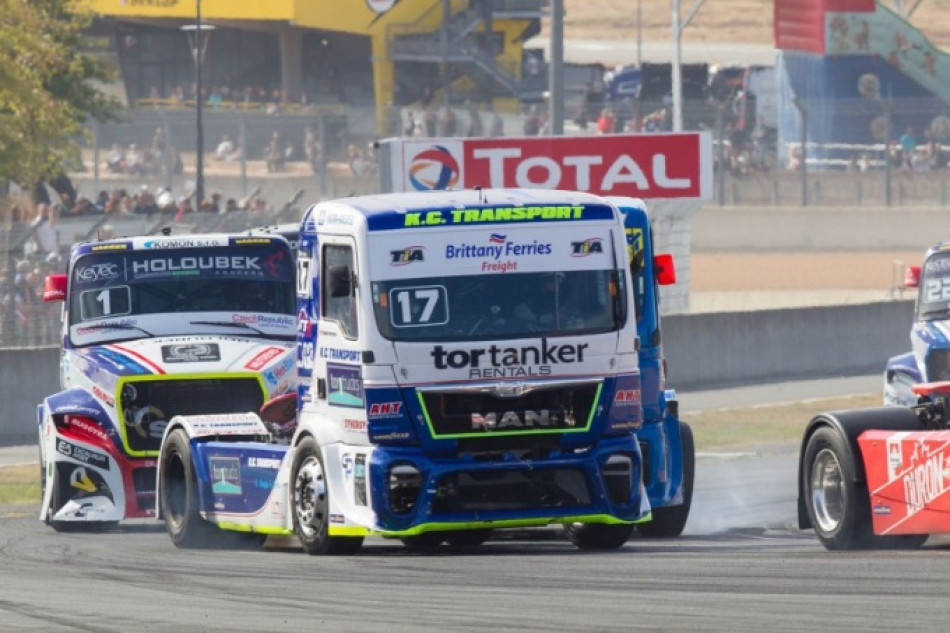 The British racer, representing TOR Truck Racing, was in a class of his own in France, starting off with a pole position and following that up with three category wins in a row to seal the silverware in Race 3 on Sunday.

With pressure off his shoulders, Brereton could "play with the big boys" in Race 4. 

He did just that, and following an excellent start where he ran as high as fifth overall, he then had a coming together with Oly Janes which dropped him down the order to finish fourth in the category. 

Despite this Brereton was rightly satisfied with his wins and GRAMMER TRUCK CUP title success.

"It feels really good," he said.

"This year we made some changes to the truck.  But we still didn't get the most of it, it's as good as it was last year but it needs to be better," he said.

What was a delight for one man, was a disappointment for another.

Steffen Faas, in his Team Tankpool24 Racing Mercedes-Benz entry, came to Le Mans trailing Brereton by 32 points. Mathematically, he was still in contention for the big prize and entered the weekend with confidence.

Unfortunately, disqualification for several overspeedings in Race 1 and technical issues in Race 2 left him with zero points to his name on Saturday. 

Sunday was an improvement but a seventh and a second simply weren't enough for the affable German who is undertaking his first full season of FIA ETRC action.
Owing to his troubled weekend, not only has Faas' seen his chances of winning the GRAMMER TRUCK CUP end, but he now also becomes vulnerable to the ever-improving Oly Janes (Buggyra International Racing System/Freightliner) for the vice-champions status.

Following a character-building first part of the season and a breakthrough weekend at Most, Janes established himself as a regular podium finisher. 

Le Mans was no exception, two second places, a third and a fourth left him only seven points behind Faas heading in to the final weekend at Jarama.

Jamie Anderson in an MAN run by his own Anderson Racing outfit experienced a mixed weekend, which saw a second place in the first encounter followed by a win in race four. However, there were also problems with a DNF in race two.

Anderson's compatriot Terry Gibbon also had reasons to be satisfied, having visited the podium on three occasions.

Despite getting involved in an incident which caused his retirement in race four, Gibbon enjoyed his best ever combined points haul in the FIA ETRC to date in his immaculately presented T Sport run MAN.
Luis Recuenco (Truck Sport Lutz Bernau/MAN) and Ray Coleman (LRS/MAN) kept fighting for the places outside of the podium over the course of the weekend and both highlighted their outing at Le Mans with P4 being their best finishing position.

Experienced truck racers, Eduardo Rodrigues (Truck Sport Lutz Bernau/MAN) and Frankie Vojtisek (Czech Truck Racing Team.) both experienced tough outings at the French venue fighting at the back of the GRAMMER TRUCK CUP field.

With the GRAMMER TRUCK CUP being decided, what can be expected in the season finale at Jarama? Surely everyone will do their best to finish off the season on a high.  

"It would be lovely to be on the podium with the big guys. If I can get the set-up right, I can drive it, it's just that I would need a bit of help there," said the 2019 GRAMMER TRUCK CUP winner Brereton.

"But I'll be giving it my all to get there."

Check out the GRAMMER TRUCK CUP standings HERE