This page contains archived information and may not display perfectly
ETRC: 2022 entry list revealed
The 2022 Goodyear FIA European Truck Racing Championship season will kick off in Misano in three weeks' time and 15 full-season entries will line up on the grid for the eight-event, 32-race season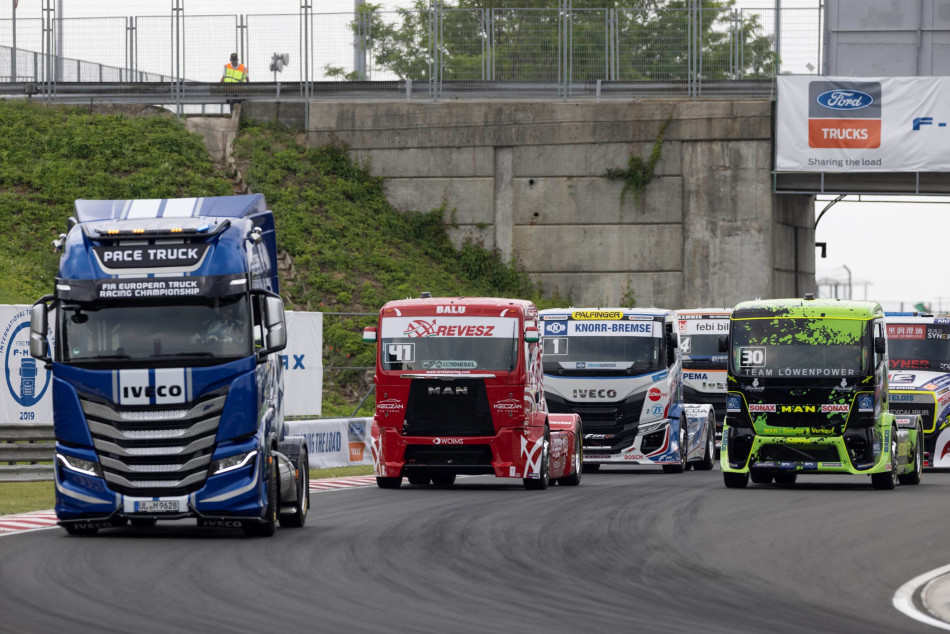 Defending champion Norbert Kiss will head up the grid with the #1 on his fire-red MAN truck. The three-time FIA ETRC champion had a stellar season last year with an incredible pace, where he secured 10 out of 12 possible pole positions and 11 wins.
Last year's runner-up Sascha Lenz, who finished the final race with a win taking his total to four victories, will be looking to turn up the heat on his rival Kiss in a bid to take the crown.
Buggyra ZM Racing driver Adam Lacko has set out his goal for the season ahead: the 2017 champion wants to fight for the title. The Czech racer, who scored 10 podiums and a win last year knows, that it won't be an easy task. "There are more and more drivers at the very top of the field. In qualifying, there are three or four of us within a tenth of a second. That's impressive with a 5.5-ton monster and it's clear, that these races are on a great level again."
Two more FIA ETRC champions will line up on the grid alongside Kiss, Lenz and Lacko: German racer Jochen Hahn and Spanish driver Antonio Albacete are both targeting the addition of more wins to add to their impressive CV's.
Team Schwabentruck's Steffi Halm showed consistent good performance last year, where she scored five podiums, and she will be looking to get back on the top step again in 2022.
Don't Touch Racing driver André Kursim had a solid season in 2021 scoring three wins, and he will be aiming to capitalise on his strong performance from last year.
René Reinert, who finished the season with a second place at Misano last year, will without a doubt be looking to get on the podium again.
Lion Truck Racing driver Anthony Janiec returns to the 2022 grid as a full season entry. The Frenchman raced in a few races last year, scoring a personal best fourth place at Most.
Reigning Promoter's Cup winner Shane Brereton, who took the crown in the last round of the 2021 season, will defend his title against strong competition.
His closest rival from 2021, French Buggyra ZM Racer Téo Calvet, is preparing for his second season in the Goodyear FIA ETRC and his aim is to win the Promoter's Cup while closing in on the top group in the overall classification. 
Steffen Faas finished the 2021 season with two podiums at Misano and third in the standings. His Tankpool24 team worked hard on the truck in the off season to get him into the best position to compete for the top spot.British racer Jamie Anderson competed with a brand-new truck last year, which admittedly took some getting used to with it being right-hand steered. He scored two victories and 6 podiums in the Promoter's Cup and will be looking to continue his hunt for the top step this season.
Clemens Hecker starts into the 2022 season with a clean slate: the German driver switches from a MAN truck to a brand-new Scania and will aim to get on the podium again this year.
A familiar driver will return to the grid for a full season: José Rodrigues. The Portuguese raced in Spain last season as a race-by-race entry, scored a win and two podiums in the Promoter's Cup at Circuito del Jarama, and will be looking to add more victories to his name.