This page contains archived information and may not display perfectly
ETRC - 2018 Truck warriors ready for battle of Belgium
The FIA European Truck Racing Championship arrives at Circuit Zolder in Belgium this weekend at a critical phase in the title battles.
With three FIA ETRC events in the next four weekends coming up the title could be won or lost with a simple mistake or stroke of misfortune.
The two leading protagonists for the 2018 FIA ETRC, Jochen Hahn and Adam Lacko, will be aiming for speed and consistency as they arrive at Zolder, a circuit they both won at in the last two seasons.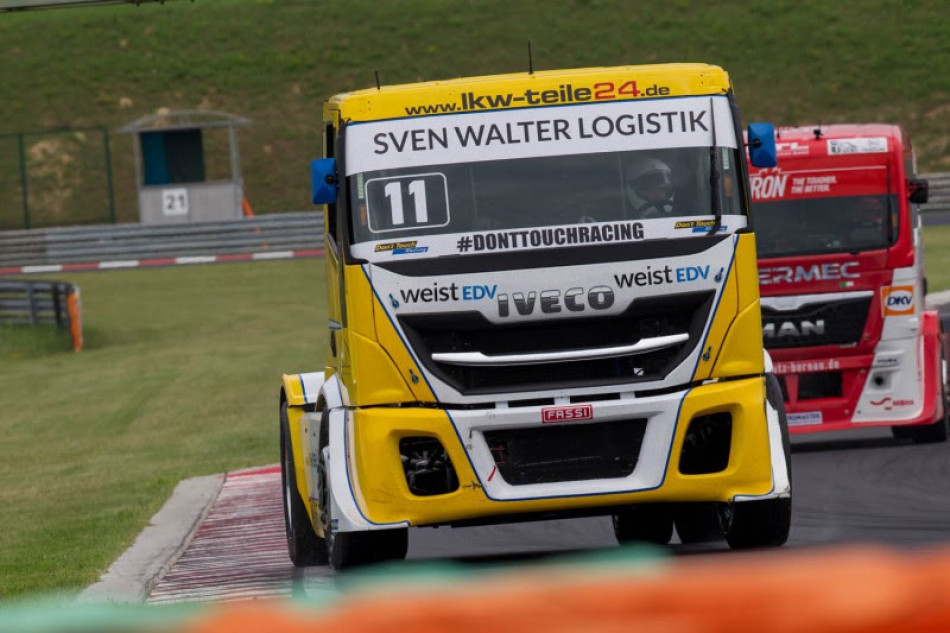 Although Lacko enjoyed one of his most spectacularly successful Saturday's at Autodrom Most two weeks ago, including an unforgettable last corner pass for the lead in race two, the Czech ace only gained nine points on his German rival over the weekend.
Hahn continued his record of scoring at least one win at every meeting this season with a race three victory at Most. 
So, the Hahn Racing IVECO ace now leads Buggyra International Racing System's  Lacko by 48 points with three events, 12 races and 180 points up for grabs.
Tankpool24 Racing Mercedes-Benz driver Norbert Kiss' double podium result in Most has seen him breakaway from the chasing pack slightly in third position from the attentions of Truck Sport Lutz Bernau driver Antonio Albacete and SL Trucksport's Sascha Lenz.
While Albacete has shown himself to be able to win races on pace and merit this season, Sascha Lenz has been supreme in consistently scoring points.
The German driver, who took his first win at Misano in May, is the only driver in the field to have scored at every one of the 20 races held so far in 2018.
Steffi Halm has endured a tough run of races since her brilliant victory on home ground in Germany in July. The Team Schwabentruck driver has dropped to sixth in the standings and will be hoping to return to her usual form in the remaining races.

Kursim's Zolder Return
12 months on from his breakthrough weekend in Zolder when he scored a memorable double win, Andre Kursim returns to the scene of his success this weekend.
He does so with a brand new team as Don't Touch Racing continues its rookie season after showing flashes of podium threatening pace and consistent points scoring so far.
A third place at Slovakia Ring has been Kursim's best result of the season so far but the German will be channelling his Zolder success last season to bring team chief Sven Walter a first win in the FIA ETRC with Don't Touch Racing.
Jose Rodrigues enjoyed his most successful race of the year at Most two weeks securing a first visit to the podium since Red Bull Ring in May 2017. The Portuguese will be back in action again this weekend with the Reboconort team.
Rene Reinert claimed a second victory of the season in Czech Republic and came with 0.2s of making it a double. But, Adam Lacko's amazing move quashed that possibility, but Reinert will be on the hunt for more wins this weekend in Belgium with his familiar blue Reinert Racing MAN.

Coleman's Return as GRAMMER TRUCK CUP hots up
The GRAMMER TRUCK CUP ranks are bolstered by LRS Racing's Ray Coleman this weekend as he joins the field after missing the Most encounters.
The fight for the first ever GRAMMER TRUCK CUP now looks like a straight fight between Shane Brereton and Steffen Faas as the pair have broken clear of their other counterparts.
The points gap was reduced in Most where although Faas failed to score a category win, his haul of three second places and a third meant he trimmed the gap to just 22 points behind Brereton who grabbed two wins in Czech Republic.
However, both Faas and Brereton will be racing a truck at Zolder for the very first time and will have to learn the quirks of the tight Belgian track.
Oly Janes took his first two category wins at Most last time out and the British driver now sits third in the points standings. He will be aiming to capitalise on his recent form to add more victories this weekend in his Buggyra International Racing System Freightliner.
Making it five British aces on the grid in Belgium will be T Sport's Terry Gibbon and Anderson Racing's Jamie Anderson in their MAN's.
As close as can be possible to having a home race will be Erwin Kleinnagelvoort in his venerable EK Race Scania.
Also aiming to improve their positions in the GRAMMER TRUCK CUP rankings will be teen racer Jose-Eduardo Rodrigues (Rebonconort MAN), Frankie Vojtisek (Czech Truck Racing Team) and Luis Recueno (Trucksport Lutz Bernau).

What Happened Last Year:

Race 1: Norbert Kiss
Race 2: Andre Kursim
Race 3: Adam Lacko
Race 4: Andre Kursim

How to Follow the Action.......

Click HERE for timetable
See the Entry List HERE

Latest Standings HERE

Live Streaming and Timing HERE