This page contains archived information and may not display perfectly
ERT - Thrilling conclusion to the 2018 FIA European Rally Trophy final in Portugal
Rallye Casinos do Algarve - Saturday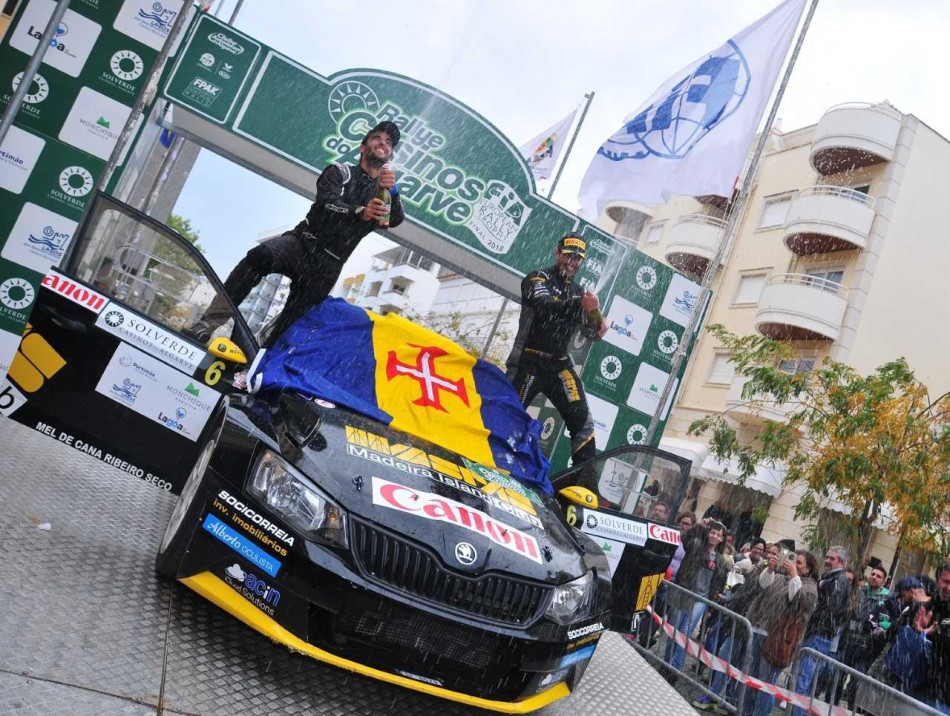 Alexandre Camacho and Rui Rodrigues take the win after a close fight with José Pedro Fontes/Paulo Babo and Ondrej Bisaha/Petr Tesinsky
Much like the roads through the Algarve's Monchique Sierra, the battle for glory in this weekend's FIA European Rally Trophy Final featured many twists and turns, but it was Alexandre Camacho and Rui Rodrigues who emerged victorious today after eleven gruelling stages.
The Portuguese pairing win the 2018 ERT title and a place at the FIA Prize Giving in Saint Petersburg next month, where they will receive their award at one of motor sport's most glittering occasions.
The journey to ERT glory was far from smooth for Camacho, but he gradually reeled in and dispensed with his fellow countryman José Pedro Fontes and the Czech Republic's Ondrej Bisaha, the latter trailed on the ERT standings by Romania's Dan Girtofan and Kevin van Deijne of the Netherlands.
In ERT2, victory went to Russia's Sergei Remennik/Marina Danilova, whose biggest opponents Ricardo Costa/Rui Vilaça disappeared from the fight when they were forced to retire from Saturday's first stage. Turkey's Mustafa Çakal/Mehmet Köleoglü finished second and William Maviitty/Brian Daniels ended their second visit to Casinos do Algarve with another third place.
ERT3 was won by Portuguese team Miguel Correia/Pedro Alves in the Renault Clio R3, a brilliant result in this their first full season of rallying and hot on the heels of their win in the Iberian Rally Trophy. The other finisher on ERT3 was Romanian team Csongor Szabo/Rares Fetean, who battled cooling problems with the Ford Fiesta R2's engine throughout the event.
In ERT Junior, Roberto Blach/José Murado were the victors, benefiting from the problems besetting Diogo Gago's car and Enrico Oldrati's crash. The Spanish team also became the winners of the Peugeot Rally Cup Iberica. For the final classifications visit FIA European Rally Trophy Final 2018 - Standings.
The Algarve bids farewell to the FIA European Rally Trophy for now, after two memorable Finals, with Rallye International du Valais set to host the 2019 Final subject to the approval of the World Motor Sport Council on 5 December.
Quotes from the ERT Champions
ERT - Alexandre Camacho and Rui Rodrigues (PRT)
Skoda Fabia R5
"The start of this event was very difficult for us because we are used to doing rallies only on Madeira island and on clean roads; we have no dirt roads there. With only two recce passes it was a big challenge, because we just didn't know the roads. But as the rally progressed we started to improve and today in particular went very well for us. We 'switched the chip' and focused on how we could improve. The stages went better, we were matching the times of the car in front, and in the end we were able to take the win. We're delighted with that and it's fantastic to be ERT champions."
ERT2 - Sergei Remennik and Marina Danilova (RUS)
Mitsubishi Lancer Evo X
"This has been a really enjoyable rally. It's a shame we were not able to enjoy a proper fight with Ricardo Costa, who lost his power steering so it made things a little easier for us to win here on tarmac. The roads were really tricky, which made it really enjoyable. It has also been really exciting to have Marina alongside me here as my co-driver. Everything she did went perfectly. We're really happy to end the final as ERT2 champions."
ERT3 - Miguel Correia and Pedro Alves (PRT)
Renault Clio R3
"We are very happy to be FIA ERT3 champions and it has been a great opportunity to be in the fight for this win. It has been an extremely demanding rally with very tough stages. Quite tricky but very enjoyable and it feels very good to be on top in ERT3."
ERT Junior - Roberto Blach Nunez and Jose Murado Gonzalez (ESP)
Peugeot 208 R2
"A good day and I'm really pleased to end it as the ERT Junior champion. It's been a great event. It's such a complicated rally; the stages are really tough. But I learned a lot because of that and we are very happy with the result."