ERC - Magalhães joins Rally greats with Acropolis ERC glory
2018 Acropolis Rally: Leg three report, 3 June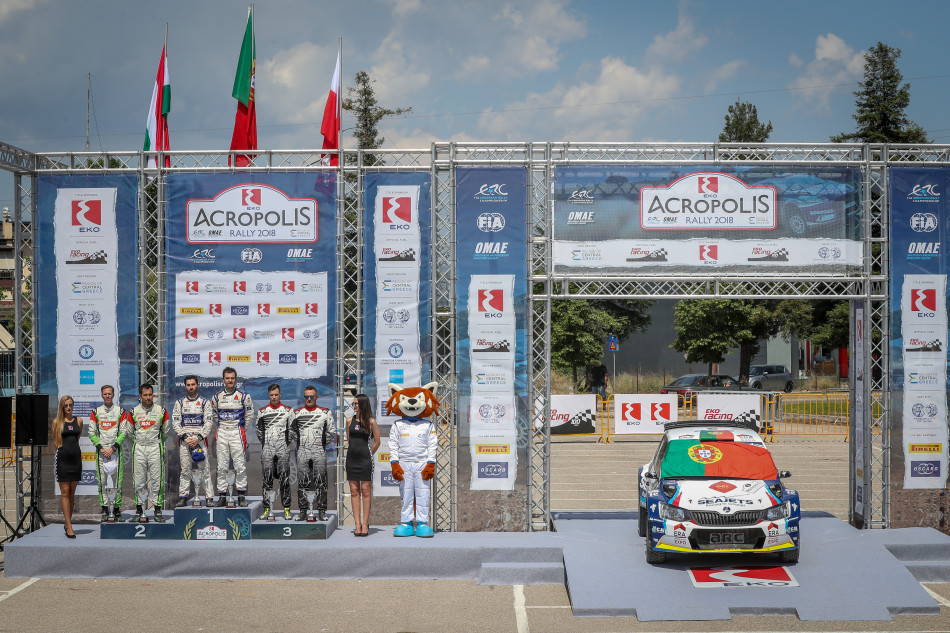 SEAJETS-powered Bruno Magalhães joined an illustrious list of winners with victory on one of the toughest events of them all, the EKO Acropolis Rally, alongside co-driver and namesake Hugo Magalhães.
In doing so, the Portuguese reignited his faltering FIA European Rally Championship title bid as Russian rival and ERC leader Alexey Lukyanuk made do with bonus points only following his exit on Saturday.
MOL Racing Team's Norbert Herczig finished a career-high second with 24-year-old Pole Hubert Ptaszek completing an all-ŠKODA Fabia R5 podium as Hungary's Tibor Érdi Jr and Amittrajit Ghosh from India claimed the ERC2 and ERC3 spoils respectively.
Magalhães was more than a minute in front starting Sunday's closing four stages. But a cautious drive avoiding the punctures which had afflicted many of his rivals earlier in the event, meant his final margin of victory was trimmed to 29.1s at the finish in Lamia.
"Sometimes in our lives, dreams come true," said last year's ERC runner-up, whose name will appear on the list of Acropolis winners alongside legends such as Sébastien Loeb, Colin McRae, Walter Röhrl and Carlos Sainz. "To win a rally like Acropolis, my name in the album of winners, is absolutely great. Thanks to my sponsors, they believe in me for many years. It's a big pleasure to win in the country of SEAJETS, and I want to dedicate this to them. Thank you to my team."
Behind, Herczig and TRT Krezus Rally Team's Ptaszek secured their first ERC podiums in second and third respectively, with four-time Hungarian champion Herczig taking time out of Magalhães in three stages from four. "It was unbelievable for us. I can't find the words. Before the rally I didn't think we would be able to reach this position," said Herczig.
Eyvind Brynildsen brought his Autotek Motorsport-prepared Ford Fiesta R5 home in fourth, unable to catch Ptaszek despite pushing as hard as he could throughout Sunday's four stages. Cypriot frontrunner Simos Galatariotis finished an excellent fifth, and already has his sights set on a repeat at ERC's next round, which is also his home event, the Cyprus Rally.
Grzegorz Grzyb claimed sixth in his Rufa Sport ŠKODA Fabia R5, ahead of fellow Fabia runner Jourdan Serderidis, the top Greek finisher, in seventh and Turkey's Orhan Avcioğlu in eighth. Brazilian Paulo Nobre was elated to score his first ever ERC points in ninth with Érdi Jr completing the top 10. Alexey Lukyanuk returned from retirement on Saturday to score maximum leg points on Sunday, over a minute faster than nearest rival Juuso Nordgren across today's four stages.
How leg three unfolded: Lukyanuk and Nordgren fast as Magalhães wraps up win
While Bruno Magalhães wrapped up his EKO Acropolis Rally victory ahead of Norbert Herczig and Hubert Ptaszek, two drivers that had retired on Saturday morning came back to win all four stages on Sunday.
Championship leader Alexey Lukyanuk won three stages out of four in his Russian Performance Motorsport Ford Fiesta R5 to take crucial maximum leg points for his ERC title bid. His only mistake all day came when he clipped a tree and bent his car's left rear wheel hub in SS9 due to a fading brake issue.
Wevers Sport driver Juuso Nordgren was making his ERC debut this weekend, and though too many punctures on Saturday ruled out a potential podium finish, he did take his first ERC stage victory in SS9, Sunday's opening run.
Magalhães was at the opposite end of the scale through SS9, dropping over 20s to his podium rivals as he struggled to find a rhythm. His pace picked up somewhat thereafter, doing enough to clinch victory.
On his way to fourth place behind Magalhães, Herczig and Ptaszek, who were all driving conservatively to retain their podium positions, Eyvind Brynildsen pushed on to recover time. While he couldn't climb higher than fourth place overall, third on the final leg earned him precious bonus points.
SS10 caught out a handful of drivers, including a brief scare for Herczig when his engine stalled. Both Jourdan Serderidis and Grzegorz Grzyb made minor mistakes, the former overshooting a hairpin and running wide, and Rufa Sport driver Grzyb dropping 30 seconds with a spin.
The ERC's main R5 contingent had a much calmer loop to finish the EKO Acropolis Rally than most stages prior, to the relief of crews still running. A quick stall for Paulo Nobre and a tyre change for the perennially unlucky Łukasz Habaj, who retired his eSky Rally Team Fiesta twice in as many days, were the only dramas in SS11.
Despite a challenging four days, Habaj was able to take positives from his arduous weekend, suggesting it had made him a better driver and better person. "I get used to the problems, so it doesn't bother me anymore! I was trying to enjoy the rest of this stage. We were 'practising' the wheel change on the stage. I think I'm a much tougher person after this rally."
As the rally wrapped up in SS12, only Brynildsen had reason to worry, a differential problem forcing him to run in front-wheel-drive only mode. It cost him little time though, securing his fourth place without fuss.
Nobre found himself usurped for eighth place in the rally's final 18.53 kilometres by Toksport WRT's Orhan Avcioğlu, but was hardly disappointed to finish ninth, elated with his first ERC points.
ERC2: Érdi Jr wins ERC2 on Acropolis amid late drama
Tibor Érdi Jr secured a second consecutive win in the FIA European Rally Championship's ERC2 category on the EKO Acropolis Rally, but late drama behind decided the remaining podium positions. The Hungarian controlled the production-spec category from start to finish, a result he put down to a trouble-free run over raw speed. "We are very happy," he said. "Very good job for my co-pilot and me and the team. Thank you very much everybody. We make a good race, not have a mistake, not have a puncture, that's good." Russian Performance Motorsport's ERC2 representative, Sergei Remennik, finished in second position come SS12, but his 16m44.0s gap over third place belied a nail-biting finish to the production class podium battle. Juan Carlos Alonso was on a charge up the field after a 1m40s penalty sent him back to fourth position on Saturday night. He won both of Sunday morning's stages, leapfrogging Q8 Oils Rally Team driver Petros Panteli into third place before midday service. "We are fastest in two stages, and we try to push to get second place. Two stages to go, it's a very difficult rally, anything can happen," said Alonso, foreshadowing what was to come. Heading to SS11 Alonso's gap to Remennik was a mere 8.6 seconds, aided by a spin for Remennik in SS10 which had cost him vital time. However, Alonso's charge for second place would end shortly afterwards, rolling his Mitsubishi Lancer at a tight right-hander and retiring. With Remennik's position safe, Panteli picked up third place once more, but the Acropolis held one last twist for the last stage of all. Panteli's Lancer suffered a mechanical failure midway through SS12, pulling over to allow his car to cool down before resuming. That stoppage cost him 15m39.5s compared to Zelindo Melegari behind, who had struggled all weekend with technical gremlins and subsequent time penalties for lateness. Their efforts to retain third fell short by the smallest of margins as Melegari overhauled Panteli for third position by only 10.8s. "I do my maximum to arrive at the podium. [It's a] good result because first day is hard, and second day is worse! But we are here," Melegari told ERC Radio at stage end.
ERC3: Ghosh suprises with debut victory
Amittrajit Ghosh scored a fairytale underdog victory in the FIA European Rally Championship's ERC3 category on the EKO Rally Acropolis, winning on his debut in an older-specification Ford Fiesta R2. Leading his class heading into Sunday, Ghosh simply had to bring his Prospeed-prepared car home in one piece to complete his first ERC appearance - his third outside Ghosh's native India - in first place. He did exactly that, continuing a deliberate approach to prioritise survival over speed in Acropolis' rough, rock-strewn stages he had taken since Friday. "Coming here with an older generation R2, the goal was to finish. In the back of my mind I knew that if we got to the finish we'd be on the podium, but yesterday morning when I was only 2s behind [Artur] Muradian I knew I could do it," he said. TBRacing's Muradian had been ERC3's quickest driver throughout all three days, but his PEUGEOT 208 R2 was appropriate battle-scarred from his fast approach. He was fastest in all but one stage he completed, but sheared wheel bolts in SS5 on Saturday morning forced him to retire from the lead. "They sheared, like somebody cut them off. It's funny because it was the first turn of the stage, 90 metres, sharp right and you can see the wheel flying in front of you!  We lifted the car and when we decided to put the tyre back on, we noticed there were no bolts. We found all four of them in the corner later on." Despite his speed, Muradian's Saturday retirement meant he would settle for third place, well behind ERC Ladies' Trophy frontrunner Emma Falcón in second. She bravely fought through all four Sunday stages with no brakes, her middle pedal going down to the floor and forcing Falcón to use her handbrake instead. Chrysostomos Karellis had hoped to return on the final day after his retirement in Drossohori on Saturday but was a non-starter.
Earlier reports: 
Click here for leg one report
Click here for leg two report
PROVISIONAL TOP 10 POSITIONS (after 12 stages, 237.89 kilometres)
1 Bruno Magalhães (PRT)/Hugo Magalhães (PRT) ŠKODA Fabia R5 3h02m09.4s
2 Norbert Herczig (HUN)/Ramón Ferencz (HUN) ŠKODA Fabia R5 +29.1s
3 Hubert Ptaszek (POL)/Maciej Szczepaniak (POL) ŠKODA Fabia R5 +1m37.2s
4 Eyvind Brynildsen (NOR)/Veronica Engan (NOR) Ford Fiesta R5 +2m35.2s
5 Simos Galatariotis (CYP)/Antonios Ioannou (CYP) ŠKODA Fabia R5 +3m23.0s
6 Grzegorz Grzyb (POL)/Jakub Wróbel (POL) ŠKODA Fabia R5 +5m20.6s
7 Jourdan Serderidis (GRC)/Frédéric Miclotte (BEL) ŠKODA Fabia R5 +5m55.5s
8 Orhan Avcioǧlu (TUR)/Burçin Korkmaz (TUR) ŠKODA Fabia R5 +6m39.3s
9 Paulo Nobre (BRA)/Gabriel Morales (BRA) ŠKODA Fabia R5 +6m55.3s
10 Tibor Érdi Jr (HUN)/György Papp (HUN) Mitsubishi Lancer Evolution X +9m07.8s

FIA ERC2: Tibor Érdi Jr (HUN)/György Papp (HUN) Mitsubishi Lancer Evolution X
FIA ERC3: Amittrajit Ghosh (IND)/Ashwin Naik (IND) Ford Fiesta R2
ERC Ladies' Trophy: Emma Falcón (ESP) Citroën DS3 R3T
Click here for full results, stage classifications, retirements and other data.
RALLY LEADERS
SS1: Norbert Herczig/Ramón Ferencz
SS2-3: Alexey Lukyanuk/Alexey Arnautov
SS4-12: Bruno Magalhães/Hugo Magalhães
STAGE WINNERS
Leg one (Friday 1 June, 33.13 kilometres):
SS1: SSS Hippodrome (2.60kms):
| | | | |
| --- | --- | --- | --- |
| ERC1 | ERC2 | ERC3 | ERC Ladies |
| Herczig | Melegari | Karellis | Falcón |
SS2: Thiva (30.53kms):
| | | | |
| --- | --- | --- | --- |
| Lukyanuk | Érdi Jr | Muradian | Falcón |
Leg two (Saturday 2 June, 123.76 kilometres):
SS3: EKO New Amfissa 1 (14.28kms):
| | | | |
| --- | --- | --- | --- |
| Lukyanuk | Remennik | Muradian | Falcón |
SS4: Drossohori 1 (25.10kms):
| | | | |
| --- | --- | --- | --- |
| Magalhães | Érdi Jr | Muradian | Falcón |
SS5: Paleohori-Mendenitsa 1 (22.50kms):
| | | | |
| --- | --- | --- | --- |
| Magalhães | Remennik | Falcón | Falcón |
SS6: EKO New Amfissa 1 (14.28kms):
| | | | |
| --- | --- | --- | --- |
| Brynildsen | Stage cancelled | Stage cancelled | Stage cancelled |
SS7: Drossohori 2 (25.10kms):
| | | | |
| --- | --- | --- | --- |
| Herczig | Érdi Jr | Falcón | Falcón |
SS8: Paleohori-Mendenitsa 2 (22.50kms):
| | | | |
| --- | --- | --- | --- |
| Magalhães | Alonso | Ghosh | Falcón |
Leg three (Sunday 3 June, 81.00 kilometres):
SS9: EKO Grameni 1 (21.97kms):
| | | | |
| --- | --- | --- | --- |
| Nordgren | Alonso | Muradian | Falcón |
SS10: Divri 1 (18.53kms):
| | | | |
| --- | --- | --- | --- |
| Lukyanuk | Alonso | Muradian | Falcón |
SS11: EKO Grameni 1 (21.97kms):
| | | | |
| --- | --- | --- | --- |
| Lukyanuk | Remennik | Muradian | Falcón |
SS12: Divri 1 (18.53kms):
| | | | |
| --- | --- | --- | --- |
| Lukyanuk | Remennik | Muradian | Falcón |

KEY STATISTICS
ERC rally wins in 2018: Lukyanuk 2, Magalhães 1
ERC stage wins in 2018: Lukyanuk 21; Magalhães 7; Gryazin and Herczig 2; Åhlin, Avcioǧlu, Botka, Brynildsen, Kreim, Moura, Nordgren, Pellier and Ptaszek 1