ERC - EKO ACROPOLIS RALLY
One of the most demanding and famous events on the international motorsport calendar forms the latest challenge for the FIA European Rally Championship drivers when the EKO Acropolis Rally takes place in Central Greece from 1-3 June following the ceremonial start in Athens next Friday morning.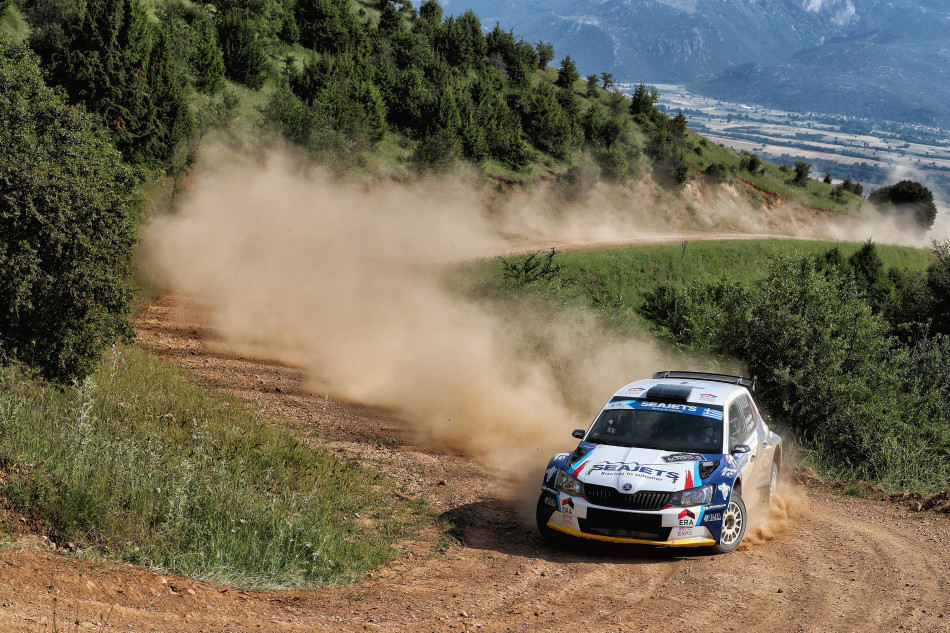 FIA European Rally Championship round 3/8
One of the most demanding and famous events on the international motorsport calendar forms the latest challenge for the FIA European Rally Championship drivers when the EKO Acropolis Rally takes place in Central Greece from 1-3 June following the ceremonial start in Athens next Friday morning.
EKO ACROPOLIS RALLY IN NUMBERS:
19: A total of 19 top-of-the-range R5 cars are set to line up at the start in the Greek capital Athens.
18: Of the list of registrations, 19 nationalities are represented.
12: This year's EKO Acropolis Rally, which starts from under the ancient Acropolis citadel in Athens, features 12 stages over 237.89 timed kilometres, making it the longest of the ERC season so far.
30.53: The famous Thiva stage is the longest of the Lamia-based rally at 30.53 kilometres. In contrast, SSS Hippodrome in Markopoulo is the shortest at 2.60 kilometres.
5: Since returning to the European championship roster in 2014, the Acropolis Rally has been ever-present on the ERC schedule and this year celebrates its fifth running in the modern era of the ERC in 2018.
70: Greek Haris Kaltsounis will turn 70 this September making him the oldest driver in the field. He's also started the event more times than any of rivals with this year's running marking appearance number 33.
FAST FACTS:
*The Acropolis Rally was a regular on the ERC schedule up until 1968, the year when British hero Roger Clark took his Ford Escort to victory, one year after Paddy Hopkirk had triumphed in a Mini Cooper S.
*Indeed, British drivers have a strong record on the Acropolis with Colin McRae winning the event a record five times and Richard Burns once.
*The 2014 Acropolis Rally was the setting of the first event win for the PEUGEOT 208 T16 with Irishman Craig Breen, co-driven by Scott Martin, coming out on top for the French make. Since then there has been wins for the Ford Fiesta R5 (2015 and 2017) and ŠKODA Fabia R5 (2016).
*Evidence from archaeological excavations suggest Lamia's first inhabitants arrived in the Bronze Age.
*Essential ingredients for the perfect Greek salad are tomatoes, cucumbers, red onion, feta cheese and Kalamata olives seasoned with salt, oregano and dressed with olive oil. Best served with warm pita bread. Lemon juice is optional.

BIG HISTORY, BIG CHALLENGE: EKO ACROPOLIS RALLY TO TEST ERC STARS IN GREECE
*European championship leader Lukyanuk among 19 drivers in R5 cars
*Multiple national champions in action on legendary event
*Eighteen nationalities set to be represented at Athens start
For more than 60 years, the Acropolis Rally has made heroes and broken hearts. Throughout that time, its legendary status has remained undiminished with last season's edition offering the usual mix of triumph – for winner Kajetan Kajetanowicz – and despair – for Nikolay Gryazin, who was leading when his car was gutted by fire, thankfully without injury to the young Russian and his co-driver Yaroslav Fedorov.
This year's event, round three of the all-action FIA European Rally Championship, is set to be no different as crews negotiate demanding gravel stages in the Region of Central Greece.
Factor in punishing ambient and ground temperatures, the prospect of rain in the build-up to the event, plus the presence of just shy of 20 R5 cars, and the stage is set for a thrilling contest.
With two ERC wins from two starts, Alexey Lukyanuk will be the driver in the ascendency when the exciting entry is flagged away from the ceremonial start below the remains of the ancient Acropolis citadel – a UNESCO World Heritage Site – in the Greek capital Athens on Friday morning (1 June).
"It's one of the toughest rallies of the year for the cars and the crews," said Russian Lukyanuk. "I did it two years ago with a different co-driver [to Alexey Arnautov] but we finished early with broken suspension due to the wrong pacenotes in one place. More than half of the rally will be new for me and it will be interesting to start with a long stage on Friday evening."
Following a blast around the SSS Hippodome superspecial at the Markopoulo Olympic Equestrian Centre, which was built for the Summer Olympic Games in Athens in 2004, crews head north to the fast and famous Thiva stage, the rally's longest at 30.53 kilometres. As well as offering an early test of ability, strategy will be much in evident.
Drivers will balance running lower down the order to benefit from a more stable road surface with selecting a higher starting position – following Thursday's Qualifying Stage – in order to stave off the threat of driving in dust clouds, which can be a factor on gravel stages run later in the day when there is typically less wind to disperse hanging dust.
"It will be really tricky to get the proper starting position and there is always the possibility of being behind a slow crew or one with some issues," Lukyanuk said. "That means you can lose a lot of time straight away. But it's the competition and we'll play it. It should be an exciting weekend."
An ERC regular until 1968, the Acropolis Rally returned to the European roster in 2014 when Loutraki on the banks of the Gulf of Corinth hosted the 60th running, a mixed-surface affair. Now run in partnership with the OMAE Greek federation on gravel only, Lamia has been home since 2016. And following the Thiva stage at 17h29 local time on 1 June, crews will reach the university city for first service from 19h44.
Saturday's action is centred south of Lamia with three stages repeated once for a competitive distance of 123.76 kilometres. Crews head north on Sunday for two repeated stages covering 81.00 timed kilometres with the finish held in the grounds of the Lamia National Trade Fair from 15h04.
ERC2: Newcomers boost class entry to season high
A season-high seven crews will battle for honours in the category for showroom cars headed by championship leader Sergei Remennik, from Russia, and featuring newcomers Petros Panteli (Cyprus) and Vassilios Drymoussis(Greece). Argentina's Juan Carlos Alonso, Hungary's defending ERC2 champion Tibor Érdi Jr and Menderes Okur(Turkey) are also entered.
ERC3: Falcón set for Acropolis first, Ghosh and Muradian begin ERC bids 
Canary Islander Emma Falcón will make her EKO Acropolis Rally debut as she bids for more ERC Ladies' Trophy points. Category regular Artur Muradian (Russia) begins his 2018 ERC campaign after tackling four events in 2017. Chrysostomos Karellis was a class winner in the national section of the Acropolis last season but switches from a PEUGEOT 208 R2 to a Citroën DS3 R3T. Indian prospect Amittrajit Ghosh will be Ford Fiesta R2-powered when he begins his ERC campaign but eager to gain experience rather than chase rapid stage times on only his second event outside his homeland.
And in other news…
*Bruno Magalhães will be playing catch-up in the title fight in his ARC Sport ŠKODA Fabia after mechanical issues restricted him to seventh overall on Rally Islas Canarias at the start of May.
*Four-time Hungarian champion Norbert Herczig starts his third new event in a row for MOL Racing Team.
*Former national title holder Grzegorz Grzyb arrives in Greece, where he finished third last season, two weeks after missing out on victory on a rally in his native Poland by 0.3s.
*Łukasz Habaj, who succeeded Kajetan Kajetanowicz as the Polish rally champion in 2015, will make his Acropolis Rally debut.
*Norway's Eyvind Brynildsen has previous Acropolis experience to count on from his stint in the world championship and is targeting a podium with Veronica Engan, who last co-drove him 10 years ago.
*Promising Cypriot Alexandros Tsouloftas belied his lack of experience to finish fourth overall on his Acropolis debut in 2017.
*Albert von Thurn und Taxis was heading for a points finish on his Acropolis debut in 2017 only to roll into retirement on the final stage. Frank Christian will co-drive for the first time.
*Young Pole Hubert Ptaszek is showing big promise in the ERC Junior Under 28 Championship, which doesn't include the Acropolis Rally on its event schedule.
*Greek champion in 2016, George Philippedes made his first start in an R5 car on last year's Acropolis but a crash on the closing stage ruled out an unlikely podium. He continues to compete under the Team Greece banner in a ŠKODA Fabia, also the car of choice for compatriot Efthimios Halkias and Ukrainian Yuriy Protasov, who will both be in action on the main international event albeit not chasing ERC points.
*Belgian-Greek Jourdan Serderidis has spent the last few seasons competing at world level but starts his first Acropolis since 2015.
*After finishing second overall on the ERC-counting Cyprus Rally last season, multiple Cypriot champion Simos Galatariotis is trying the Acropolis Rally for size having upgraded to a ŠKODA Fabia R5.
*Paulo Nobre's last Acropolis start was in 2012. The charismatic Brazilian returns this year as part of his season-long campaign with Motorsport Italia.
*Portugal's Aloísio Monteiro makes his second ERC appearance of 2018, while Orhan Avcioglu from Turkey, winner of the FIA Balkan Rally Trophy in 2017, remains an ever-present for Toksport WRT.
*Finn Juuso Nordgren, 21, is part of ŠKODA Motorsport's factory team in the world championship and will be one to watch as he makes his ERC debut in what is an experience-building mission.
Watch and listen 
Highlights from both legs will be shown on Eurosport and available on Eurosport Player. ERC Radio will broadcast live from stage finishes and selected service park visits.
ERC standings
Click here for provisional standings after Round 2 of 8
ERC statistics
ERC rally wins in 2018: Lukyanuk 2
ERC stage wins in 2018: Lukyanuk 16; Magalhães 4; Gryazin 2; Åhlin, Avcioǧlu, Botka, Kreim, Moura, Pellier 1, Ptaszek 1