This page contains archived information and may not display perfectly
Engel and Mercedes-Benz on pole for the main race
Maro Engel (Mercedes-Benz was declared winner of the qualifying event after Stefan Mücke (Aston Martin), who crossed the line in first place, was given a 10-second penalty, so he will start on pole for tomorrow's main race for the FIA GT World Cup.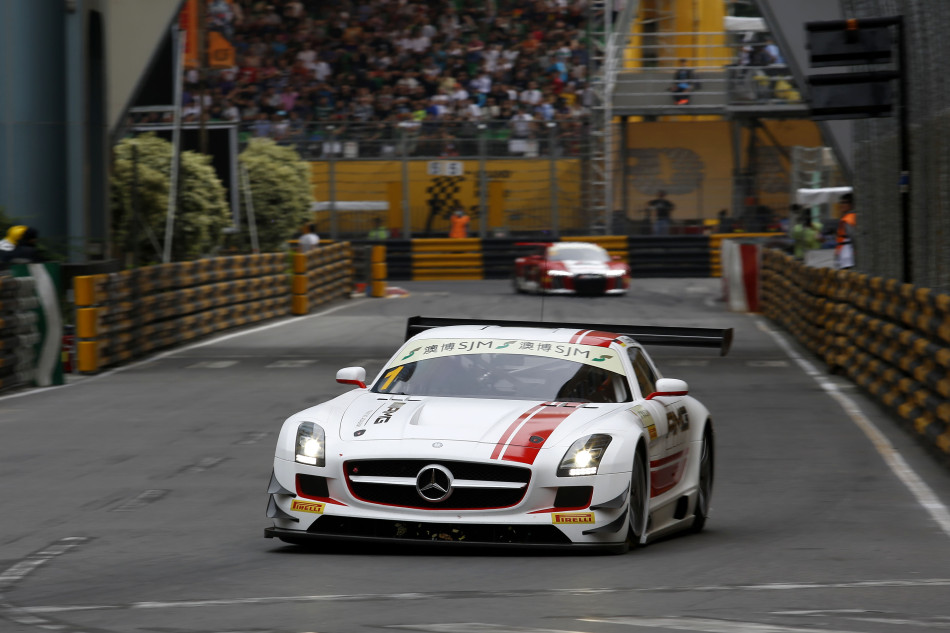 On lap 8 on the restart of the qualifying race, which had been neutralised, Stefan Mücke made a mistake in his Aston Martin Vantage GT3 that was to cost him dear even though he won in masterly style. He was handed a 10-second penalty by the Stewards as he had suddenly braked in front of Maro Engel (Mercedes-Benz) who had to take avoiding action and just missed hitting the Aston Martin while behind, Edoardo Mortara (Audi) also found himself in a tricky situation.

The sanction was justified by the words of the article 39.12 of the Sporting Regulations of the event: (…) In order to avoid the likelihood of accidents before the safety car returns to the pits, from the point at which the lights on the car are turned out drivers must proceed at a pace which involves no erratic acceleration or braking or any other manoeuvre which is likely to endanger other drivers or impede the restart. (…)

Thus Engel, winner of the 2014 Macau GT Cup 2014, and third in qualifying on Friday morning despite a crash in the Mandarin corner after only three laps, was declared winner of the qualifying event and tomorrow he will start on pole in his Mercedes-Benz SLS AMG GT3 for the 18-lap main race, which will award the drivers' and manufacturers' titles in the FIA GT World Cup. Joining him on the front row will be a former multiple winner on the Guia Circuit, Italian Edoardo Mortara in his Audi R8 LMS.

Mücke will start on the second row, and will no doubt be out for revenge as since the start of the weekend he has proved that his Vantage has nothing to envy the SLSs in terms of sheer speed in Macau. Alongside him will be Renger van der Zande in the second Mercedes-Benz.

The third row consists of René Rast in another Audi R8 LMS in front of Richard Lyons in an Aston Martin. The highest-placed Porsche, the 997 GT3R driven by Earl Bamber, will share row four with Darryl O'Young in the third Aston Martin. The fastest of the McLaren 650s GT3s in the hands of Alvaro Parente is in ninth place with the sister car of Kevin Estre in tenth.
The qualifying race 
Mücke didn't let the pressure get to him and made a great start this morning in the qualifying race. Engel used his higher top speed to slip past Mortara on the run down to the braking area for the Lisboa cornner.

On lap 1 van der Zande was in fourth place followed by Rast, Lyons, Darryl O'Young, Bamber, Adderly Fong and Parente. But there were changes in the top 10 shortly afterwards as O'Young fell back two places, while Fong got past Bamber and then lost control of his Bentley Continental GT3 on lap 3 in the Solitude Esses. The car's chassis was so badly damaged that the Hong Kong driver won't be at the start of the main race tomorrow.

The event was neutralized until lap 8 when Mücke made his mistake. There were no further changes in the top 10 as the drivers didn't want to take any risks so as not to compromise their chances for the main race.

Maro Engel (Mercedes AMG Driving Academy – Mercedes-Benz SLS AMG GT3 #1): "It is not the way we wanted to get pole and Stefan drove a really good race with no mistakes apart from that one but the rules are quite clear: for safety reasons when there is a restart the leader obviously decides when to accelerate, and as soon he decides to go to full power, he must maintain it and can no longer brake and reduce the speed because it's extremely dangerous. Stefan went, I went with him, Edoardo as well behind me, and after we almost reach 200 KPH Stefan mashed the brakes and it was a real surprise. I managed to brake earlier and swerved a bit to the right. Behind me I was really scared that they would not be able to avoid us and luckily there was no big crash. Looking to tomorrow's race, let's say that after yesterday's crash this is a great situation to start from the front. I am really looking forward to it."

Edoardo Mortara (Audi Sport Team Phoenix – Audi R8 LMS #6): "With P2 we still have a chance to try to win the main race tomorrow as you need to be in the top 4 here to claim victory. But honestly I feel we are in a different league in terms of power compared to Mercedes and Aston Martin. From the Hairpin to the Lisboa corner it's just unbelievable how fast they are. You cannot really keep up with them so my race was pretty much over after Turn 1 when Maro Engel overtook me. Then I just managed to hold off Renger van der Zande. Overall, I like the format of this World Cup. Winning the Sunday race means you did everything right in qualifying and in the qualifying race to maximise your chances for the main race. I definitely like it."

Jochen Bitzer (Head of AMG Customer Sports): "Of course, winning a race on the track is more emotional than afterwards by a decision from the stewards. After we were anything but fortunate in yesterday's qualifying, I am now particularly happy for our mechanics and engineers. They prepared the cars in a perfect way again overnight and today's result wouldn't have been possible without them."