This page contains archived information and may not display perfectly
Drews and Gayoso Vazquez Battle in Prerov Cross Car Academy Trophy Fixture
Miguel Gayoso Vazquez, points leader in the 2022 FIA Cross Car Academy Trophy, threw down a marker on the first day of the series' visit to Prerov in the Czech Republic today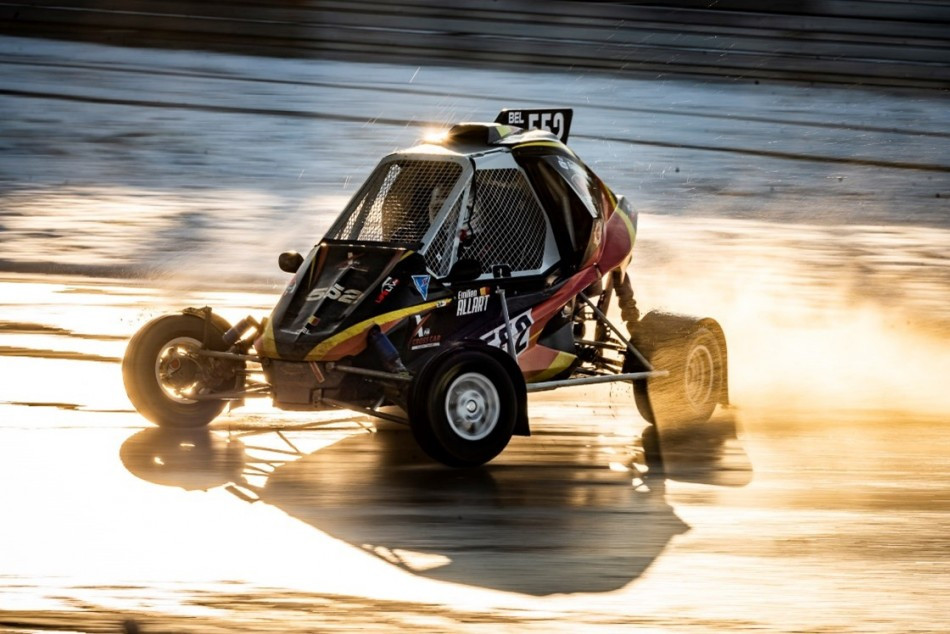 The young Spaniard claimed victory in the opening competitive heat of the encounter, overcoming pole position runner Samuel Drews from Germany, with Italy's Valentino Ledda finishing third.
The race crowned a busy day's action for the youngsters competing in this year's FIA Cross Car Academy Trophy, who are all aged between 13 and 16 years and drive identical LifeLive TN5 cross car machines, boasting 75 horsepower. The young talents, who are hoping to progress towards international rally and rallycross careers, compete with full support and coaching from the LifeLive team.
After the early morning warm-up, timed practice sessions began with Drews setting the pace in the first of these. Local hero Stanislav Brousek then went fastest in the second session, giving the passionate Czech fans reason to cheer around the magnificent Prerov autocross circuit, which is famous for its vertiginous drops and jump called 'The Mammoth'.
Despite having set a fastest time, Brousek was penalised by heavy rainfall which meant that the pace  overall in the second session was slightly slower than the first. He would line up on the second row of the grid for the first heat, behind a front row of Drews, Gayoso Vazquez and Italy's Valentino Ledda.
Gayoso Vazquez got away better but it was an all-action battle to the flag. Drews held off a determined charge by Ledda, who is just one point behind in the title battle, with Brousek fourth in front of Norway's Eirik Steinsholt, Italian Matteo Bernini, Belgian youngster Emilien Allart and Cypriot lady racer Tara Laconico.
The only retirement from the heat was Belgium's Romauld Demelene, who damaged the front suspension of his car after an 'off'. The field will regroup in their Heat 1 finishing order on Sunday morning for the first of two more heats to decide the starting order for the points-paying Final.
For full points standings please visit HERE (https://www.fia.com/events/european-autocross-championship/season-2022/classifications)
For live timing and results from Prerov, please visit HERE (https://www.chronomoto.hu/fiaautocross/onb/index.php?event=AX_2022_07)
For further information on the FIA Cross Car Academy please visit HERE (https://www.xcacademytrophy.com)
To watch highlights from the first round of the 2022 FIA Cross Car Academy season, please visit HERE (https://www.youtube.com/watch?v=fC6f6A-rxgg)
To watch highlights of the second round of the 2022 FIA Cross Car Academy season, please visit HERE (https://www.youtube.com/watch?v=nmgS2cS7keU)