British & German F4 weekend review
Find below the highlights from a weekend of racing in British and German Formula 4 Championships.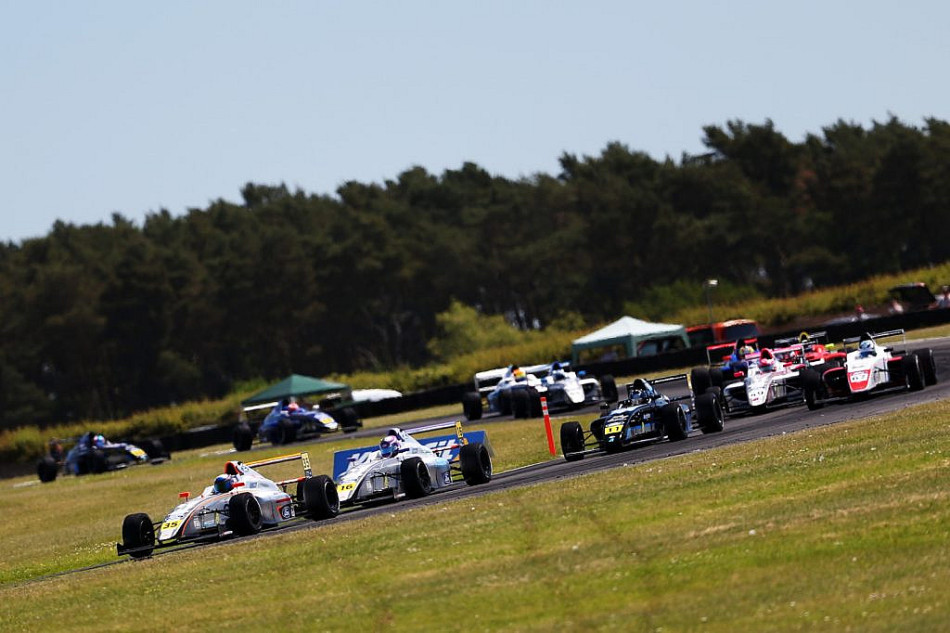 Rees & Dimitrov share the headlines at Snetterton
Matthew Rees launched himself into title contention with a double victory after sharing the headlines with Georgi Dimitrov on an eventful weekend (12-13 June) of F4 British Championship certified by FIA – powered by Ford EcoBoost racing at Snetterton.
JHR Developments racer Rees continued his enviable qualifying record – four pole positions from a possible four – and took a lights-to-flag victory in the opening contest to notch up his first win in single seaters.
He then made it a brace of trips to the top step of the podium on Sunday after managing the gap – and a safety car restart – live on ITV4 to close to within 25 points of championship leader James Hedley (Fortec).
Rees' triumphs bookended an eventful reverse grid race as Georgi Dimitrov marked his debut – and Richardson Racing's return to the series – with a maiden win of his own.
Fellow newcomer David Morales led from pole position, then later his team-mate Thomas Ikin (Arden Motorsport) as he fended off a charging Kai Askey (Carlin).
A better exit out of the Wilson Hairpin gave third-placed Dimitrov a better run past the pair, and from there he duly checked out and built up a comfortable 5-second margin of victory.
Ikin held on for a first podium in the category, with team-mate Zak Taylor sending a move past Askey on the inside of Riches with two minutes left on the clock to make it two visits to the rostrum in as many meetings in third.
Hedley's weekend started in assured fashion, the BRDC Rising Star taking second on the road behind Rees in the opener after fending off McKenzy Cresswell (JHR), who finished third.
Although he made forward progress in the reverse grid race, he could only manage a non-score in 11th, before a battling drive to fourth on Sunday to preserve his lead, and Fortec's advantage in the Teams Cup over JHR.
Hedley's Fortec team-mate Joel Granfors made the trip to Norfolk as his closest challenger, and after race two held the enviable record of being the only driver in the field with a perfect run of points-scoring finishes, but an incident with Roman Bilinski (Carlin) in the final race dented his title hopes.
Granfors lunged to the inside of Bilinski whilst disputing seventh at the Wilson Hairpin, the two making contact on the exit. Bilinski's car survived the ordeal, but a gentle nudge against the barriers spelt the end of Granfors' afternoon, the Swede retiring before the restart.
He therefore drops to fourth in the points, having been leapfrogged by Rees and the ultra-consistent Cresswell, who made it three podiums in four races with third once more in the finale.
On that occasion, he was bested late on by Marcos Flack, the Phinsys by Argenti racer making a strong case for 'Driver of the Weekend' across the triple-header.
His maiden single seater podium in race three aside, the Aussie racer ran up front inside the top five in the opening race and made up eleven positions from the rear of the field to score points in the reverse grid encounter.
That puts him up into seventh outright behind Taylor and Joseph Loake, the JHR racer adding another brace of top-ten finishes to his record this time out.
It proved to be a weekend of 'what ifs' for the final Fortec challenger of Oliver Gray. He finished fourth in race one and might have usurped Cresswell and Hedley for a spot on the podium if not for Flack's late challenge.
He ran to tenth in race two but stalled at the start of race three and dropped to the rear of the field. The safety car gave him an opportunity to atone for the error, and he duly made six passes to finish 11th, but it was a weekend that promised more for the karting graduate.
He now sits eighth in the points, with Matias Zagazeta (Argenti) and Abbi Pulling (JHR) two points apart behind for ninth and tenth after a brace of points finishes apiece and a spirited battle out on track in race three.
Time and again the Peruvian looked to have the pace to take fifth on the road, but a sublime defensive drive by Pulling ensured she would equal her best result of the season thus far and give her title bid some grounding to build on at Brands Hatch.
Dimitrov's victory and Ikin's podium elevate them to 11th and 12th overall respectively, the pair also tied on points with Carlin's Dougie Bolger.
Tasanapol Inthraphuvasak leapfrogs Eduardo Coseteng into 14th and 15th, the latter now level on points with Bilinski after the Polish racer added a solitary point to his total in the opener.
Askey's career-best fourth in race two moves him to within striking distance of the group ahead, whilst David Morales can reflect with satisfaction on a strong start to life in the category, in particular a superb defensive showing from pole in the second race.
The next three rounds of the F4 British Championship take place at Brands Hatch, Kent on the 26-27 June.
Double success at the Red Bull Ring: Bearman wins the opening two races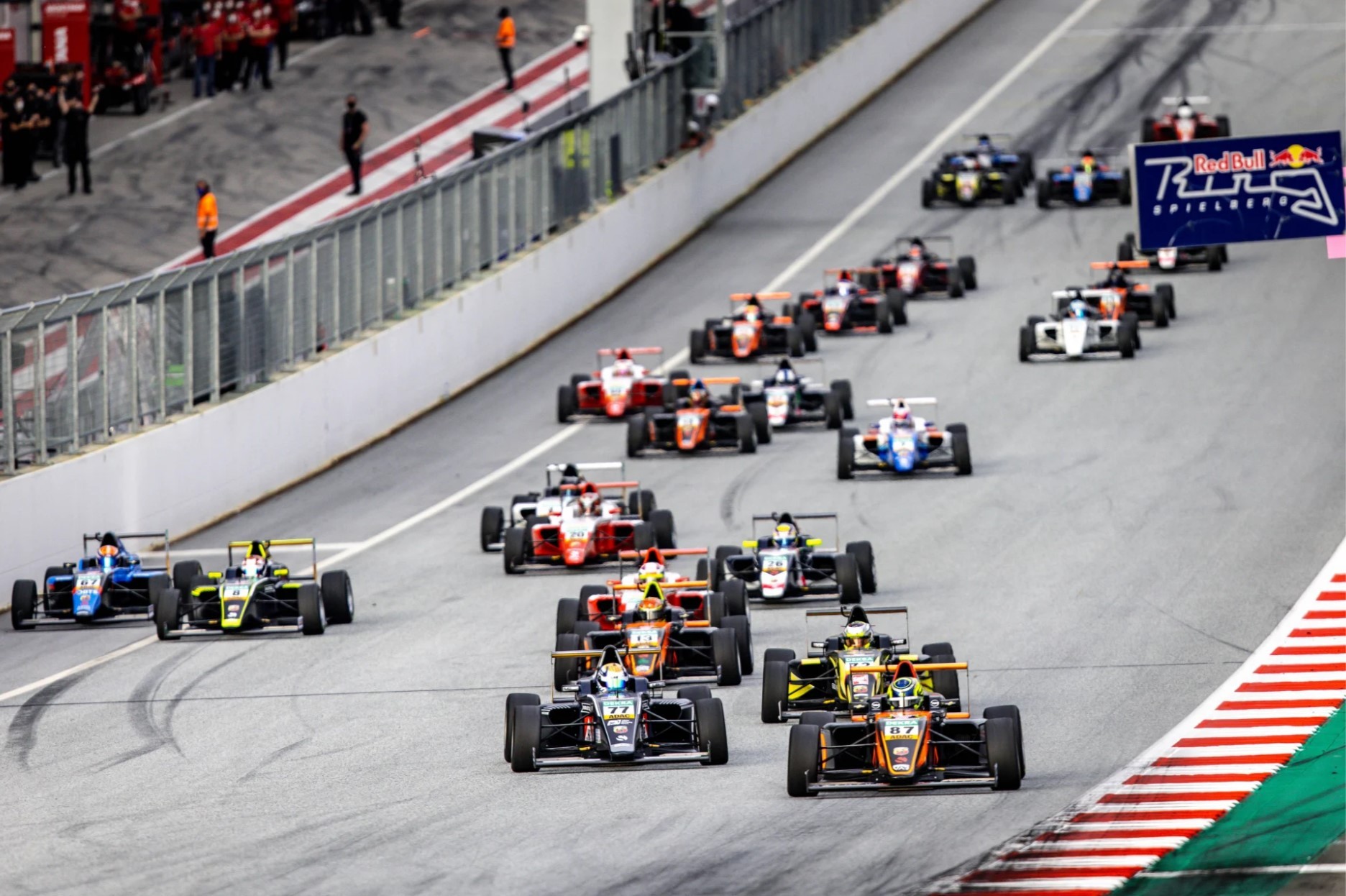 Van Amersfoort driver takes two commanding victories. Tramnitz unable to convert pole position in race two. Third and final race on Sunday.
Two races, two wins – Oliver Bearman has enjoyed the perfect start to the ADAC Formula 4 season-opener so far. The Brit claimed commanding victories in both races on Saturday.
Bearman led from start to finish in race one. The 16-year-old from the Van Amersfoort Racing team, who started from pole position, controlled the race from the word go to take victory in the opening race of the season. Sebastian Montoya (16, Columbia, Prema Powerteam) came home in second place, ahead of Russian Kirill Smal (16, Prema Powerteam). Hamburg's Tim Tramnitz (16, US Racing), an ADAC Stiftung Sport driver, was fourth. Fifth place went to Italian guest driver Leonardo Fornaroli (16, Iron Lynx).
The best-placed rookie was Nikita Bedrin (15, Russia, Van Amersfoort Racing) in twelfth place, followed by Maya Weug (17, Belgium, Iron Lynx), who finished 15th. Third place in the rookie competition went to Marcus Amand (15, France, R-ace GP).
Tim Tramnitz (US Racing) started the day's second race from pole position, but did not get off to a good start. Bearman took full advantage, wasting little time in passing the man from Hamburg. From that point on, the 16-year-old dominated the field, just as he had in race one. ADAC Stiftung Sport driver Tramnitz eventually came home second, followed by Italian guest driver Leonardo Fornaroli (Iron Lynx). Joshua Dufek (Switzerland, Van Amersfoort Racing) was fifth, ahead of Luke Browning (US Racing), the 2020 British Formula 4 champion.
"I am really happy. We knew from qualifying and the first race that we have the pace. I had a very good start and was then able to open a lead, which I managed to maintain right through to the finish," said Bearman, summing up race two. "The key to the win was definitely the start, which is not actually one of my strengths. I have worked on that and this start was the basis for the victory," the Brit added.
Tramnitz was basically happy with his result in race two, but was less satisfied than Bearman with his start: "P2 is ultimately still a good result. I started from pole position and would obviously have liked to have won. I don't think my reaction time was very good at the start. We will have to analyse that again." Meanwhile, Fornaroli was happy with his third place: "It was a really good race from me. I had a good start and my pace was good."
In the rookie competition, Nikita Bedrin was again first across the finish line, followed once again by Maya Weug. Michael Sauter (16, Switzerland, Sauter Engineering+Design) was the third-fastest newcomer in race two.
The final race takes place on Sunday and features the familiar reverse grid, which sees the top eight drivers from race two start in reverse order.
"I am definitely looking to be among the front-runners again in race three – preferably on the podium again," said Tramnitz, making his intentions clear. Bearman can make it the perfect weekend with one more win: "I don't have any major expectations for tomorrow's race. I want to score as many points as possible and am looking forward to it," said the relaxed Brit.
Browning wins eventful third race
The "young wild ones" lived up to their name in the third and final ADAC Formula 4 race in Austria. In an eventful race with a host of overtaking manoeuvres, retirements and safety car phases, Luke Browning (US Racing) eventually benefitted from a penalty handed to Sebastian Montoya (Prema Powerteam) to claim his first victory in ADAC Formula 4. Montoya was first across the finish line, but ultimately had to settle for seventh place after receiving a time penalty for an early start.
Victor Bernier (16, R-ace GP) started from pole position, ahead of Montoya and Kirill Smal (16, Prema Powerteam). Right from the off, the trio were embroiled in a fierce battle at the head of the field. Montoya passed Bernier at the start to lead going into the Niki Lauda corner. However, like Bernier, the Columbian started too soon and was subsequently handed a five-second penalty. Shortly after, Marcus Amand (15, R-ace GP) came off the track, resulting in a safety car phase. Montoya got away well at the restart and was briefly able to pull away from Bernier. However, the Frenchman and Small remained hot on Montoya's heels and did manage to pass the Columbian at one point. Smal then lost his front wing when trying to pass Bernier for the lead and was forced out of the race. That incident allowed Montoya to regain the lead and pull clear of the chasing pack.
Montoya went on to cross the finish line first, but the victory was then awarded to second-placed Browning. Cenyu Han (16, Van Amersfoort Racing) adopted second place, with third going to rookie Nikita Bedrin (15, Van Amersfoort Racing), followed by Taylor Barnard (17, BWR Racing), Valentino Catalano (15, BWR Racing) and Sami Meguetounif (17, R-ace GP). Pole-sitter Bernier eventually had to settle for 13th place.
"The team worked really well together. We communicated superbly during the race. I was always kept informed about what was happening on the track. I can't imagine it working any better," said the victorious Browning after the race. Han summed up his second place as follows: "That was a very good race from me, I am really happy with it. I obviously benefitted a little from mistakes made by other drivers. Despite this, I was able to get through my race well and did not get flustered."
Oliver Bearman (16, Van Amersfoort Racing), who won the first two races on Saturday, was forced to retire after a collision with his Van Amersfoort team-mate Joshua Dufek. Tim Tramnitz (16, US Racing) lost his rear wing after a collision with Italian guest driver Francesco Braschi (16, Jenzer Motorsport) and came home in 15th place.
The next race weekend takes place from 9th July to 11th July in Zandvoort, in the Netherlands.