ANETA LAUNCHES ITS ITINERANT ROAD UNIT, A ROAD EDUCATION AND SUSTAINABLE MOBILITY TRAINING PROGRAMME
FIA Member Club the Automóvil Club del Ecuador (ANETA) launched the Itinerant Road Unit together with Ecuador's Ministry of Education and the Metropolitan Traffic Agency of Quito. This programme aims to provide road education and sustainable mobility training to 40,000 students aged 6-16 from 20 provinces of the country in 2023.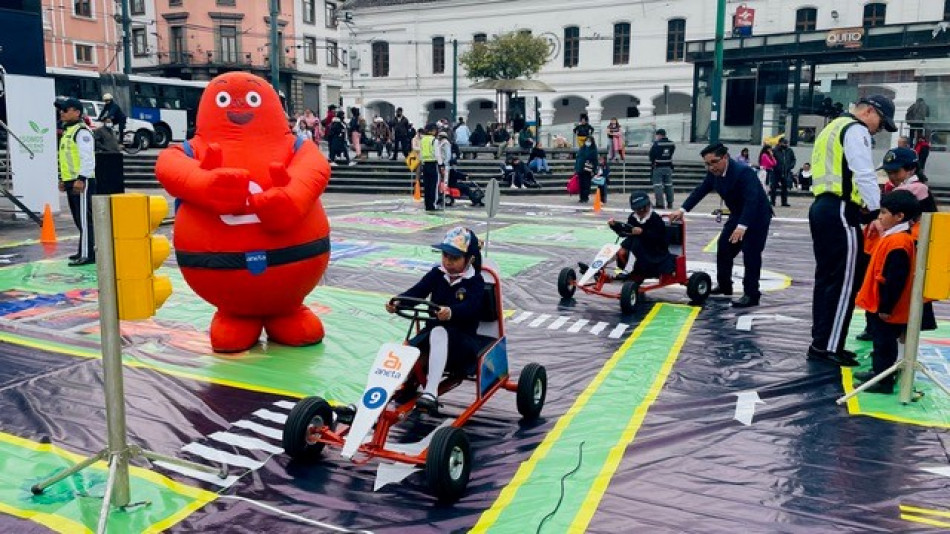 In accordance with the Cooperation Agreement between ANETA and Ecuador's Ministry of Education, the programme has been integrated to the training that ANETA has been developing for students of Basic General Education of the Ecuadorian Educational System mainly through technological platforms for online education.
The Itinerant Road Unit relies on a specific teaching system with classes being delivered in a van serving as a classroom. The latter is equipped with all the necessary services and is accessible for people with disabilities.
The training is organised in two phases. In the classroom, students receive theoretical training through videos and work sheets based on their age and level of studies. Once they have completed the first phase, students are invited to apply what they have learnt on a 300 m2 road circuit, through role playing during which they can act subsequently as pedestrians or drivers using tricycles and bicycles.
The activity is delivered by duly trained instructors who teach students the safe rules and behaviours road users should adopt. At the end of the programme, a participation diploma is given to each student in recognition of the interest and performance shown in the training.
The Itinerant Road Unit began its journey with a training in Quito on 1-10 February before moving to the city of Latacunga, 80 kilometres away from the capital. It is planned that the Itinerant Road Unit will visit 20 provinces until December 2023. In each city, the Itinerant Road Unit will stay between one and two weeks, training a total of approximately 40,000 students from the participating educational establishments chosen by the Ministry of Education. The trainings' locations will be chosen working with the Municipalities of each city.
The Cooperation Agreement between ANETA and Ecuador's Ministry of Education, which covers the Itinerant Road Unit project, aims to create a new road culture in the medium and long term through the training of students from the initial to the high school levels. It is the largest programme in Education, Sustainable Mobility and Road Safety carried out by an organisation in the country.
This project was also highlighted as part of the 2022 FIA President's Awards in the Road Safety category.