ADAC Technical Centre taking the lead on setting the highest testing standards
Yesterday, FIA President Jean Todt, who also serves as Special Envoy of the UN Secretary-General for Road Safety, accompanied by UNECE Executive Secretary Olga Algayerova, ADAC President August Markl and Actor, Producer and UNDP Goodwill Ambassador Michelle Yeoh visited the ADAC Technical Centre in Landsberg, Germany, and discussed issues related to consumer protection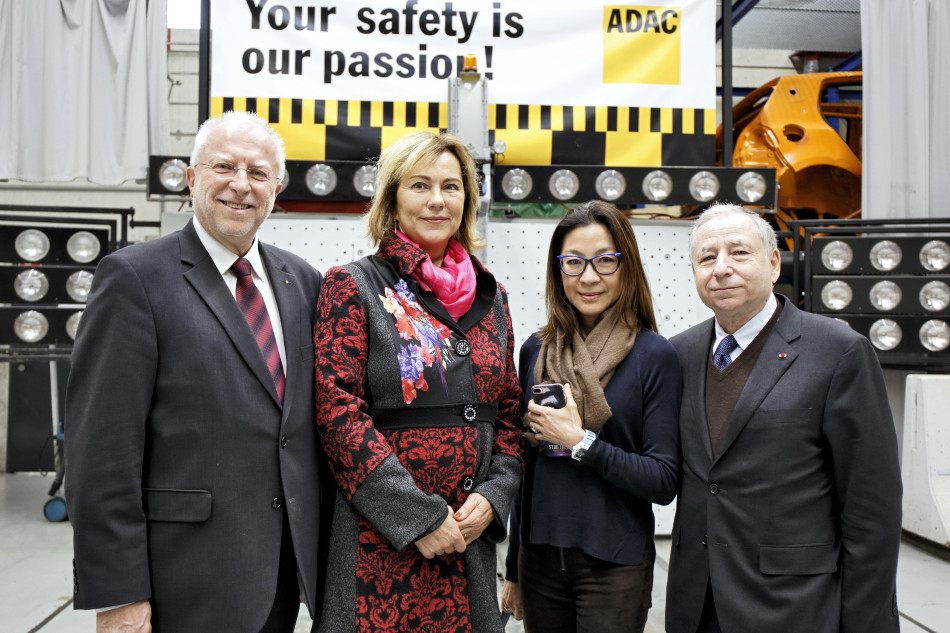 The ADAC is the world second largest automobile Club enjoying the status of a consumer protection organisation. It is to fulfill this commitment to ensure road users' safety that it created the ADAC Technical Centre which stands today as one of the main test centre for FIA European Clubs.
Holding a certified Quality Management System according to ISO 9001 : 2008, the Centre is also one of the accredited test labs for Euro NCAP, and the main facility for crash tests organised in the framework of the Global NCAP and the Latin NCAP programmes. Committed to upscale consumer protection and with a focus on product improvement, the ADAC has no commercial interest in tested products and ensures the neutrality of its publications.
During their visit, Olga Algayerova, Jean Todt, August Markl and Michelle Yeoh had the chance to assist to some of the tests and evaluations performed in the facilities. The latter include crash tests, car reviews or product tests whose results aims to help consumers make their purchase decisions and better ensure their safety.
Acknowledging the leading role of the ADAC in the field of car testing and consumer protection, Jean Todt declared, "The ADAC is a key partner for the FIA. It is one of the largest individual member organisation in our Federation, with more than 20 million members of its own. The ADAC Technical Centre is a world class safety and emissions testing facility that supports stronger advocacy in the interests of consumers, not only in Germany, but throughout Europe."
Photo: © ADAC/Ralph Wagner