AAVIETNAM RAISES AWARENESS ON DRINK DRIVING WITH INTERNATIONAL PHOTO CONTEST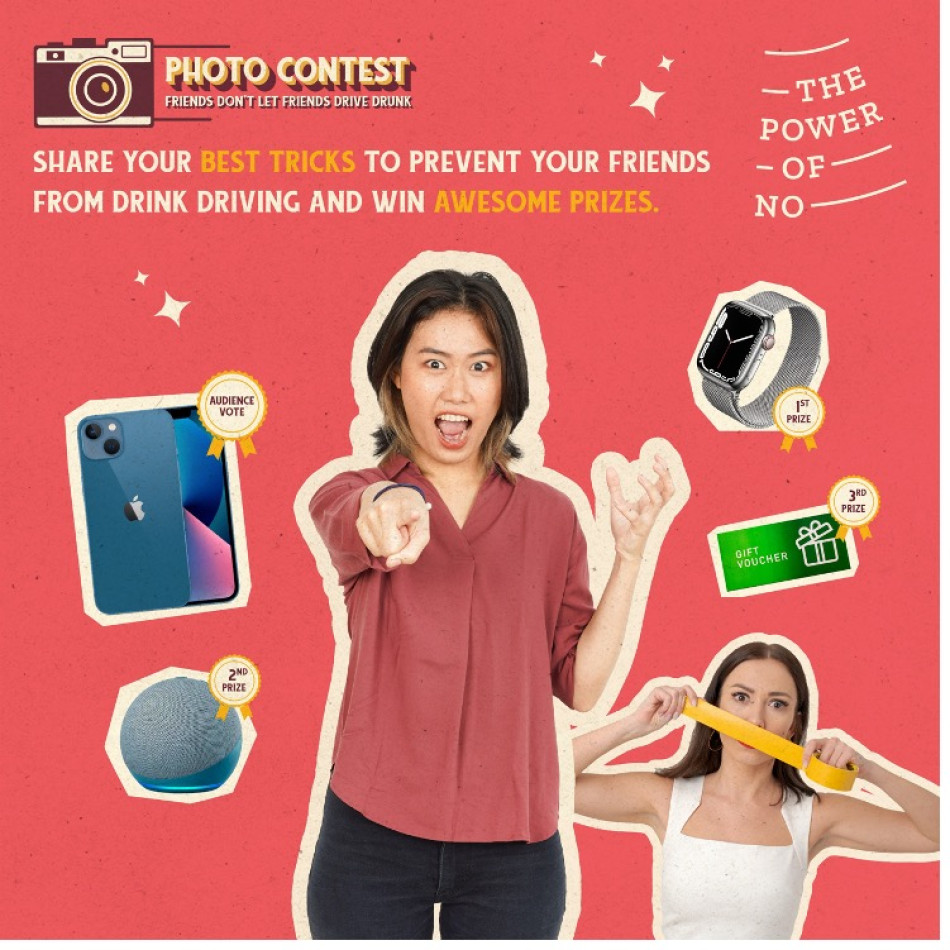 The 'Power of No' public awareness campaign is a regional effort aimed at raising awareness amongst   young adults aged 18-30 in Cambodia, Laos, Thailand, Malaysia, the Philippines, and Vietnam about the profound consequences of drinking and driving. It reinforces the message amongst young adults that drink driving is socially unacceptable, helping them make better-informed choices and, ultimately, saves lives.
The campaign launched an international photo contest in September around the theme 'Friends don't let friends drive drunk.' Through a targeted social media strategy and influencer marketing, the contest reached over 7 million young people with 450,000+ likes, comments, and shares in two months across Facebook, Instagram, Tik Tok, and PartiPost. The contest asks: "Do you know that friend who always drives home drunk? Show us your best tricks to prevent them from driving and win awesome prizes." Contestants submitted photos showing off their creative ideas to stop a friend about to drive drunk.
Contestants were encouraged to share their photo submissions from the campaign Facebook page, since the photo receiving the most organic likes, comments, and shares received the 'Audience Vote'. Photos were also reviewed by a judges panel of international road safety experts and advocates. The panel included international perspectives from France, the United Arab Emirates, and Singapore, as well as local perspectives for each campaign country: Cambodia, Laos, Malaysia, The Philippines, Thailand, and Vietnam. Each of the campaign countries awarded 6 prizes, totaling 30 contest winners in all.
Across all countries, the most popular Audience Vote photo came from the Philippines, where contestant Axel Ray Del Prado pretended to put a friend in the trunk of their car in order to stop them from driving drunk. Their post earned 2,900+ likes, 5,400+ comments, and 33,000+ shares. Other winning photo ideas included: trapping them in plastic wrap, hooking their shirt on a coat hanger, burying them in the backyard, stealing keys and running away, bolting the exit door with a metal lock, and putting a drunk friend to bed.
By participating in the contest, young people were compelled to think critically about their own actions and relationship to drink driving, were subconsciously exposed to repeated messaging over time, and incentivized to spread the word to their friends. 
"It is one thing to read about drink driving risks, and quite another to take action – to step up and participate in a movement calling attention to the dangers of irresponsible drinking," said AA Vietnam CEO Na Huong Hoang. "We are proud of the young people across our community in Southeast Asia for raising their voices on this important issue."