This page contains archived information and may not display perfectly
World RX - Ready to Rock in Riga: Latvian fans next to lap up World RX
With two-thirds of the season complete, the FIA World Rallycross Championship presented by Monster Energy is Latvia-bound this weekend (15/16 September) as the home straight races into view for international motorsport's most spectacular series.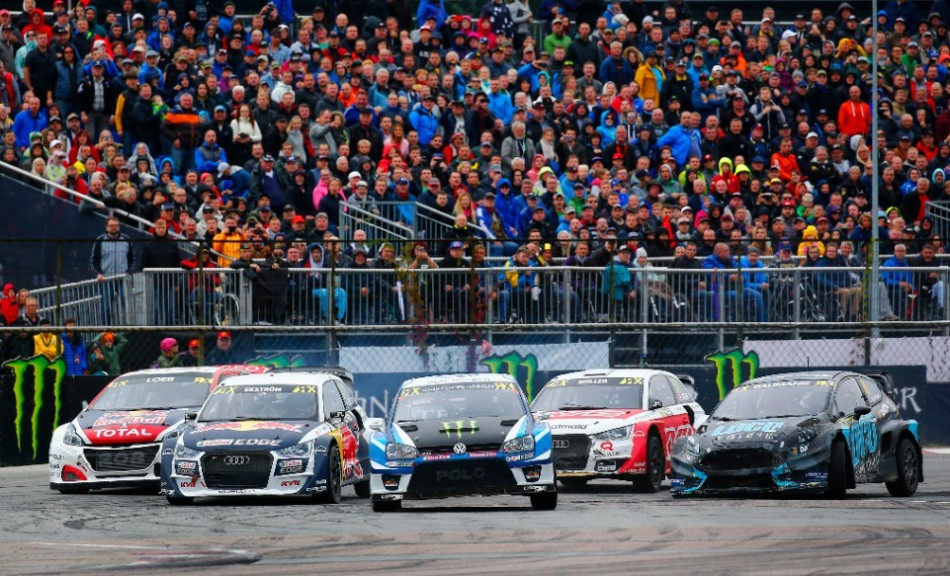 Riga's multi-functional Bikernieki National Sports Base first welcomed World RX in 2016, since when, local fans have thoroughly embraced the series and its superstar drivers. The only Eastern European stop on the World Championship schedule takes place at a state-of-the-art rallycross circuit located just 15 minutes from the Latvian capital.
 
The 1295-metre track comprises a number of unique features – most notably parallel jumps in the Joker Lap and standard section – and last year, it was PSRX Volkswagen Sweden's Johan Kristoffersson that mastered the challenge best to grab victory.
 
The Swede returns to the Baltic nation at the top of the 2018 title standings, having extended his overall advantage with his seventh success of the season in France last time out. Kristoffersson is chasing a second consecutive Drivers' crown at the pinnacle of the sport – but a number of his rivals have similarly impressive records in Latvia and are determined to halt his championship charge.
 
Sebastien Loeb won the inaugural Neste World RX of Latvia in 2016, and following a disappointing home event for Team Peugeot Total at Loheac – yielding just fifth and sixth places in the final – the Frenchman is targeting a return to winning ways, having last reached the top step in Belgium earlier this year.
 
Like Loeb, former World RX Champion Mattias Ekstrom is two times a podium finisher in Riga – taking the chequered flag as runner-up in both editions to-date. EKS Audi Sport's Audi S1 proved to be a potent package in France, but Andreas Bakkerud missed out on victory by barely a third-of-a-second at the end of a thrilling final, leaving both drivers with even more motivation to break the brand's duck in 2018.
The remaining two members of the 'super six' at the top of the points table are Kristoffersson's VW team-mate Petter Solberg and Loeb's Peugeot stablemate Timmy Hansen. Latvia is the only event on the calendar at which 2014 and 2015 title-winner Solberg has yet to reach the final, whereas Hansen, by contrast, finished third there last year and is seeking more silverware 12 months on.
 
The Swede's younger brother Kevin Hansen is enjoying a solid season in an independently-entered Team Peugeot Total 208 and is aiming to add to his three final appearances from the opening eight events – while local hero Janis Baumanis (Team STARD) will be hoping the support from the home crowd will spur him on into the last six for the second time in 2018. The former FIA European Rallycross Super1600 Champion placed fifth at Bikernieki last year, and a similar result this time around would doubtless send the partisan fans away happy.
 
Others to have shone in Latvia include Timur Timerzyanov – who reached the final two years ago and led the GRX Taneco Team challenge at Loheac – and wildcard entries Timo Scheider (ALL-INKL.COM Muennich Motorsport) and DTM race-winner Nico Muller, who will pilot a third 2018-spec Audi S1 for EKS after finishing sixth in the same event in 2017. Scheider endured a nightmarish weekend in France, failing to finish three of the four qualifying races – so his primary aim for Riga will be a change in fortunes.
 
Niclas Gronholm in GRX Taneco Team's other Hyundai i20 has been quietly impressive all year and is currently 'best-of-the-rest' outside of the six manufacturer-backed drivers, which bodes well for another competitive showing in Latvia. Olsbergs MSE duo Robin Larsson and Kevin Eriksson, meanwhile, are continuing to make the most of the Ford Fiesta's improved engine performance in recent rounds, with the latter showcasing a strong turn-of-speed at Loheac on his way to a season-best result of fourth in the semi-final.
 
The OMSE duo have frequently been locked in battle with GC Kompetition's brace of Renault Meganes, crewed by owner/driver Guerlain Chicherit and – last time out – Liam Doran, who marked his return to the World RX fold in striking fashion in France as four consistently quick qualifying races earned him sixth spot in the intermediate classification and a semi-final berth. The Briton has yet to race in Latvia, but can be counted upon to produce a crowd-pleasing performance.
 
The 20-strong entry list is completed by former Formula 1 star Alex Wurz – rejoining the fray after making his World RX debut in Norway three months ago – MJP Racing Team Austria team-mate Toomas Heikkinen, Sebastien Loeb Racing's Gregoire Demoustier and Oliver Bennett in a BMW MINI Cooper.
 
Janis Baumanis, Team STARD, said: "Neste World RX Of Latvia will be the most spectacular race weekend in my motorsport career. Ever since last year's event, I have been looking forward to seeing the massive crowd at the Bikernieki circuit again. For me, this round is unquestionably the highlight of the year and I cannot wait to be there!"
 
World RX Managing Director for IMG, Paul Bellamy, commented: "Over the past three years, Riga has firmly established itself as a mainstay on the World RX calendar – and a tremendously popular one at that. Amongst the Bikernieki track's many unique features is its proximity to the city centre, which helps to attract huge and enthusiastic crowds, all of whom clearly appreciate the spectacular action that rallycross brings to the country. Latvia has quickly and wholeheartedly embraced our exciting sport – and that can only be good news for the future of the discipline."
 
From a Cooper Tires point of view
Paul Coates, General Manager – Motorsport, Cooper Tire Europe, said: "The historic and atmospheric Bikernieki race circuit in Riga has proved a great addition to the series in the last few years. It's a fast and very technical track for the drivers. This means the tyres experience rapid changes in the forces applied to them from acceleration, braking and cornering. We have used our multi-discipline knowledge and experience gained over the past 20 years to produce a tyre that is more than capable of coping with the extreme forces found in rallycross."
Neste World RX of Latvia // Riga - Entry List Supercars
| | | | | |
| --- | --- | --- | --- | --- |
| 1 | Johan Kristoffersson | SWE | PSRX Volkswagen Sweden | Volkswagen Polo R |
| 4 | Robin Larsson | SWE | Olsbergs MSE | Ford Fiesta |
| 5 | Mattias Ekstrom | SWE | EKS Audi Sport | Audi S1 |
| 6 | Janis Baumanis | LVA | Team Stard | Ford Fiesta |
| 7 | Timur Timerzyanov | RUS | GRX Taneco Team | Hyundai i20 |
| 9 | Sebastien Loeb | FRA | Team Peugeot Total | Peugeot 208 |
| 11 | Petter Solberg | NOR | PSRX Volkswagen Sweden | Volkswagen Polo R |
| 13 | Andreas Bakkerud | NOR | EKS Audi Sport | Audi S1 |
| 21 | Timmy Hansen | SWE | Team Peugeot Total | Peugeot 208 |
| 32 | Alex Wurz | AUT | MJP Racing Team Austria | Ford Fiesta |
| 33 | Liam Doran | GBR | GC Kompetition | Renault Megane RS |
| 36 | Guerlain Chicherit | FRA | GC Kompetition | Renault Megane RS |
| 42 | Oliver Bennett | GBR | Oliver Bennett | BMW MINI Cooper |
| 44 | Timo Scheider | DEU | ALL-INKL.COM Muennich Motorsport | SEAT Ibiza |
| 51 | Nico Muller | CHE | EKS | Audi S1 |
| 57 | Toomas Heikkinen | FIN | MJP Racing Team Austria | Ford Fiesta |
| 66 | Gregoire Demoustier | BEL | Sebastien Loeb Racing | Peugeot 208 |
| 68 | Niclas Gronholm | FIN | GRX Taneco Team | Hyundai i20 |
| 71 | Kevin Hansen | SWE | Team Peugeot Total | Peugeot 208 |
| 96 | Kevin Eriksson | SWE | Olsbergs MSE | Ford Fiesta |
FIA European Rallycross Championship for Supercar
Riga marks the season finale for Euro RX's headlining Supercar class, with local favourite and former World Championship race-winner Reinis Nitiss (Ford Fiesta) on the cusp of being crowned, as the Latvian holds a 26-point advantage over his closest rival at the summit of the Drivers' standings. Nitiss could have sealed the deal in France, but damage incurred at the start of the final left him just short of the margin he required to put the destiny of the laurels beyond reach. Reigning RX2 Series Champion Cyril Raymond's home triumph vaulted the Frenchman up to second overall in his Peugeot 208, trailed by just four points by Anton Marklund (Volkswagen Polo). Amongst the 29 entries will be two-time Euro RX Super1600 Champion Krisztian Szabo (Audi S1) – one of the undisputed stars of the Loheac weekend – and Sondre Evjen, who will make the leap from RX2 for his Supercar debut with JC Raceteknik.
 
FIA European Rallycross Championship for Super1600
As in France, 25 cars will swell the Euro RX Super1600 grid in Latvia – the penultimate outing on the series' 2018 schedule – with a tantalising title tussle in prospect. Just a single point separates Volland Racing team-mates Artis Baumanis and Rokas Baciuska following the most recent round at Loheac. The former is sure to benefit from the support of the home crowd, while Aydar Nuriev in another Skoda Fabia remains well in touch just five points adrift in third. Arnis Odins adds to the homegrown contingent in a Renault Twingo.

Information
Further information about Neste World RX of Latvia can be found at the following link: www.fiaworldrallycross.com/event/104/bikernieki-national-sports-base

Standings
Full Championship standings can be found at the following link:
www.fiaworldrallycross.com/standings 
World RX Media Office
Copyright free pictures and key media information can be downloaded via the World RX media office: www.fiaworldrallycross.com/media