WIM - FIA Commissions align to deliver successful first Women Drivers Assessment Programme
FIA Women in Motorsport Commission and FIA Drivers' Commission invite a pool of talented women drivers for a two-day assessment programme at the Circuito de Navarra, Spain.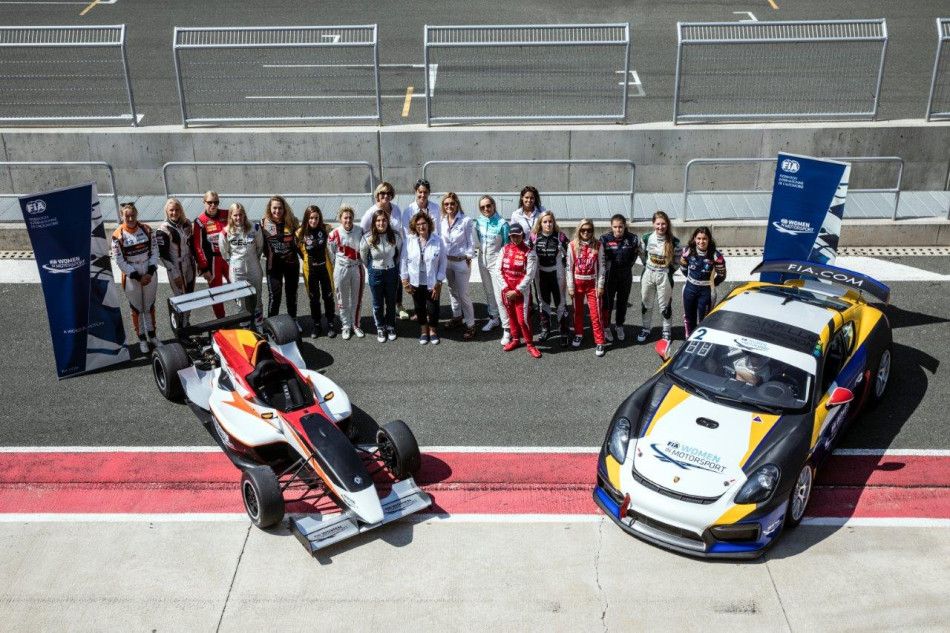 Fifteen female drivers competing in a variety of different categories took part in the first Women Drivers Assessment Programme on 28-29 August, which is a joint initiative by the two Commissions, presided over by Michèle Mouton and Tom Kristensen respectively.
The FIA has committed to increasing the number of women drivers competing in its championships. As a further significant stride towards this goal, the assessment was designed to achieve a clear overview of the potential of drivers from different disciplines of international motor sport.
Twenty five women drivers from around the world have been identified by the Commissions' detection activities. Fifteen seats were available for the first assessment, at which 13 different nationalities from four continents were represented. Each driver was provided with equal track time over the two days, in both a Formula Renault 2.0 car and a GT4 Porsche Cayman.
The drivers who took part in the Assessment Programme, and their current racing activities, are:
Amna Al Qubaisi (ARE) - FIA Italian F4 Championship

Beitske Visser (NLD) - GT4 European Series

Carmen Jordá (ESP) - Formerly Development Driver, Renault Sport F1 Team

Christina Nielsen (DNK) - 2018 24h Le Mans P6 GTE AM / IMSA - Porsche Motorsport North America

Gosia Rdest (POL) - GT4 European Series

Jamie Chadwick (GBR) - British Formula 3 Championship

Laura Kraihamer (AUT) - GT4 European Series / VLN1 and VLN2 + 24h Nürburgring race

Lilou Wadoux (FRA) - Rencontres Peugeot Sport / 208 Racing Cup

Marta García (ESP) - Karting

Michelle Gatting (DNK) - DST Danish Super Tourisme / Euro Nascar Series

Mikaela Åhlin-Kottulinsky (SWE) - STCC Sweden

Natalie Decker (USA) - ARCA Racing Series

Rahel Frey (CHE) - ADAC GT

Sophia Flörsch (DEU) - FIA Formula 3 European Championship

Tatiana Calderón (COL) - GP3 Series
FIA-nominated Technical and Engineering specialists benchmarked the drivers' performance relative to reference laps set by two professional drivers, evaluating against various criteria including overall speed, technical feedback and approach, response to setup changes, consistency and progression.
It is intended that this inaugural Women Drivers Assessment Programme will continue within the context of the Women in Motorsport Commission's long-term strategy.
FIA Women in Motorsport Commission President, Michèle Mouton, commented: "The Women in Motorsport Commission is continually pushing to create new opportunities for women in our Championships and this assessment was important to put us in a stronger position with teams and manufacturers in the future. It was interesting that the drivers didn't all know about each other, and also for them to see there is a pool of women at a very good level. The assessment was significant for many different reasons and the positive results were greeted with great optimism in the meeting of the FIA Women in Motorsport Commission this week (4 September). I hope we have also further encouraged the drivers to be ambassadors for our cause, proudly wear our logo and communicate our values and mission, not just for themselves but as role models for the next generations too."
FIA Drivers' Commission President, Tom Kristensen, also an Ambassador for The Girls on Track Karting Challenge, commented: "The first Women Drivers Assessment Programme has been invaluable in providing us with the hard data to support what our detection activities have already revealed: there is a burgeoning pool of quality female drivers performing at a very high level and well prepared for progressing to major championships. We continue to evaluate the detailed results from the first assessment, but our technical and engineering experts were very impressed across the range of evaluation criteria and it was extremely rewarding to discuss the initial findings in the recent FIA Drivers' Commission Meeting. This collaborative initiative with the FIA Women in Motorsport Commission will better inform the long-term strategy for developing opportunities for women in motor sport, for those already performing at an advanced level, but also in tailoring detection initiatives such as The Girls on Track Karting Challenge, through which we seek to inspire the next generation of young female drivers."
Click here to see the gallery.