This page contains archived information and may not display perfectly
Verstappen wins, Ocon is the FIA Formula 3 European Champion
Max Verstappen (Van Amersfoort Racing) claimed his ninth victory in the FIA Formula 3 European Championship in an action-packed 30th race of the season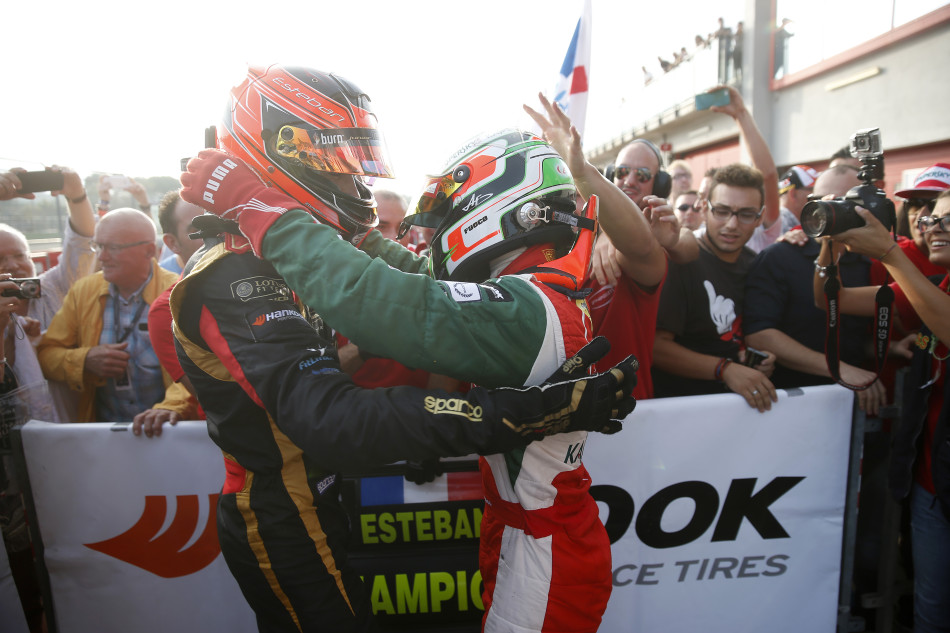 At the 4.909 kilometres long Autodromo Enzo e Dino Ferrari, the 17-year-old Dutchman won from Italian Antonio Fuoco (Prema Powerteam) and Esteban Ocon (Prema Powerteam). For 18-year-old Frenchman Ocon, who is backed by the Lotus Formula 1 team, third place was enough to win an early title in the 2014 FIA Formula 3 European Championship. As a reward, he will do a test with a Ferrari Formula 1 car at the Fiorano circuit on October 29.
Antonio Fuoco already took the lead from Max Verstappen and Esteban Ocon before the first corner. With a very good start, he thus managed to move up from third on the grid to first place. Later on the opening lap, Edward Jones (Carlin) ploughed through the gravel trap and hit Antonio Giovinazzi's (Jagonya Ayam with Carlin) car as he swerved back onto the track. The Italian spun and retired and so did Jones. The race director sent the safety car out after the incident.
Only a few laps later, an off-track excursion by Sandro Zeller (Jo Zeller Racing) prompted the second safety car intervention. At the restart on lap nine, Verstappen overtook race leader Fuoco and claimed back first place. On lap eleven, the safety car was deployed again after Felix Rosenqvist (kfzteile24 Mücke Motorsport) had collided with Jordan King (Carlin) and couldn't avoid an impact into the barriers.
Max Verstappen also held on to his first place after the third restart of the race. He then safely brought this position home after the remaining laps and celebrated his first win of the weekend. Antonio Fuoco took the flag in second place and his many fans hailed him as the best-placed Italian in the race. Esteban Ocon was buoyant as well as his third place was enough to wrap up the 2014 FIA Formula 3 European Championship title early. Nicholas Latifi (Prema Powerteam) finished fourth in the final race of the Imola round, followed by Tom Blomqvist (Jagonya Ayam with Carlin) and William Buller (Signature). Thus, Buller scored not only his first points of the season, but also the first points for the Signature team that contested its first race weekend of the 2014 season at Imola. Jake Dennis (Carlin), Lucas Auer (kfzteile24 Mücke Motorsport), Félix Serrallés (Team West-Tec F3) and Gustavo Menezes (Van Amersfoort Racing) rounded out the top ten.
Max Verstappen (Van Amersfoort Racing): "I lost a position after the start, but I knew that my car was fast and that the race was long. Therefore, I kept cool and I waited for an opportunity. My car was already fast on the two days of testing and that was the case today as well."
Antonio Fuoco (Prema Powerteam): "I am happy with second place and I am not disappointed for having missed out on victory. It was clear to me that Max was quicker and that I wouldn't have had a chance against him. I wasn't happy with my first two races, but now, I am glad by my podium finish in my home round. I would like to dedicate this second place to my friend Jules Bianchi."
Esteban Ocon (Prema Powerteam): "I am really happy that I am the new FIA Formula 3 European Champion. It is unbelievable, I simply don't know what to say. I will celebrate the title in style with my team tonight. My race wasn't too bad. I didn't want to take too many risks in the first corner and I slotted into third place. Later on, I simply followed my team-mate Antonio, who was in second place. I knew that third place would be enough for me, too."