This page contains archived information and may not display perfectly
Race to the top: British Grand Prix reveals strength of FIA single-seater ladder
"The Global Pathway is complete and we now have logical structure that will take a young driver from national competition in F4, to regional racing in Formula Regional, to continental racing in F3 at Grands Prix in Europe and to Intercontinental level in Formula 2 in Europe and the Middle East" - Sefano Domenicali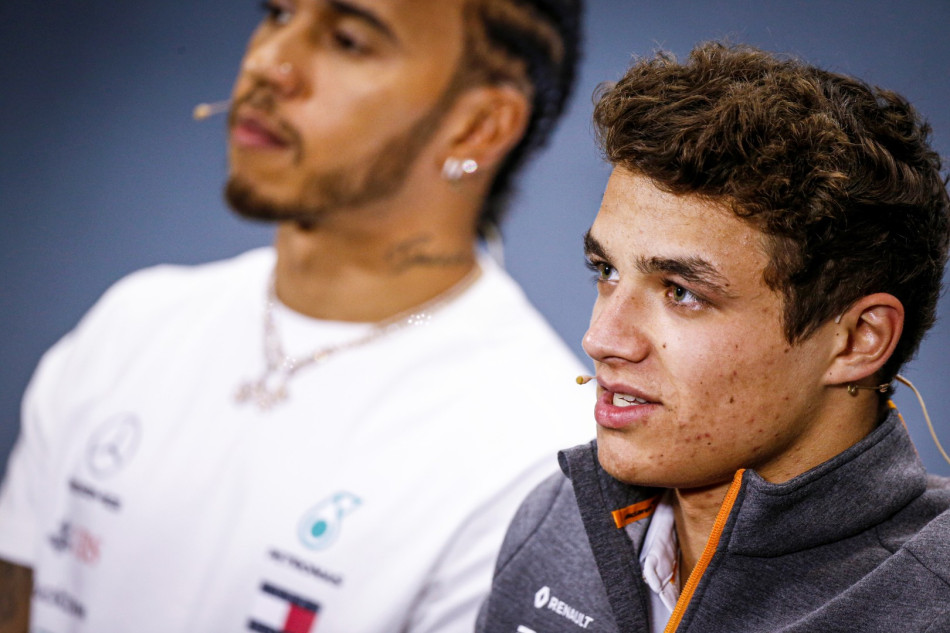 Last time out at Silverstone on the Thursday of the British Grand Prix weekend, and as 2009 FIA Formula One World Champion blasts his title-winning Brawn GP car around the 5.8km circuit to the delight of the thousands of fans already in attendance, down in the McLaren garage another British hopeful is preparing for his first home grand prix as an F1 driver. 
For Lando Norris the weekend at Silverstone was another milestone on what has been a decade-long journey from first step in karting to the pinnacle of motor sport, and for half of that time Norris has been climbing the FIA's Global Pathway to the top levels of international racing.
Norris made history in 2013, becoming the youngest FIA World Champion in Karting. When he soon made the step up to single-seaters his progress was meteoric, with a title win in the British championship of the FIA's entry-level Formula 4 category, a crushing overall victory in the FIA F3 European Championship, and a runner-up placing in his rookie season in the recently launched FIA Formula 2 Championship. 
For Norris the progression through the FIA's series was the perfect preparation for what has already been a hugely impressive maiden Formula 1 season in which he has taken 22 points. 
"They've prepared me more and more," he said of the road to his first British GP. "Every lap you do you learn something, very small even, but you learn something and that always helps. 
"The biggest progression is Formula 3 [which has] reasonably high downforce given the size and weight of the car. So you have a very good feeling through Maggots, Becketts [at Silverstone], you get to really push the limits and see what it's like. And it's kind of a similar feeling when you go to F1, feeling the G-Force, feeling the downforce, that's something you already start to get a bit of a feel of in Formula 3 and a little bit in Formula 2. Every step you take is a step forward and it definitely helps."
It's a similar tale for one of motor sport's rising stars, Jüri Vips, who won the FIA Formula 3 Feature Race at Silverstone over the weekend and whose career has seen him springboard from an ADAC F4 title 2016 to fourth place in the FIA Formula 3 European Championship last year to third place in the F3 standings after four rounds.
"F3 works very differently to what I was used to previously in my career and I get more and more comfortable with the format, the car and the tyres and so on." he explains. "It's all coming along much better than it was at the beginning of the year with some bits from my side, from how I work or how I warm up the tyres, it's just little things.
"In general, the way you have to drive is quite similar, you just have to adapt to a bit more power, more aerodynamics. But the European F3 car is very simple compared to what we're driving this year. The step from last year's F3 to this year's F3 was much bigger."
Vips was not the only graduate of the FIA's Global Pathway to feature on the British Grand Prix podiums, with Marcus Armstrong, Robert Shwartzman, Liam Lawson and Leonardo Pulcini variously having experience in Formula 4, F3 and Formula Regional before arriving into F3. 
The FIA single-seater ladder has been expanded and refined considerably since the launch of the FIA F3 European Championship in 2012. In 2014 the national Formula 4 Certified by FIA category was launched and over the past five years has grown to accommodate championships in 12 countries around the world. Formula 2 was launched in 2017, and in 2018 introduced an all-new car featuring a Dallara chassis and a turbocharged V6 Mecachrome engine designed to better prepare drivers for F1. It also brought the Halo frontal impact protection developed in Formula One to junior racing for the first time. 
Last year the process of restructuring Formula 3 began. With a new F3 set to be introduced in 2019 to run alongside Formula 2 on grand prix weekends, the FIA created the Formula Regional series to bridge the gap between entry-level Formula 4 and the much greater technical demands and higher power planned for Formula 3. 
"In developing Formula 3 it was clear to us that the step from F4 to F3 would be quite difficult for drivers graduating from F4. In "In F4 there is a power to weight ratio 3.5 and in F3 it is around 2.0 so there was a clear need to create an interim phase. Formula Regional, which has a power to weight ratio of 2.7, was developed to create that holistic pathway," explains Stefano Domenicali, President of the FIA Single-Seater Commission. 
"In Formula 4 we are looking to bring drivers into the FIA single-seater ecosystem by training then according to FIA safety, sporting, technical standards," he adds. "It is focused on education, giving them the basic tools they will need as they start on the road to becoming professional racing drivers. It is about providing a basic understand of a single-seater. 
"Formula Regional adds to that experience, introducing aerodynamics, working towards a clean driving style and increasing the power from 160 bhp in F4 to 270 bhp."
Formula Regional, which utilises a Taatus chassis and a 1742cc Autotecnica-tuned Alfa Romeo engine was launched in 2018 with championships in Asia and the US, both of which have experienced strong growth. 
"The Asian championship has been very strong," confirms Domenicali. "There are regularly 17 cars on the grid and it is functioning as we envisaged, with successful drivers stepping to F3. Raoul Hyman, the 2018 champion, is racing in Formula 3 this year and with drivers such as Jack Doohan performing well in 2019 that trend should continue.
"The US series had a slightly more difficult first season, but in this second season the series has almost doubled the size of its grid. Given the excellent health of the US F4 Championship, which consistently has 25 cars on the grid, this is exactly what we wanted to provide – a consistent, simplified, competitive, cost-effective pathway along which they can progress, within their region."
In a more densely populated European motor sport environment, the establishment of Formula Regional has been a more complex process, but the European Championship launched this year and after four rounds has attracted a field of 14 drivers racing for eight teams. 
"Fourteen cars on the grid for the FIA Formula Regional European Championship was a first step," says Domenicali. "The landscape of European motor sport is incredibly varied and it is a hugely competitive market. We understand that it takes time for any series to establish itself as right progression for drivers who have to spend budget wisely. 
"As an example, I would say that it took more than four years to establish Formula 4 as the entry-level category. Now, however, we have 12 national championships, the majority of which are in good health. The championships in Italy and Germany are consistently strong and outside Europe the series in Japan and, as I already mentioned, the US are doing very well.
"The same, I hope, will be true of Formula Regional. It will take time but envisage the Championship becoming the reference point for drivers targeting the next step beyond F4. At 270 bhp the power is a exactly half the combination of the 160 bhp of F4 and the 380 bhp of Formula 3, the weight of the car moves them closer to the kind of handling they'll experience in F3 and F2 and for the first time they are exposed to aerodynamics. It is a very natural progression."
For the FIA Single-seater Commission President the next step is to consolidate the championship's position as the bridge between regional racing and continental competition in F3. 
"What we now really want is to see is for all stakeholders in European motor sport – the FIA, promoters, drivers and teams – working together to establish Formula Regional in Europe as the new standard for this category," he says. "If we can achieve that then we will see bigger grids, more intense competition and the best young talent emerging."
Further up the ladder Formula 3, launched this year, has quickly become an intensely competitive and hugely exciting championship that tests driver to the limit, as New Zealand's Marcus Armstrong, currently fourth in the standings, says: "The tyres work as if they have a memory – you'll feel every slide you do in the next laps afterwards. For me, that's not too much of a problem as I've always been quite smooth with tyres and, in fact, I like how technical that challenge is."
The technical challenge of F3 is not restricted to the Pirelli tyres that give competitors a feel for the rubber they will progress to in F2 and F1. With 380 bhp on tap from a 3.4-litre Mechachrome powerplant, the Dallara-chassis F3 car not only ups the power drivers have at their disposal, it also refines their set-up skills and exposes them to DRS for the first time as they prepare to make the step to the penultimate rung of the ladder, F2, where their skills are finely polished through even greater reliance on tyre management.
Overall, the Global Pathway is a progression that the promoters of Formula 1 say provides the right steps to the top echelon, schooling drivers to a level of performance that mean that F3 and F2 provided a high standard of racing, and entertainment, over grand prix weekends.
"For us, having the F2 and F3 championships as part of our events is a great asset," says Formula 1 Managing Director of Motorsport, Ross Brawn. "First and foremost because of what it does for the show, as the races are always very exciting, closely fought and feature plenty of fights. It significantly increases what we have to offer to the spectators who come to a Grand Prix. It is also good from a racing point of view, because we believe that it's a useful way for young drivers to progress, as they race on the same card as a Grand Prix which involves being in the spotlight to a much greater extent than in other situations.
"For some of them, who are part of the Formula 1 teams' young driver programmes, it's an opportunity to spend time with the 'big beasts' and the engineers, as they can learn a lot, some of it which they can immediately put to good use," he adds. "It's also nice for the fans to be able to follow the careers of these youngsters right from the start. That's why we try and get these drivers involved with many of the activities that bring them closer to the fans, such as the autograph sessions, the fan forums and the drivers' parade."
The FIA's Global Pathway is set to provide even more opportunity in 2019, with the news that Formula 4 will feature as a category at the inaugural FIA Motorsport Games in Rome from 31 October to 3 November and the recent announcement that current F3 cars will race at the FIA Formula 3 World Cup in Macau on 14-17 November. 
"Formula 4 at the FIA Motorsport Games represents an opportunity for drivers from around the world to compete with their peers from other national championships; it's a chance to shine on what is likely to be the biggest F4 stage of the motor sport year," says Domenicali. 
"Likewise, the F3 World Cup is a hugely prestigious event, with great history behind it, and so it is fitting that it will be contested in current specification Formula 3 cars," he adds. "We are aware of concerns regarding the power of the cars but we are confident that with the more advanced safety features of this latest generation of F3 cars and the changes being made to Guia Circuit we will have a thrilling and spectacular race featuring some of the brightest rising stars of world motor sport."
And the expansion of the categories to give greater exposure to emerging talent is a further example of the comprehensive approach taken by the FIA to its junior single-seater categories. 
"The Global Pathway is complete and we now have logical structure that will take a young driver from national competition in F4, to regional racing in Formula Regional, to continental racing in F3 at Grands Prix in Europe and to Intercontinental level in Formula 2 in Europe and the Middle East," concludes Domenicali. "Of course there is work to do to ensure the health of every one of these championships, to keep costs controlled, to maintain the level of competition and to ensure fairness and safety, but by following the Pathway a junior driver will learn all of the skills necessary for a career at the very top levels of motor sport in championships that have been designed to take them there."