This page contains archived information and may not display perfectly
Valentino Ledda claims victory in FIA Cross Car Academy Season Opener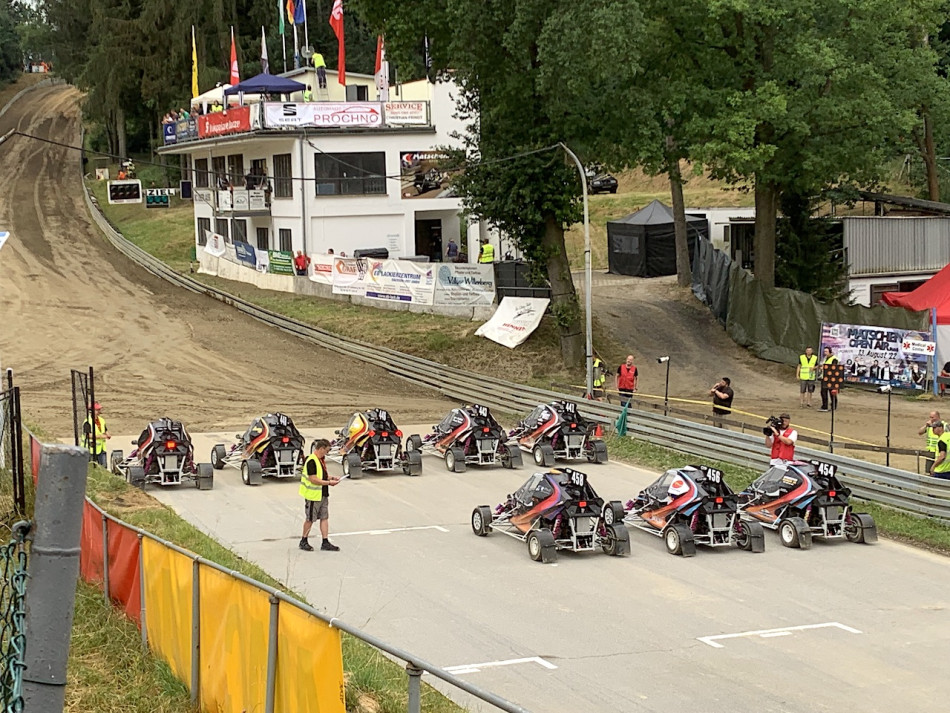 The FIA Cross Car Academy season opener at the Matschenberg Offroad Stadium near Dresden, Germany, brought fast and frenetic action on its final day, with two heats and a grand final. After much action and drama, victory was claimed by Italy's Valentino Ledda.
Sunday morning briefings were completed with the FIA stewards and LifeLive, which builds and prepared the fleet of arrive-and-drive TN5 buggies for the series. The nine drivers aged between 13 and 16 years then lined up for their second heat of the weekend.
Saturday's race winner, Miguel Gatoso Vázquez, made a costly error by jumping the start and incurring a five second penalty. The Spaniard crossed the finish line first but his penalty ensured that victory fell to Legga from local hero Samuel Drews with Czech youngster Stanislavsky Brousek in third.
The penalty also ensured that Gatoso Vázquez would start from sixth place on the grid for the third and final heat. This time Ledda had to settle for third place behind winner Brousek and Belgian Ronald Demelenne. The Spaniard climbed back up to fourth at the finish, with less than four tenths of a second between him, fifth-placed Norwegian Eirik Steinsholt and Drews in sixth.
This set up a final in which Ledda, Brousek and Gatoso Vázquez shared the front row of the grid. As the lights turned to green there was nothing between the trio but in their wake Italian youngster Matteo Bernini lost out in the midfield scrum, locking wheels with Demelenne and being launched into a barrel roll, bringing out the red flags.
It was testament to the build quality of the LifeLive TN5 that Bernini was uninjured in the ordeal, while the remainder of the field regrouped on the grid. At the restart, Ledda pulled out in front of Gatoso Vázquez in second and Brousek in third while another battle raged behind them.
Steinsholt, Drews and Belgian youngster Emilien Allart were treating the crowd to some tremendous racing and keeping right with the three leaders until the beginning of the final lap, when contact sent Drews into the wall. With Steinsholt claiming fourth from Allart by half a second.
This drama promoted the only female on the entry list, Cypriot Tara Laconico, to sixth overall. Without having driven on loose gravel before the start of the Matschenberg weekend, her pace increased by more than 13 seconds around the 820-metre course from the first session to the last race, and promises much as the season continues.
At the head of the field, however, it was Ledda who drove consummately under pressure to take victory and with it the points lead in this year's five-round season.
"The competition for me was hard, because I've never been here before, but I think if it is not hard it's not good," the winner declared. "I'm so happy. My confidence with the car was good and I want to win all the races this year!"
FIA Cross Car Academy 2022, Matschenberg (DEU)
Final Results
1            Valentino Ledda (ITA) LifeLive TN5     7 laps   4m 9.821s
2            Miguel Gayoso Vázquez (ESP)              LifeLive TN5     7 laps              +1.034s
3            Stanislav Brousek (CZE)           LifeLive TN5     7 laps  +2.080s
4            Eirik Steinsholt (NOR) LifeLive TN5     7 laps   +5.214s
5            Emilien Allart (FRA)     LifeLive TN5     7 laps   +5.788s
6            Tara Laconico (CYP)    LifeLive TN5     7 laps   +32.861s
DNF      Damuel Drews (DEU)  LiveLive TN5    6 laps
DNF      Romauld Demelenne (BEL)     LifeLive TN5     0 laps
DNF      Matteo Bernini (Ita)    LifeLive TN5     0 laps
Championship positions: 1 Ledda 35; 2 Gayoso Vázquez 30; 3 Brousek 29; 4 Steinsholt 23; 5 Demelenne 20; 6 Drews 20; 7 Allart 19; 8 Laconico 17; 9 Bernini 16