Todt calls for more international road safety collaboration
FIA President seeks concerted global effort and praises Argentina's road safety record at joint FIA IADB forum.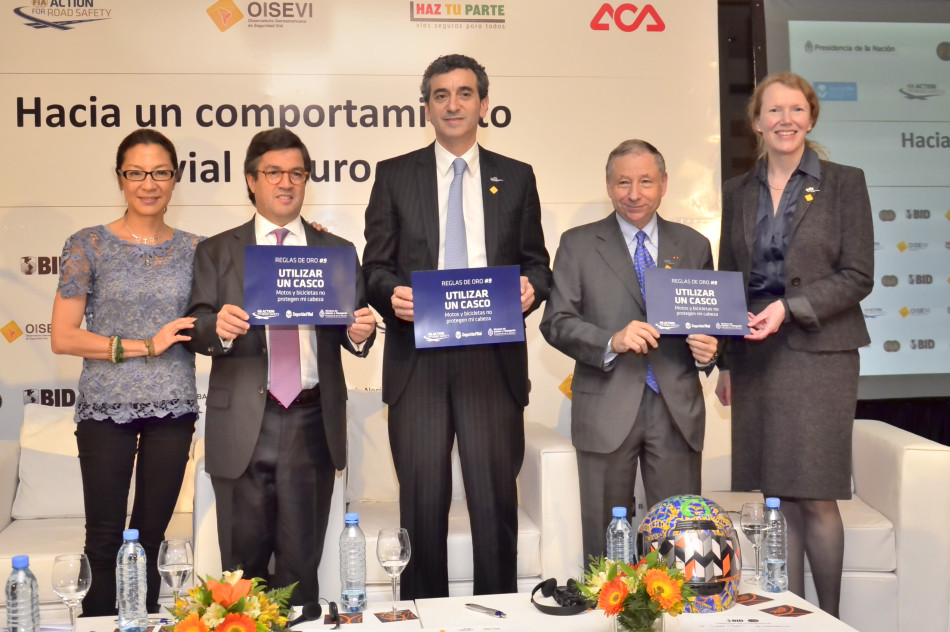 FIA President Jean Todt yesterday called for greater co-operation between nations and organisations in the battle for improved global road safety and cited Argentina's recent success in reducing fatalities by more than 20% as an example of how countries can make a difference through collaborative effort at both national and international level.
Speaking at the Encouraging Road Safety Behaviour forum in Buenos Aires, organised by the FIA and the Inter-American Development Bank (IADB) to coincide with the FIA Region IV conference of South American member clubs, President Todt told an audience that included Argentina's Interior and Transport Minister Florencio Randazzo, IADB president Luis Moreno and representatives of the World Bank that real victories in the fight against a scourge that each year claims almost 1.3 million lives globally can only be obtained through collective effort at all levels.
"Progress has been made, but this is not enough. There is always more to do. We need to accelerate, go further and faster. We need to change gear."
Jean Todt
"In our war – because it is a war – against road accidents, we need partners, we need allies, we need friends," he said. "We need decision makers to commit. We need great leaders to show the path and help us mobilise the world. The engagement of national authorities at the highest level is absolutely key to success."
Pointing to Argentina's reduction of road fatalities by 20% and its success in cutting drink driving offences by 50%, President Todt told the forum, attended by the presidents of FIA Region III and IV, that the improvements had come as a result of a national political desire for change allied to a willingness to tap into the resources and knowledge of a wider global community of road safety activists.
"Argentina has strengthened its legislation and reinforced its implementation," he said of efforts that have also increased seat belt use by 40% and helmet use by 20%. "The country has also worked with the World Bank and the IADB to improve infrastructure and I want to congratulate Luis Moreno of the IADB for the great work his organisation is doing in the field of road safety –in Argentina and elsewhere – to help governments take up this challenge."
"The case of Argentina is a good example of how international, regional and national levels can all work together for the best," he added. "The level of collaboration reached with the World Bank, the Inter-American Development Bank and also with the Spanish authorities has been instrumental in helping the country reach its objectives."
Commenting on the IADB's involvement in road safety in the region, bank president Moreno said: "At the regional level we are working with the FIA and other partners in Latin NCAP, an evaluation programme for new cars manufactured or sold in South America. Latin NCAP has been well received by some automakers, which have high standards. The programme has also led some governments to identify better standards and vehicle control systems. This is why Iam pleased to anounce the extension of the financial commitment of the IADB Latin NCAP programme for a further two years."
President Todt continued by saying that while successes such as those achieved in Argentina are encouraging, much work still needs to be done, both at regional level and in the battle to force the issue of road safety onto national and inter-governmental political agendas worldwide.
"What we are dealing with is a global issue, one of the world's great emergencies. And yet, so few people seem to know," he said. "Progress has been made, but this is not enough. There is always more to do. We need to accelerate, go further and faster. We need to change gear.
"One way to speed up international mobilisation would be for road safety to be integrated into the UN's Sustainable Development Goals (SDGs), that will follow on from the Millennium Development Goals as of 2015. This would help this issue get the level of attention and resources it deserves. If we want to win this battle, we need countries, governments on our side. We need great leaders to help us advocate for the integration of road safety in the SDGs."
Finally, President Todt pointed to the issue of resources to aid in the fight for greater road safety, saying that small measures could lead to great funding.
"Similar to the taxes that exist on airplane tickets, why not imagine an extremely small contribution on car and motorcycle purchases, insurance sales, hire care rental, tyres, navigational aids and other accessories. This could add up to a significant amount, potentially hundreds of millions of dollars every year, that could feed a global fund dedicated to road safety."