Tenth FIA Rally Officials Seminar in Gran Canaria spotlights regulation implementation & safety
Over 80 members of the international rally officials community representing more than 30 ASNs, together with experts and speakers, joined the seminar this weekend on Spain's Gran Canaria island. Key topics relating to regulations and safety were discussed, with a view to implementing further improvements in these areas in 2019.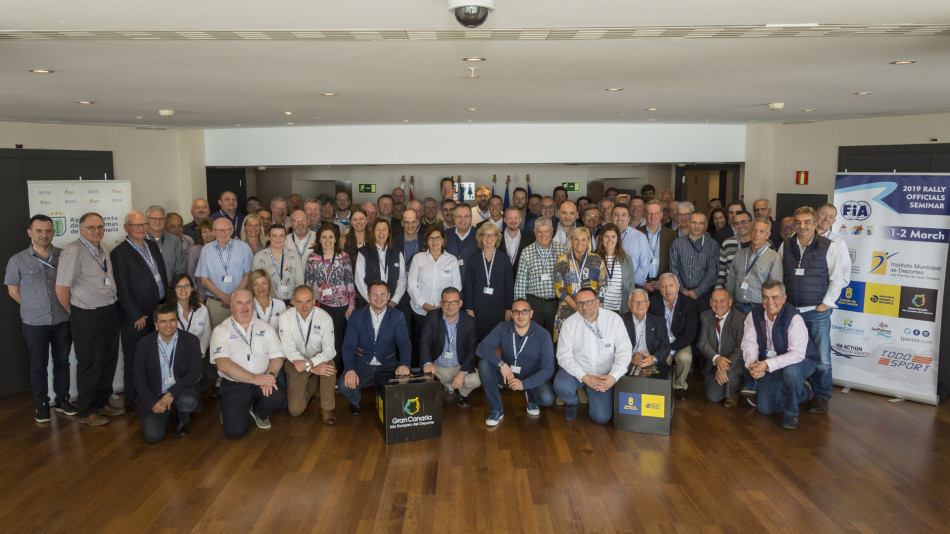 The seminar got underway on Saturday with a productive small group session which brought together the organisers of the FIA European Rally Championship.
Sunday began with a welcome speech from Mr Alfredo Gonçalves, the General Manager of the Insular Institute of Sports. FIA Rally Director Yves Matton then officially opened the session with a review of the 2018 achievements in rally and an overview of the 2019 priorities. Matton used the opportunity to thank the participants for their motivation and commitment, without which the organization of high-level rally events would not be a reality.
Rally Commission VP Uwe Schmidt followed with a presentation regarding the changes to the International Sporting Code and the regional rally sporting regulations – an occasion to focus on the latest developments and best practice in different areas of event operations.
The next theme on the agenda was Safety, a key priority for all those involved in motor sport, was introduced with a theoretical presentation on safety culture and risk management. FIA Safety Manager Michèle Mouton then presented the newly released rally safety guidelines 2019, including the mandatory measures to be implemented this season. These guidelines, which are the culmination of an intensive period of detailed analysis and consultation, capture the latest best practice from the FIA World Rally Championship in a format that is also relevant to FIA Regional and National level rallying.
The afternoon part of the seminar comprised sessions relating to the more practical aspects of the work of the officials, providing a series of insights, the reports from the FIA observers as well as a number of interactive elements and case studies, created and delivered by FIA Regional Rally Manager Jérôme Roussel and experts from across the FIA's rally championships.
Commenting on the seminar organised by the FIA, Yves Matton said: "I am delighted to see the high level of professionalism and commitment of the participants this weekend. They represent the top officials from rally with important responsibilities in matters of event regulations and safety. The previous editions have demonstrated that there is much we can do to keep improving in these areas and this seminar has become an essential platform for sharing the latest updates and best practices. I would like to thank all of them for their valuable contribution and I hope they take away useful tools, insights and learnings that will help them with the successful and safe running of their event around the world."