Swinging into action in the Czech Republic
FIA Action for Road Safety this week took the opportunity of FIA Conference Week in Prague to deliver its message of safer motoring at every level of Czech society.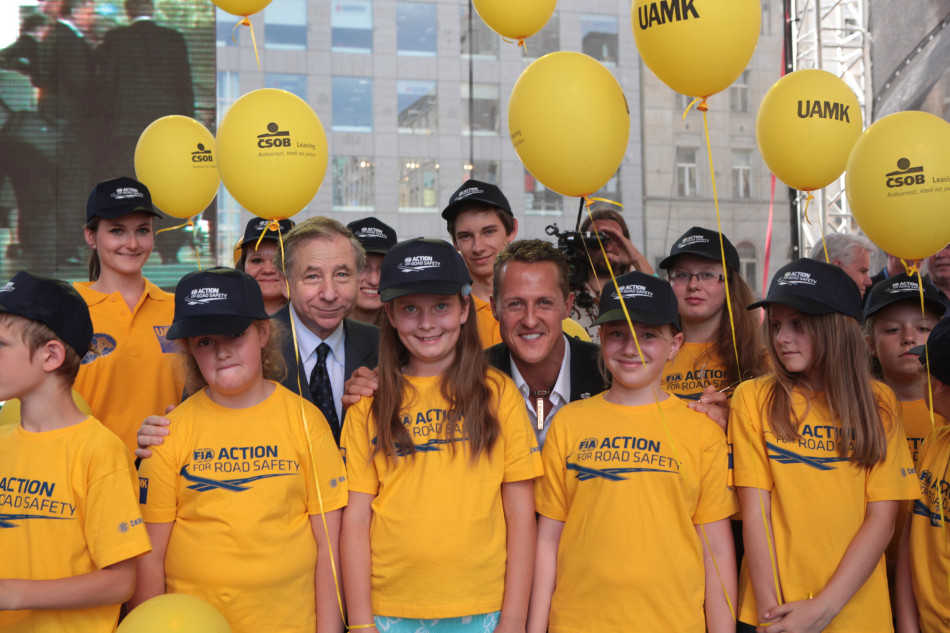 FIA President Jean Todt visited Czech President Václav Klaus on Tuesday and following a meeting in which they discussed transport issues in the country, President Todt presented the Czech leader with a FIA Action for Road Safety branded Schuberth helmet. This underlined the importance of rule number nine of the FIA's 10 Golden Rules for Safer Motoring, which states: 'Wear a Helmet: motorbikes and bicycles don't protect my head'.
During the week, President Todt, also met with the Minister of Education, Youth and Sport, Petr Fiala, and the Transport Minister Pavel Dobeš, who committed to raising awareness of road safety issues and reducing accidents and fatalities on the country's roads.
The high-level meetings also saw the Mr Todt received by the President of the Czech Senate, 
Milan Štech, who congratulated the FIA and Conference Week hosts, UAMK on their road safety efforts.
Taking the road safety message to the Czech people, President Todt also attended UAMK's Road Safety Day in the company of seven-time Formula One world champion Michael Schumacher.
The event, the first of its kind to be staged in Prague's historic Wenceslas Square, attracted 15,000 people to a series of road safety demonstrations. Addressing the huge crowd, President Todt, took the opportunity to inform them of the value of the FIA's 10 Golden Rules.
"I'm delighted to be here today with all of you on this very special occasion," he said. "Deaths on the roads of the world are a major scourge and together we can act to make a real difference. We have developed a simple checklist to follow, the 10 Golden Rules. I encourage you all to follow these simple guidelines to become better road users and to help reduce the number of tragic accidents that occur every day."
Schumacher, meanwhile, explained that no matter how skilled a driver you are, there is always room for improvement.
"I'm lucky in that I know a little bit about how to drive but still I know there is always potential to improve safety on the roads, through awareness, better driving skills and also very simple things such as safety belt use," he said. "These are very easy ways of improving our lives and the lives of others.
"I think the FIA has taken the initiative on this with its 10 Golden Rules, which gives you some very simple guidelines on how to drive safely," he added. "There is one golden rule for me and that is when you get in your car your first action must be to put on your safety belt. Without doing this I would feel naked."
At FIA Conference Week 2012, the Action for Road Safety team also took the opportunity to raise awareness among member club delegates of the campaign's goal to help save five million lives by 2020.
Campaign Manager Naoise King said: "This was a fantastic opportunity for us to reach out to representatives from 90 countries. The response has been very positive and we would like to encourage all our member clubs to get involved with this crucial campaign to save lives worldwide.
"Earlier this year, we presented Action for Road safety branded helmets to all the presidents of FIA member organisations. We know that as a result of this there has been a great deal of campaign activity instigated and we're very much looking forward to receiving photos and videos of these events.
"We are also in the process of getting our 10 Golden Rules translated into as many languages as we can, so as to reach the widest possible audience. I would like to encourage member organisations to get in touch with us in this regard."

Action for Road Safety is the FIA's response and leading contribution to the challenges raised by the United Nations' Decade of Action for Road Safety, the aim of which is to prevent five million road deaths and countless serious injuries over the next 10 years.