Sunday wrap : Latvala gets the job done !
It wasn't exactly an easy run to the finish for Jari-Matti Latvala, but the Ford number one kept his head through a tense final morning to claim Rally Sweden victory and get his 2012 FIA WRC title challenge properly underway.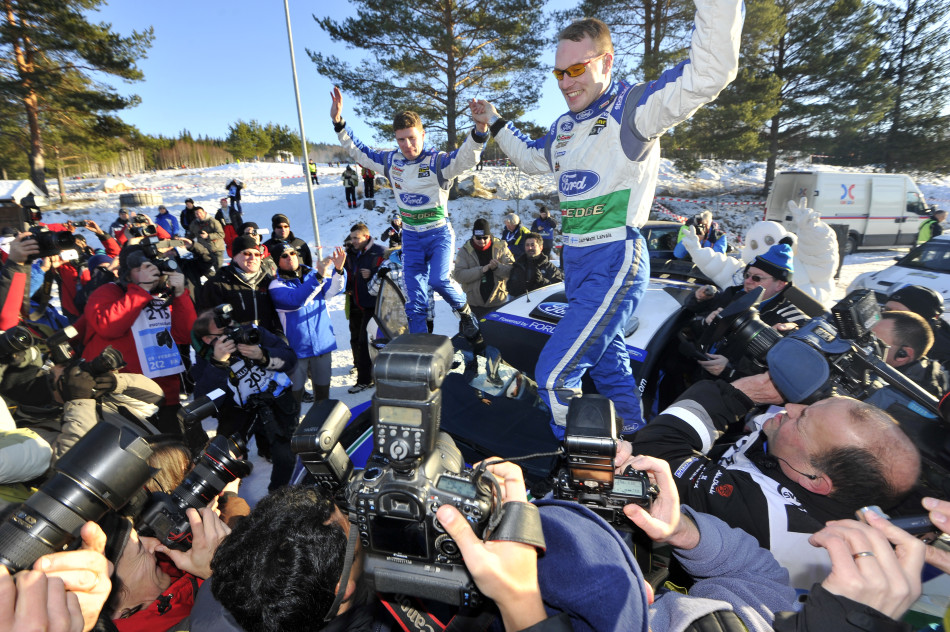 Latvala came into the leg with a 23-second advantage over Mikko Hirvonen, and quickly extended that to over half a minute as his Citroen rival realised that a set-up change intended to ease tyre wear worries actually cost him confidence in the DS3 WRC.
It was just as well Latvala had built that lead, though, as on stage 22 he struck a rock and picked up a right-front puncture, leaving him only eight seconds in front of Hirvonen.
The incident left Latvala kicking himself and anxious to regain his focus, but it didn't take him long to regain control, as he quickly pulled away again - Hirvonen's tyres being too worn to let him truly fight - and went on to win by 16.6 seconds and collect a Power Stage bonus point too.
"It is amazing. Four years ago I won this rally and now I got it again," he said.
"The first time I won this rally I became the youngest ever winner of a world championship rally and beat my hero Henri Toivonen's record. It's fantastic to win it again.
"We got a lot of pressure after Monte and I felt the pressure coming to this event. This has taken a lot of pressure out of the coming events.
"I think we're really going to challenge Citroen. We're working very hard."
Hirvonen said he still had plenty to be pleased with despite just missing out on the win.
"It's not too bad. I think we learned a lot this weekend," he said. "Okay, I really did want to win this rally for the team but Jari-Matti was very strong this weekend. We had a fantastic fight and I really enjoyed it, but it's second this time."
Incredibly both factory Fords suffered tyre damage on the same rock on stage 22. While it ultimately didn't cost Latvala any positions, for Petter Solberg the delay was enough to see him lose third place to Mads Ostberg after a rally-long battle. The Adapta Ford driver had been getting ever closer to Solberg even before the incident, though it made his quest rather easier.
"Third place this time is like second place last time, it's a very good result," said Ostberg. "I was not able to fight Jari-Matti and Mikko this year. There's only one posiiton left on the podium [first] and we'll try to get that next year."
Sebastien Loeb retained the championship lead by finishing sixth and winning the Power Stage. After his multiple delays earlier in the weekend, Loeb just had to consolidate his points finish today, with Evgeny Novikov putting on an early charge to make sure there was no chance of the Citroen number one catching him for fifth.
Henning Solberg tried his best to hang on to Loeb today but knew it was realistically a forlorn hope. He settled for seventh in the Go Fast Ford.
Patrik Sandell quickly pulled clear of Martin Prokop's Czech Ford this morning to ensure he finished eighth in the leading MINI.
"Overall it was a perfect weekend for me," said Sandell. "It's been absolutely fabulous. I really like this car. It's fantastic to drive. We've been adapting step by step and now we are setting good times."
Ostberg's team-mate Eyvind Brynildsen completed a quietly impressive World Rally Car debut by claiming the final point.
Just outside the top 10, the intra-team battle between Volkswagen Motorsport Skoda duo Sebastien Ogier and Andreas Mikkelsen was emphatically resolved in the former's favour when Mikkelsen picked up a puncture on the same stage 22 rock as the works Fords.