This page contains archived information and may not display perfectly
WRC - 2015 Rally Sweden - Post Race Press Conference
Transcript of the post race press conference organised by the FIA for Rally Sweden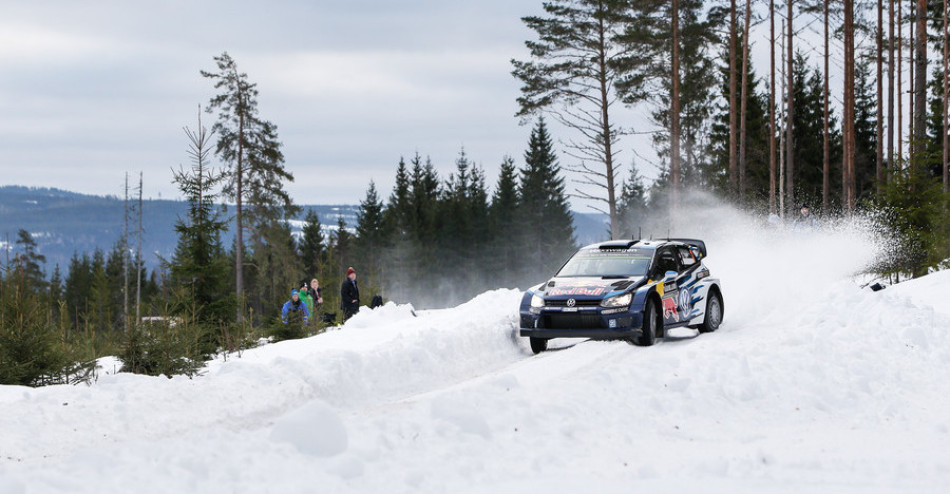 Present:
1st - Sébastien Ogier, Volkswagen Motorsport
1st - Julien Ingrassia, Volkswagen Motorsport
2nd - Thierry Neuville, Hyundai Motorsport
2nd - Nicolas Gilsoul, Hyundai Motorsport
3rd - Andreas Mikkelsen, Volkswagen Motorsport
3rd - Ola Floene, Volkswagen Motorsport
Jost Capito, Team Principal, Volkswagen Motorsport
Q:
Sébastien, what an incredible battle through three days of competition! Is this the hardest fight for the win you have ever had?
SO:
It feels great of course. It's been a very, very exciting weekend. I knew I had to take some risks to be able to win so I pushed hard all the way.
Q:
The final stage is where we saw the rally won. What were your thoughts going into that?
SO:
I've had some similar situations before, but today it was somehow easier to manage because I knew we had to go flat out. I drove as fast as I could, and of course I understand the frustration for Andreas but I'm sure his victory will come soon.
Q:
Did you enjoy this year's rally?
SO:
It was a very exciting weekend, I'm sure for everyone. When we need to push like this we all love to drive. It's great for the show, it's great for the fans but I hope the next one is not like this!
Q:
Julien, congratulations - a tough challenge and a huge battle, how would you sum up the weekend?
JI:
Of course it's the same thing from a co driver's perspective, no mistakes are allowed. But I had time to enjoy all the stages here in Rally Sweden.
Q:
Thierry, you leave Sweden with second position - but going into the final stage no one was sure which position any of you would walk away with. Happy with the result?
TN:
It's okay, it's a good feeling for me. We were very strong and they (Volkswagen) are hard to beat. I tried to avoid mistakes and I managed to only lose like 15 seconds on those mistakes the whole weekend.
Q:
At one point Nicolas, your co-driver, had to tell you to 'calm down a bit' - did you listen to him?
TN:
The conditions were horrible. I pushed very hard and Nicolas asked me to slow down not to make any mistakes.
Q:
We return to Mexico now where you picked up a podium last year – the same aim again this year?
NG:
For us it's a special event. It was our first podium in WRC so we're really looking forward to it.
Q:
Nicolas, what was the atmosphere like in the car? Are you happy with second? 
NG:
I'm very happy from the beginning to the end. We were lucky with our tyre plan, so we made some good decisions. 
Q:
Andreas, you were leading going into the final stage but a mistake dropped you down to third. You gave it everything you had - what are your feelings now?
AM:
I look at this weekend as a positive one. We had a gap but made a mistake. We tried to fight hard, Thierry and Sébastien were really fast. Coming into the day was really interesting. We decided to go maximum on the last stage, we knew we had to do it to be able to win.
Q:
Talk us through what went wrong in the last stage.
AM:
In a left hand corner I got in a little too fast and the rear caught the corner and made us spin. Luckily there were spectators there to help us but of course I feel unlucky not being able to win.
Q:
There are huge positives to take away from this weekend, can you turn the disappointment of the final stage into something that can help you in the future?  
AM:
I think we learn a lot this weekend and hopefully we can take this with us into Mexico.
Q:
How did you find this weekend, how is it from your view?
OF:
I love the sport, but in a situation like this I hate it. But I still love it back here!
Q:
So many people were watching the battle this weekend. To have the interest back for the WRC, that's amazing, isn't it?
OF:
It's good for the sport and in this rally there's been so much interest for the sport and this event.
Q:
Jost, it's been an amazing fight, a showcase for the WRC.
JC:
It was an incredible showcase for the sport. A really fantastic rally and interesting for everybody. I think this can make for a great season.
Q:
What have you thought of Andreas' performance this weekend?
JC:
Andreas' performance was outstanding and to be in a lead like this was really impressive. If you end up in a snow bank you end up in a snow bank; sometimes you just have bad luck.
Q:
Seb said he was going to hunt the other guys down, and he did. What's your thought on our World Champion?
JC:
In the final stage it all comes down to a mindgame. They have shown they are really the right World Champions.
FIA WRC 2 CHAMPIONSHIP
Present:
1st - Jari Ketomaa
1st - Kaj Lindstrom
Q:
Great win Jari. How are you feeling?
JK:
I'm feeling great, for the win  and for the team. This is one of the most difficult events for the tyres so it feels very good after all DMack's hard work.
Q:
It was a hugely strong field in the WRC 2 this weekend. A lot of drivers who could possibly have taken that win. Did you feel pressure coming in to the rally or not?
JK:
I can only do my best in my car and you have to beat everyone.
We were in a position where we started really fast so I was able to create a gap which made it more enjoyable.
Q:
What kind of changes did you make to the car that made such a great improvement?
JK:
Just made the car work best for me and my driving.
Q:
We've seen lots of drama, lots of moments out there. Did you have any moments or not?
JK:
No not really. On the high speed places of course we have been taking more risks than in the slow, but no big problems.
Q:
For the season ahead, how many more rallies will we see you at? Will there be a full season for you?
JK:
At the moment Mexico, Argentina and Portugal, but hopefully we'll be able to do the whole championship.
Q:
What did you think of the conditions on the stages this year?
KL:
We knew that Friday was going to be the most important day and we made sure not to make any big mistakes. When we saw Pontus [Tidemand] go off it was good for us.
FIA WRC 3 CHAMPIONSHIP
Present:
1st – Ole Christian Veiby
1st - Anders Jaeger
Q:
You have said this event was very much to learn for yourself and the car. How do you think you've performed this weekend, were you happy with the pace you set?
OCV:
Yeah, for sure. I'm actually very happy with the pace. Okay, there were no other WRC 3 competitors, but we had to compare times with these guys (WRC 2).
Q:
Did you enjoy the whole experience here on snow? 
OCV:
There were lots of people in the forests and we really enjoyed it a lot.
Q:
Were there any moments out there?
OCV:
Not any big moments. We knew we only had to finish today to get the full points. Today we actually got stuck in a junction so got some help from the people out there, but we managed to get through.
Q:
How has it been for you this weekend?
AJ:
We had great fun all weekend. It´s a high speed rally which made us work on high speed sections and that's what we did.
Q:
In terms of building the pace notes, did you change things as you went along?
AJ:
We made some changes but not that much. When you work hard and stay humble you can make great results.
Q:
How much are you looking forward to the rest of the season?
AJ:
I think it can be great if we just continue the way we've done so far.