THE ROLE OF SMART DATA IN UNLOCKING URBAN MOBILITY SOLUTIONS DISCUSSED AT FIA SMART CITIES FORUM IN MONTREAL
On 28 July, Jean Todt, FIA President, Denis Coderre, Mayor of Montreal, Pierre Arcand, Minister of Energy and Natural Resources of Quebec, Alejandro Agag, CEO of Formula E Holdings and Tim Shearman, FIA Region III President and CEO of CAA, opened the third FIA Smart Cities Forum in Montreal. Gathering mobility experts from international organisations, city authorities and industry players, the Forum became a concluding event in the framework of the Smart Cities Initiative in the third Formula E Season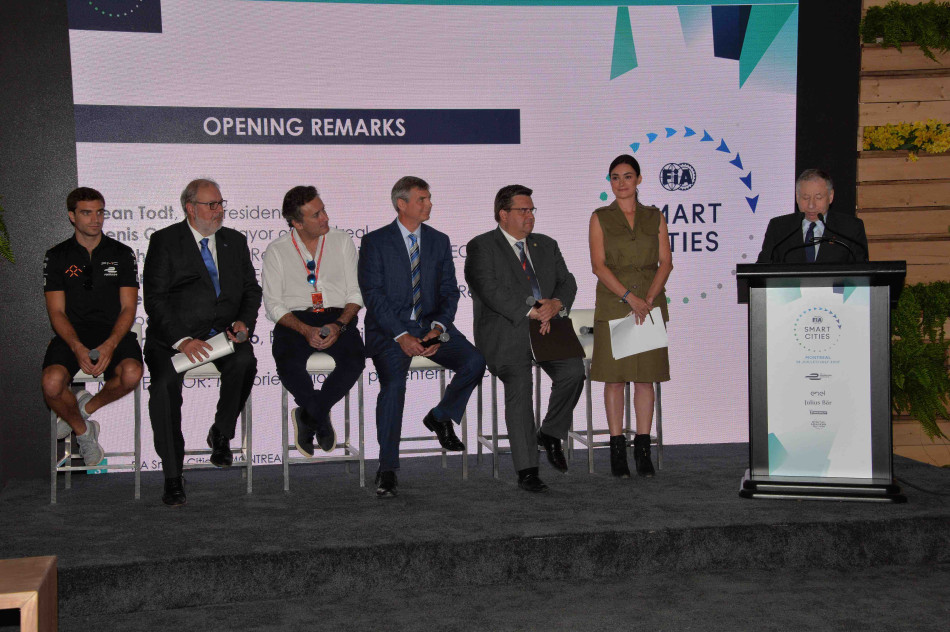 During the opening ceremony, Jean Todt drew the audience's attention to the importance of global commitments to sustainable urban growth and development. "By creating the Smart Cities platform, the FIA takes a proactive role in shaping the future of our cites where mobility is safe, efficient and sustainable for all." He mentioned that fostering urban leadership and advancing technological development is imperative to enhance urban mobility systems around the world.  Mayor Coderre supported this vision, referring to the advanced integration of innovative technologies and policies in the urban development plan adopted by the city of Montreal.       
Canadian provinces are digitising their cityscape at a rapid pace, constantly introducing new services and initiatives. Advanced technologies give city leaders more ways to collect and analyse various data about city performance. The theme of this Smart Cities Forum's edition was, therefore, fixed on the topic of Smart Data and its use for Smart Mobility systems.
The phenomenon of intelligent data flow is underpinning the smart city framework as never before. A more efficient use of information in the transportation sector is twofold: on the one hand, smart data is used to run smart technology; on the other hand, it allows designing demand-driven policies and services. For cities looking to implement smart-city projects, it is important to find a right balance between efficient data analysis and its practical application. An example of this successful practice was presented by Marc-Antoine Ducas, Founder and CEO of Netlift, a multimodal sharing mobility app.
Panelists also referred to the importance of community engagement in the technological advancement of transportation systems. Cities rolling out smart data projects need to inform residents about the type of data that will be collected, the way it will be used and applied within urban mobility systems. Saul Billingsley, FIA Foundation Executive Director, explained how efficient communication between city authorities, service providers and final users can lead to better coordinated and more customised policies. "Public authorities should be open for more innovative solutions to better understand evolving mobility needs. Users who look for clean and sustainable forms of transportation are defining the future of mobility systems in urban areas. Cities should respond to these new trends by driving fair and efficient policies." 
The redefinition of mobility around user needs points towards another important aspect of smart data – its impact on the technological development. Erik Grab, Vice President of Strategic Anticipation, Innovation & Sustainable Development at Michelin shared the result of discussions around intelligent mobility at the recently passed Movin'On Forum. "Here, in Montreal, we've talked about ways to rethink and optimise the entire ecosystem of mobility, from vehicle design to connectivity and automation. Data is an essential ingredient for any constructive change."
Paying tribute to its host city, the Forum touched upon a number of regional issues, shedding light on how the province of Quebec addresses sustainable mobility targets. Minister Arcand, responsible for launching and overseeing the 2030 Energy Policy in Quebec, stated that consumers should be at the forefront of all progressive initiatives. Energy and transport-related policies should be designed as a "pact" between the government and consumers, where uses demand for sustainable mobility solutions is balanced with appropriate policy incentives. As an example of such measures in the field of transportation, Minister Arcand mentioned discounts on electric vehicles, new standards for urban planning and tax credits for green and clean technologies. "Innovations are at the heart of low carbon economy. As policy makers, we are responsible to create a positive environment where investment in innovations and R&D are both financially and socially rewarding."
Apart from presentations and panel discussions, Forum participants had a chance to observe the results of two other pillars of the Smart Cities Initiative.  The announcement of the finalist of the FIA Smart Cities Global Startup Contest and the winner of the Smart Cities Award.
Created to identify, support and invest in the most successful startups empowering Smart Cities, the contest is open to visionary entrepreneurs. Selected by a jury of international experts, the winner of the Montreal contest was Wavelite, an autonomous connectivity platform for low power sensors.
Calling for applications featuring urban mobility projects in cities hosting Formula E races in Season III, the FIA Smart Cities Award became a unique addition to the Montreal edition of the Forum. The city of Montreal symbolically won the Award meeting the important criteria of relevance, impact and scalability.
After dynamic discussions on the future of urban mobility, participants were invited to watch the "innovations in motions", following various track activities and garage demonstrations.