Rallye Monte-Carlo - Post-Event Press Conference
Post Event Press Conference organised by the FIA for the 2013 Rallye Monte-Carlo.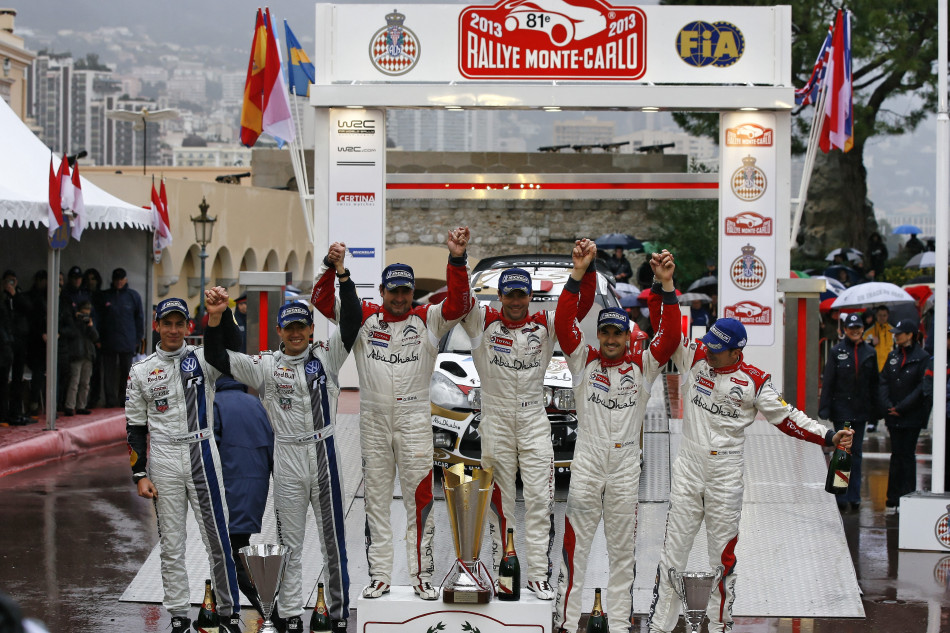 2013 FIA WORLD RALLY CHAMPIONSHIP
RALLYE MONTE-CARLO
Post event Press Conference
Sunday 20 January
Present:
1st - Sébastien Loeb, Citroën Total Abu Dhabi World Rally Team
1st - Daniel Elena, Citroën Total Abu Dhabi World Rally Team
2nd - Sébastien Ogier, Volkswagen Motorsport
2nd - Julien Ingrassia, Volkswagen Motorsport 
3rd - Dani Sordo, Abu Dhabi Citroën Total World Rally Team 
3rd - Carlos Del Barrio, Abu Dhabi Citroën Total World Rally Team 
Yves Matton, Team Principal, Citroën Total Abu Dhabi World Rally Team
Q:
Sébastien, congratulations on winning Rallye Monte-Carlo for the seventh time and in dominant fashion. Was it one of the toughest 'Monte's' with the weather conditions this year?
SL:
Yes, it was a really difficult rally this year. We had wet, dry, snow, ice and already yesterday evening some melting snow – it was really tricky. The first [thing] was to go to the end and finally we were there. For sure, it was really difficult and I am really happy to be at the end.
Q:
You said Turini was un-driveable. How difficult was it?
SL:
It was not fun. I like to drive and we have done some great stages like St Jean en Royan, which was 20 kilometres in good snow and now that was really enjoyable to drive. Yesterday evening, the only thing was that I could lose everything at every corner. I was driving really slowly in the stage. I was looking in the mirror to see if Seb [Ogier] is coming behind – I was so slow. I didn't know what I was doing.
Q:
What other great stages were there?
SL:
A lot of good stages, full of snow – something we didn't have in Monte-Carlo in a few years. For me this was the first Monte-Carlo like that and St Bonnet was incredible, really slippery. For this you have to be really perfect in your driving and I enjoyed that.
Q:
Is there a sad feeling that this could be your last Rallye Monte-Carlo?
SL:
No, it's a good feeling to win this one. For the rest, I don't think to it. I have new projects in the future, but I am really happy to win – this is the toughest one I have won.
Q:
Daniel, your seventh win and maybe the last at the Rallye Monte-Carlo, your home event. How do you feel?
DE:
I'm sure I start next year and I try to win driving myself! I am very happy to have this victory, especially standing on the podium and listening to the national anthem. For me, this is a good emotion.
Q:
What's the most difficult aspect of this event?
DE:
It's the question of the pace notes. Each corner we have to read the corner and the correction and it's very difficult. But it was so slow – so we have time to read! There is a lot of pressure on road sections to make all the corrections. When we started the last loop on Turini, I finished the last correction at the Time Control. In these conditions, it's very hard for the co-driver.
Q:
Sébastien, the first time we see the Polo R WRC in competition and we see fastest stage times and a podium. Did you imagine the result could have been so good?
SO:
No, obviously not. I don't have enough words to explain my feelings. Everybody knows I am not happy to be second, but here I am. It's so much better than I expect. I wait more than one year to be back. Last year was not easy and I have a lot of frustration and not always perfect motivation. But I was thinking of this rally all the time. I am so, so happy, it's almost perfect. It's a great boost and motivation is back now.
Q:
What does this mean to the team?
SO:
Everybody was really happy for this result and now they are also asking us for more immediately! We know there are things to improve and it's not perfect, but we know the base is good and I honestly didn't know before the start. So many people ask the question: how competitive, when can you fight for victory, and I honestly didn't know. I was feeling better and better and in the last month of the year I was really happy at the Monte test. But, I had no idea for the performance this weekend; we had some constant grip at the start of Sisteron, when we had 25 kilometres on tarmac and to be on the same rhythm as Seb [Loeb] is good for the future.
Q:
Yesterday provided difficult conditions which caught your team-mate out…
SO:
Yes, for sure it was not good news. It could have been a really great result to have two cars in the top five, but unfortunately this stage was so tricky. It was easy to make a mistake and unfortunately this happened to him. I am sure he will be back in Sweden; this is not his home event, but he will be fast in Sweden and he will prove he can be competitive and stay on the road.
Q:
Does this raise expectation and the pressure on you?
SO:
No. It's the opposite. To make a good start and take good points is good and it means I come in Sweden more relaxed and trying to do the best there. I love this event [Sweden]. Maybe it will be difficult, we don't know about our car there. Just because we were performant here, it doesn't mean we will be there and on every surface. I have to wait for my feeling. I know I can drive fast and if I have a good feeling there then I can do.
Q:
What was the feeling inside the car when you set the fastest stage time on the opening day?
JI:
Honestly we didn't have time to enjoy it. As Daniel said, you don't have time on this rally: you must always prepare for what comes in front of you. We enjoyed last night when we realise the rally is finished and we have done it in a good way. At the time, the feeling was very particular that you maybe only feel once in life.
Q:
Julien, what does it mean for yourselves and the team to achieve a strong result on the first event?
JI:
You know I have a good answer – it take a long time… It was a good night and a good rally.
Q:
And a tough rally?
JI:
In very difficult conditions, we have a smile on our face. The pressure was very high and we just wanted to reach the end. All the rest has been really fun in a way, so exciting and so much pressure. I wouldn't say that in Turini, this was like hell, really tough – but the work the team did in one year and more it begins to pay. But, for sure, this is the right direction.
Q:
Dani, back with Citroën and back on the podium again at Monte-Carlo. How was your rally?
DS:
I am really happy. This is Monte-Carlo and I was really happy to finish in third on these really tricky stages, especially Turini. It was so easy to go out there after we saw cars like Novikov stopped in the stage. After that, I was more relaxed as these were not the best type of roads for fighting. It's okay, I am happy.
Q:
You were having a good battle with Novikov, especially on Thursday. How much did you have to raise your pace against him?
DS:
It was a good fight. When I start the stage in Turini, the lines were everywhere – three or four lines all of the time. I thought: "Wow! Is this Seb, Ogier or Novikov?" Then I saw lines that were more like Novikov and I thought: "If this carries on then he will be out…" The conditions were really difficult. I was car four on the road – I don't know how difficult it was for Seb running first.
Q:
How relieved were you when you heard the stages were cancelled last night?
DS:
It was really good. The second pass of Turini was a little bit easier, there was half a line and you just had to stay in the line. For the spectators, I am sorry, but it was really, really bad when you go out of the line. We can relax when we hear this news. 
Q:
What's your aim for 2013?
DS:
To try to fight for the victory and the title and this is a good start.
Q:
Carlos, how was the event for you – especially those really tough stages?
CDB:
With these tyres, it was so difficult. We were very slow in front of the spectators and we need more competitive tyres – but we try to do our best. This is a good result for all the team. We have had a great welcome in Citroën and we enjoy all the week – we are in a good position and have a good fight with competitors.
Q:
What was the best part of the week?
CDB:
Apart from last night you mean…! Yesterday was all very good, but when we realise we had overtaken Novikov it was good. In the stage we overtake him and realise we had passed him, I tell Dani: "Now calm down, the podium is for us." Mikko was one minute behind and he has some problem, he drops 29 seconds and now I said to Dani: "Okay, if you need I can drive! We must finish!" I am very sorry for the spectators, but you must understand it would be crazy to go through the stages like there were – this was a good decision."
Q:
Dani, would Carlos make a good driver?
DS:
I think by the second corner…
CDB:
I don't think so!
Q:
Yves, congratulations – this event has gone very well for Citroën.
YM:
It's been a great week for the Citroën team. The whole team did a great job and we make a car that can perform at the top.
Q:
Mikko [Hirvonen] had a tough event. Why was that?
YM:
For sure he had some difficulties, but, what I see on the podium is no Nordic guys. The first Nordic guy not on the podium is Mikko. I am confident for the Championship and for Sweden I am sure he will fight for victory. Mikko did his job. It was difficult for him in these conditions, but he managed them.
Q:
What is the aim for Dani this year?
YM:
The first point, he needs to win a rally this year and we make a deal 30 minutes ago and now he has to manage it. He showed this weekend he has the pace and he will fight and be in the leaders for the Championship.
QUESTIONS FROM THE FLOOR
Alain Pernot
Sport Auto, France
Q:
For the drivers, how hard was the tyre choice?
SL:
For me, the tyre choice was not so difficult. The conditions were quite clear before we start. We knew sometimes it was difficult because we drive with two studs and slicks, but we do it because it's the fastest – but not fun. The choice was not difficult.
SO:
I have the same answer. It was quite clear all the time. It was always the same…
DE:
The same? You have so many people looking [at our tyres]!
SO:
You can think what you want Daniel. I don't care and I know in service what was our choice. It was done 99 per cent [on our own], maybe we copy a little bit for the one. This was our choice all of the time – it looks like it was clear.
DS: In the snow we take the studs, it was clear and not so difficult. 
Andrea Monti
La Gazzetta dello Sport, Italy
Q:
Sébastien, will you do Monte-Carlo next year. If not, will you miss it?
SL:
I don't know. It's a choice I decided to do something else. I don't do the choice to miss what I do now. For sure, I have been in the rally for 10 years and this will be a change. I will do something else. Maybe I come to watch next year – I don't know. I will tell you next year if I miss it next year.
FIA WRC 2 CHAMPIONSHIP 
Present:
1st - Sepp Wiegand, Skoda Auto Deutschland
1st - Frank Christian, Skoda Auto Deutschland
Q:
First time at Rallye Monte-Carlo and you win your category and take eighth position overall! A good weekend for you!
SW:
For me I don't know there are not so many words. I never expected such a great result. There were many firsts for me this year - my first rally with a new co-driver and a lot of new things. I am so, so happy. It was the most difficult terrain of my life and I never saw such difficult stages and conditions. I am really happy and proud of the whole team. We did a great job.
Q:
How did the co-driver relationship work?
SW:
On the first stage it was our first practice in the rally car and it was a different voice. But after that, the second stage was perfect we had no problems at all on the stages. It was a nice feeling for this to be perfect.
Q:
How tough was Turini?
SW:
It was crazy. After one kilometre I see Jari-Matti Latvala and then we decide we don't push – it wasn't possible. We just had to stay in the line. If you go off the line then it's difficult to control the car. You just had to wait for the car to do its thing. It was more slippery than ice. I was happy to finish the stage, maybe the toughest of the rally.
Q:
It was a great start and what about the next event?
SW:
I never drove in Sweden before and I'm really looking forward to it. I think it's a really fast rally, completely different to here. I saw some ice here and now I'm really looking forward to this rally and I'm really happy to be sitting in an S2000 car.
Q:
Frank, how did the partnership work for you?
FC:
It's our first event, our first Monte-Carlo and it was really hard work, really tough. Day one was really hard, but then we get to know each other and know each other more and we both do good work on the second day. I was happy for this because it was a long and hard rally. It was tough to come here and compete, but now I am happy.
Q:
Before the event, did you think this result was possible?
FC:
Of course not, no!
FIA WRC 3 CHAMPIONSHIP
Present:
1st - Sébastien Chardonnet
1st - Thibault de la Haye
Q:
Sébastien, a win in the WRC 3 in Monte-Carlo means your Championship challenge is off to a great start, how was the weekend for you?
SC:
The feeling is not so bad, it was a very difficult place for four days in very difficult conditions. It's good to be here and get the points for the WRC 3; it's a good thing for the target here. We are very happy.
Q:
Was it one of your toughest challenges?
SC:
Yes. I think it's the best thing ever for us. At the beginning it was tough, but we were very happy at the end
Q:
What about Turini?
SC:
Last night was really difficult and I am happy to be here, so it was a good situation for us. After one stage we understand the conditions are very, very difficult. After a few kilometres we saw Latvala and it was very tough. After this, the two last stages were cancelled and it's a shame for the spectators. But for us it was not a bad thing. We finished.
Q:
Thibault, you take maximum points here – that's great news.
TdlH:
It's the best way for us. At the beginning there were not many [entrants], but we are the only survivor, it's the best thing.
Q:
What was the most difficult aspect of the event?
TdlH:
For me, the last night. The condition was very, very hard and very difficult to concentrate. I was very happy when the director of the race said the race was finished.