Rallye Monte-Carlo - Day 4 Report
News report from Day 4 of the 2013 Rallye Monte-Carlo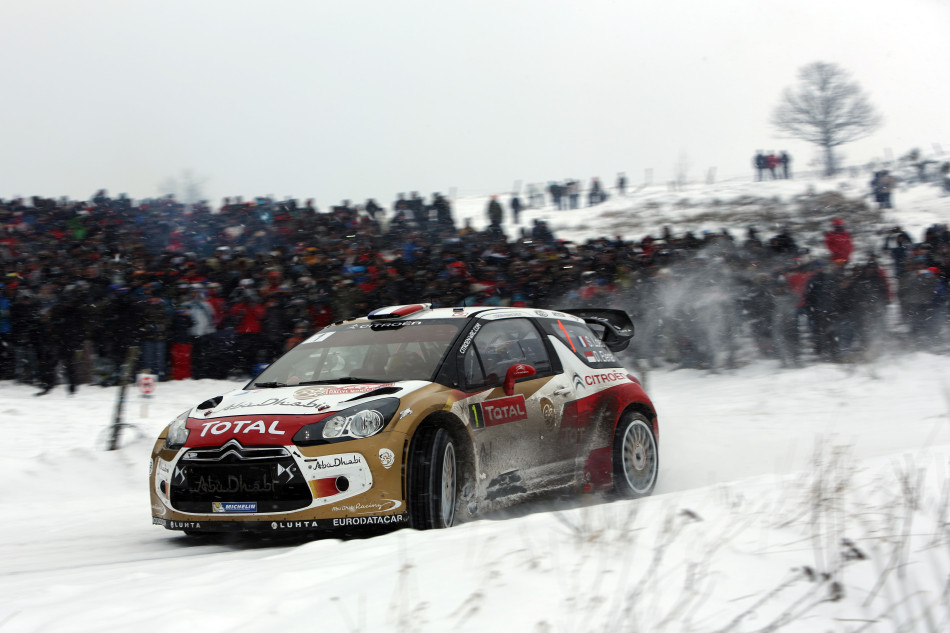 RALLYE MONTE-CARLO
(15 - 20 JANUARY 2013)
RALLY NEWS
Citroën's Sébastien Loeb and Daniel Elena claimed their 77th world rally victory and seventh Rallye Monte-Carlo win this evening, the multiple World Rally Champions claiming the silverware by one minute 39.9 seconds. Sébastien Ogier and Julien Ingrassia finished a fine second in the debut competitive outing of the Volkswagen Polo R WRC and Dani Sordo and co-driver Carlos del Barrio rounded off the podium positions in another Citroën DS3 WRC.
With the rally now based in Monaco, the crews headed out of the Principality this afternoon for some of the most famous stages of the event, which were scheduled to include three runs over the legendary Col de Turini and two through the Lantosque-Luceram stage. However, the final two stages of the rally were cancelled for safety reasons due to the huge volume of spectators and difficult access conditions.
The first run through Turini this afternoon proved to be the trickiest stage of the entire event, with a mix of conditions providing zero grip and almost un-driveable conditions. Here, third-placed Evgeny Novikov was forced to retire having hit a mountain wall and both Jari-Matti Latvala - in fifth - and Juho Hänninen, seventh, went off the road. While Loeb and Ogier maintained position at the head of the leaderboard, Sordo therefore moved up to third with Mikko Hirvonen climbing to fourth. Bryan Bouffier - winner of the opening stage - finished fifth and the top six was rounded off by Mads Østberg, who suffered with brake problems in the final stage.
The snowy scenery will certainly remain similar for the contenders as they now head to Sweden for the second round of the FIA World Rally Championship (7-10 February).
Rallye Monte-Carlo – Final Unofficial Results (subject to final scrutineering)
1.   Sébastien Loeb/Daniel Elena

2.   Sébastien Ogier/Julien Ingrassia

3.   Dani Sordo/Carlos Del Barrio

4.   Mikko Hirvonen/Jarmo Lehtinen

5.   Bryan Bouffier/ Xavier Panseri

6.   Mads Østberg/Jonas Andersson

7.   Martin Prokop/Michal Ernst

8.   Sepp Wiegand/Frank Christian

9.   Olivier Burri/Guillaume Duval

10. Michal Kosciuszko/Maciej Szczepaniak

Citroën DS3 WRC

Volkswagen Polo R WRC

Citroën DS3 WRC

Citroën DS3 WRC

Citroën DS3 WRC

Ford Fiesta RS WRC

Ford Fiesta RS WRC

Skoda Fabia S2000

Peugeot 207 S2000

MINI John Cooper Works WRC

5 hr 18 min 57.2sec

5 hr 20 min 37.1sec

5 hr 22 min 46.2sec

5 hr 24 min 23.5sec

5 hr 27 min 10.3sec

5 hr 31 min 00.9sec

5 hr 42 min 24.5sec

5 hr 48 min 31.7sec

5 hr 54 min 35.4sec

5 hr 55 min 25.2sec
FIA World Rally Championship for Drivers (after 1 of 13 rounds)
Sébastien Loeb (FRA)

Sébastien Ogier (FRA)

Dani Sordo (ESP)

Mikko Hirvonen (FIN)

Bryan Bouffier (FRA)

Mads Østberg (NOR)

Martin Prokop (CZE)

Sepp Weigand (DEU)

Olivier Burri (CHE)

Michal Kosciuszko (POL)

25 points

18 points

15 points

12 points

10 points

8 points

6 points

4 points

2 points

1 point

 
FIA World Rally Championship for Manufacturers (after 1 of 13 rounds)
Citroën Total Abu Dhabi World Rally Team

Volkswagen Motorsport

Abu Dhabi Citroën Total World Rally Team

Qatar M-Sport World Rally Team

Lotos WRC Team

37 points

18 points

15 points

10 points

8 points