Rally - Thrustmaster becomes FIA Rally Star's Digital Motor Sport partner
The FIA Rally Star international talent detection initiative aims to discover rallying's "stars of tomorrow" and will be partnered by Thrustmaster in helping young sim-racing talents turn their virtual dreams into reality.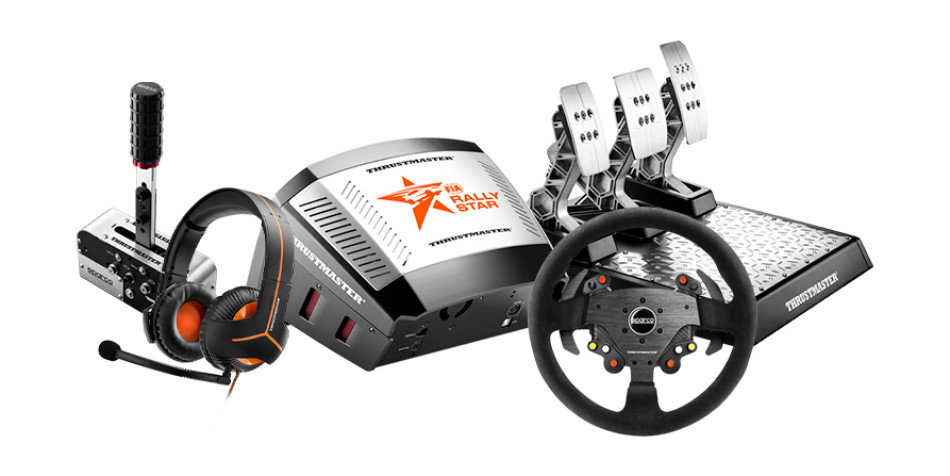 The FIA Rally Star programme is based on three core principles: detection, training and support. These values are also found at the heart of Thrustmaster's ethos, having motivated the video game accessories company in racing since 1993.
With the growing convergence between the virtual and real worlds, the realism of sim-racing and the immersion provided by Thrustmaster's products, FIA Rally Star is a truly global racing experience that will be accessible to as many people as possible.
As part of the partnership, Thrustmaster will provide the various national motor sport federations with a setup composed of products from Thrustmaster's extensive racing ecosystem, specially designed for a totally immersive and realistic experience.
Drivers will get the chance to use this specific setup built around the TS-XW Servo Base, with its incredibly responsive and precise servomotor providing powerful Force Feedback. The base will be accompanied by Thrustmaster's T-LCM Pedals pedal set, its magnetic sensors ensuring perfect mirroring of movements made by the driver's feet on the accelerator, brake and clutch pedals, and cutting-edge Load Cell force sensor adaptable braking technology.
With their feet well looked after, drivers will be itching to get their hands on the Rally Wheel Add-On Sparco® R383 Mod — an add-on wheel measuring 13 inches/33 cm in diameter, covered with comfortable black suede. Competitors will also enjoy the feel of the TSS HANDBRAKE Sparco Mod +, Thrustmaster's progressive handbrake and sequential shifter for ultra-realistic racing.
The FIA Rally Star Digital Selections will begin in the coming weeks. Drivers can either take part in events organised by their national federation or try to win one of the twelve online competitions organised with the WRC 9 game and the forthcoming FIA Rally Star DLC. The best Candidates will qualify for the Continental Finals, which will take place in the second half of 2021.
-------------------------------------------------------------------------------------------------------------------------------
FIA Rally Star reçoit le soutien de Thrustmaster comme partenaire officiel pour le Sport Automobile Digital
Le programme FIA Rally Star, mis sur pied par la Fédération Internationale de l'Automobile (FIA), débutera sa quête de talents cette année. Organisée à l'échelon mondial, cette opération de détection des futures stars du rallye reçoit le soutien de Thrustmaster, qui aidera les jeunes pilotes issus du sim-racing à concrétiser leurs rêves virtuels.
FIA Rally Star est un programme basé sur trois principes : détection, formation et support. Ces valeurs figurent aussi dans l'ADN de Thrustmaster. En effet, le constructeur d'accessoires de jeu vidéo est impliqué dans la simulation de pilotage depuis 1993.
Avec la convergence toujours plus grande entre les mondes virtuel et réel, le réalisme du sim-racing et l'immersion proposée par les produits Thrustmaster, FIA Rally Star propose une expérience de pilotage véritablement accessible au plus grand nombre.
Dans le cadre de ce partenariat, Thrustmaster fournira aux fédérations nationales un kit de matériel constitué des produits de l'écosystème Thrustmaster, spécialement sélectionnés pour offrir une expérience aussi immersive et réaliste que possible pour les rallymen en devenir.
Les pilotes pourront apprécier les qualités de la base moteur Servo TS-XW, qui se distingue par sa réactivité et la précision du retour de force. Cette base est accompagnée du pédalier Thrustmaster T-LCM, dont les capteurs magnétiques permettent de reproduire parfaitement la pression des pieds, notamment au freinage avec la technologie de pointe du capteur réglable "Load Cell".
Les sensations et le réalisme sont complétés par le volant de rallye Sparco® R383 Mod, très confortable avec son diamètre de 33 cm et son revêtement suédé, et le frein à main progressif TSS convertible en levier de vitesse séquentiel.
 
Les sélections digitales de FIA Rally Star débuteront lors des prochaines semaines. Les pilotes pourront soit participer aux évènements organisés par leur fédération nationale, soit tenter de remporter une des douze compétitions en ligne organisées avec le jeu WRC 9 et le DLC FIA Rally Star bientôt disponible. Les meilleurs candidats se qualifieront pour les Finales Continentales, organisées au second semestre 2021.