Rally Portugal: big names and big celebrations as WRC season switches to gravel
Two of the sport's biggest names, Sébastien Loeb and Sébastien Ogier, will be back on FIA World Rally Championship duty when Vodafone Rally de Portugal hosts the fourth round of the season from May 21-24 – but with a difference.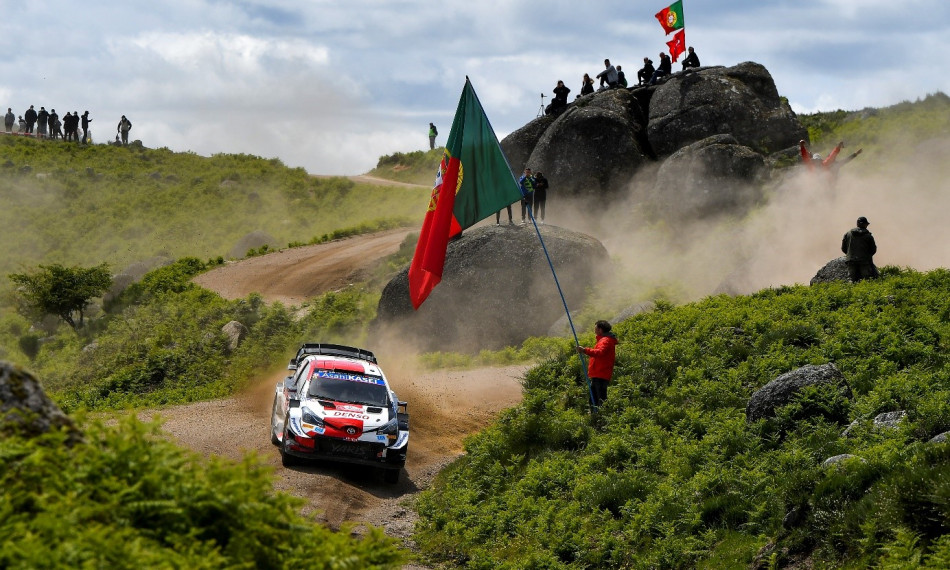 With 2022 marking the WRC's 50th season, the 55th Rally de Portugal has been selected as the centrepiece of the half-century celebrations when several stars – and their cars – from yesteryear will be on show in Porto.
FIA President Mohammed Ben Sulayem, FIA Deputy President Sport Robert Reid and FIA Vice-President Sport Europe Anna Nordkvist will be among the guests along with world champion drivers Miki Biasion, Marcus Grönholm, Walter Röhrl, Carlos Sainz, Petter Solberg and Ari Vatanen.
Several cars that have become part of WRC folklore will be on display and will feature in demonstration runs.
As well as reflecting on the championship's glorious past, the event shines a spotlight on the hybrid-based Rally1 regulations that were introduced at the start of the year and point to an exciting and sustainable future for the WRC.
A record 12 Rally1 cars are set to take the start next Thursday evening as the WRC switches to gravel for the first of five loose-surface events in succession.
Loeb, a winner of the FIA World Rally Championship on nine occasions, and eight-time world champion Ogier, are due to make their second appearances of the campaign for M-Sport Ford World Rally Team and Toyota Gazoo Racing WRT respectively as part of their partial 2022 programmes.
While both have limited experience on gravel in new-generation Rally1 machinery, their pace is not in doubt judging by their spectacular battle for victory on Rallye Monte-Carlo in January, which Loeb edged by 10.5s over his compatriot. They will also benefit from lower starting positions, which in the event of dry conditions, should hand them more stable and consistent grip levels on leg one.
Victory for Ogier would make him the most successful driver in Rally de Portugal history as a six-time winner, a result that would extend his total WRC triumphs to 55. Loeb has 80 wins to his name.
A founding round of the WRC back in 1973, Rally de Portugal is ranked as one of world rallying's classic events with challenging stages, varying road surfaces and changeable weather adding to the task facing crews. It's also extremely popular among fans with enthusiastic spectators following the action in their tens of thousands.
Official supplier Pirelli provides its Scorpion KX hard and soft tyres. The hard compound is the first choice and is designed for warm and dry weather, while the soft compound is for cool and damp conditions. Teams can use a maximum of 36 tyres for the event including four during Thursday's Shakedown.
Rally1 contenders
More Rally1 cars than ever before will line up for Rally de Portugal with 12 of the WRC's latest-generation, top-tier machines appearing on the entry list.
Finns Kalle Rovanperä/Jonne Halttunen head the provisional championship standings after back-to-back wins in Sweden and Croatia and are therefore top seeds for the event in their Toyota GR Yaris Rally1. They are joined in the Toyota Gazoo Racing WRT line-up by Elfyn Evans/Scott Martin from Great Britain and reigning world champion Sébastien Ogier, who makes his second start of the season with Benjamin Veillas co-driving.
Japan's Takamoto Katsuta and Irish co-driver Aaron Johnston compete under the Toyota Gazoo Racing WRT NG banner in a fourth Yaris Rally1.
Spaniards Dani Sordo and Cándido Carrera make their first start of 2022 for the Hyundai Shell Mobis World Rally Team as part of their carsharing arrangement with Oliver Solberg/Elliott Edmondson, who switch to a Hyundai i20 N Rally2 in WRC2. Belgian pair Thierry Neuville/Martijn Wydaeghe and Estonian former world champions Ott Tänak/Martin Järveoja will also fly the Hyundai flag in the Rally1 category.
The M-Sport Ford World Rally Team's challenge expands to five cars as Rallye Monte-Carlo winners Sébastien Loeb/Isabelle Galmiche return in a Ford Puma Rally1. Irishmen Craig Breen/Paul Nagle – third in the provisional standings after three rounds – and Briton Gus Greensmith, who is co-driven by Swede Jonas Andersson, are also Puma-powered as are Frenchmen Adrien Fourmaux/Alexandre Coria and Pierre-Louis Loubet/Vincent Landais.
The supporting categories
WRC2 features a star-studded entry headed by defending champion Andreas Mikkelsen in a Toksport WRT Škoda Fabia Rally2. Other expected frontrunners include his teammates Marco Bulacia and Nikolay Gryazin, Kajetan Kajetanowicz and Chris Ingram also driving Škoda Fabia Evo cars, Hyundai Motorsport N's Teemu Suninen and Oliver Solberg, Yohan Rossel (PH Sport), Jan Solans, Eric Camilli (Saintéloc Junior Team) and Stéphane Lefebvre at the wheel of Citroën C3s, Georg Linnamäe (ALM Motorsport) and Eerik Pietarinen driving Volkswagen Polo GTI, or Yacco ACCR Team's Erik Cais in a Ford Fiesta MkII. Armindo Araújo (Škoda Fabia Evo), José Pedro Fontes (Citroën C3), Bruno Magalhães and defending national champion Ricardo Teodósio, both in Hyundai i20 N Rally2, are among the Portuguese drivers also eligible for WRC2 honours.
The category for Rally2 cars has been restructured for 2022 with separate classifications for Teams, Drivers and Co-Drivers, plus Junior Drivers and Junior Co-Drivers. The Masters Cup rewards the best Driver and Co-Driver born on or before January 1, 1972.
Six drivers will chase success in the FIA WRC3 Junior class, which is exclusively for Pirelli-equipped Ford Fiesta Rallly3 cars. Jon Armstrong, William Creighton, Lauri Joona, McRae Kimathi, Sami Pajari and Robert Virves are all in contention with Creighton, Joona, Kimathi and Pajari also registered for WRC3 Open points.
THE 2022 ROUTE
There's no such thing as a slow start on the 55th Rally de Portugal. Following the ceremonial start in Coimbra, the city's outskirts are the setting for an all-new 2.82-kilometre superspecial stage from 19:03 hrs on Thursday May 19. A route to the south of the rally base, Matosinhos, forms Friday's action. The Lousã, Góis and Arganil stages are used twice before the day ends with a run through the Mortágua stage and a head-to-head superspecial at the Lousada rallycross track. The bulk of Saturday's action is centred on the Cabreira Mountains northeast of Matosinhos. There's a gruelling 164.98 competitive kilometres in store with the 37.24-kilometre double-use Amarante test the rally's longest. Vieira do Minho and Cabeceiras de Basto are also run twice during the day. Saturday's itinerary is completed by a street stage in the coastal town of Porto Foz. Sunday begins with visits to Felgueiras and Montim before attention turns to the Fafe test and the legendary Pedra Sentada jump. The 11.18-kilometre stage, known locally as Lameirinha, is used twice either side of a second visit to Felgueiras. Fafe also hosts the event-deciding Wolf Power Stage from 12:18 hrs local time.
RALLY DATA
| | |
| --- | --- |
| Total distance: | 1522.89 km |
| Stage distance:  | 338.34 km |
| Number of stages: | 21 |
MEDIA ACCREDITATION
Media accreditation must be collected in person by accredited pass holders from the Accreditation Centre located within the Exponor – Feira Internacional do Porto, Avenida Dr. António Macedo, 574 - Leça da Palmeia - 4454-515 Matosinhos, Portugal.
The opening hours are:
Tuesday May 17: 14:00 – 19:00 hrs
Wednesday May 18: 08:00 – 20:00 hrs
Thursday May 19: 08:00 – 20:00 hrs
Friday May 20: 08:00 – 13:00 hrs
The Media Centre, also located within the Exponor, is open as follows: 
Tuesday May 17: 14:00 – 19:00 hrs
Wednesday May 18: 08:00 – 20:00 hrs
Thursday May 19: 08:00 – 22:00 hrs
Friday May 20: 07:30 – 23:00 hrs
Saturday May 21: 07:00 – 22:00 hrs
Sunday May 22: 07:00 – 22:00 hrs
2022 RALLY DE PORTUGAL TIMETABLE AND MEDIA OPPORTUNITIES
Aside of the WRC event, title-winning drivers, co-drivers and team managers will honour the WRC's 50th season in Matosinhos during five days of celebrations at Rally Portugal.
| | |
| --- | --- |
| Wednesday May 18 |   |
| WRC50 world champions press conference, Media Centre | 16:00 hrs  |
| FIA tabard media safety briefing, Media Centre | 17:00 hrs |
| WRC50 - Opening Red Carpet photo opportunities, Exponor Gal6 | 17:30 hrs |
| Team media functions |   |
| M-Sport Ford WRT | 17:45 – 18:15 hrs |
| Toyota GAZOO Racing WRT | 18:10 – 18:40 hrs |
| Hyundai Shell Mobis WRT | 18:20 – 18:50 hrs |
| WRC50 – Champions' group picture, Exponor Gal6 via main entrance | 18:45 hrs |
| WRC50 Gala event, Exponor Gal6 | 19:00 -23:00 hrs |
|   |   |
| Thursday May 19 |   |
| Shakedown for P1 and invited drivers, Baltar (Paredes), 4.55km  | 09:01-10:30 hrs |
| Shakedown for P2, P3 and P4 drivers, Baltar (Paredes), 4.55km | 10:30-12:00 hrs |
| Shakedown for non-priority drivers, Baltar (Paredes), 4.55km | 13:01-15:30 hrs |
| Meet the Crews, Top 3 Shakedown, MTC stage Service Park | 13:00 hrs |
| Pre-Event FIA Press Conference, Media Centre* | 13:30 hrs |
| WRC official photograph, Coimbra podium | 17:30 hrs |
| Autograph session, Coimbra podium | 17:45-18:15 hrs |
| Ceremonial Start, Coimbra podium | 18:55 hrs |
|   |   |
| Friday May 20 |   |
| Start of Section 2 | 07:00 hrs |
| Meet the Crews (P1 team principals, then top 3 drivers), Exponor | approx. 20:30 hrs |
|   |   |
| Saturday May 21 |   |
| Start of Section 5 | 05:45 hrs |
| Meet the Crews (P1 team principals, then top 3 drivers), Exponor | approx. 20:30 hrs  |
|   |   |
| Sunday May 22 |   |
| Start of Section 7 | 05:45 hrs |
| Podium Ceremony and Prize Giving, Exponor | 15:45 hrs  |
| Post-Event FIA Press Conference, Media Centre* | 16:45 hrs |
 *Press Conferences will be available to accredited media attending onsite and no longer streamed via Zoom. A written transcript will be available afterwards on fia.com.
MEDIA ZONES
All priority drivers (and co-drivers upon request) will be available for media interviews at the following times:
TC1A, 4A, TC9A, TC12A, TC16A, TC21A
Reminder:
• Protective face coverings must be worn by media personnel at all times and there will be a separation between the WRC drivers/co-drivers or team principals (Zone 1) and the media personnel (Zone 2).
• Tabard media are permitted in Zone 2 of the Media Zone.
• Microphones/recording equipment on extension poles or in fixed positions near the drivers/team principals must be used together with disposable microphone covers or recording equipment that can be sanitized after every single interview.
FIA PRESS CONFERENCE ATTENDANCE
THURSDAY MAY 19
13:30 – FIA WRC
Toyota Gazoo Racing WRT – Sébastien Ogier (FRA), Toyota GR Yaris Rally1
Hyundai Shell Mobis WRT – Thierry Neuville (BEL), Hyundai i20 N Rally1
M-Sport Ford WRT – Sébastien Loeb (FRA), Ford Puma Rally1
13:40 – FIA WRC2
Toksport WRT – Andreas Mikkelsen (NOR), Škoda Fabia Rally 2 Evo
Hyundai Motorsport N – Teemu Suninen (FIN), Hyundai i20 N Rally2
Armindo Araújo (PRT), Škoda Fabia Rally 2 Evo
13:50 – FIA WRC3 Juniors
Lauri Joona (FIN), Ford Fiesta Rally3
William Creighton (IRL), Ford Fiesta Rally3
SUNDAY MAY 22
Winning FIA WRC3 Championship driver
Winning FIA Junior WRC Championship driver
Winning FIA WRC2 Championship driver
Top three drivers in the overall classification
Representative of the winning manufacturer
2022 PORTUGAL RALLY MANUFACTURER ENTRIES
| | |
| --- | --- |
| Toyota Gazoo Racing WRT | Kalle Rovanperä (FIN) / Jonne Halttunen (FIN) - #69 |
|   | Sébastien Ogier (FRA) / Benjamin Veillas (FRA) - #1 |
|   | Elfyn Evans (GBR) / Scott Martin (GBR) - #33 |
| Hyundai Shell Mobis WRT | Thierry Neuville (BEL) / Martijn Wydaeghe (BEL) - #11 |
|   | Ott Tänak (EST) / Martin Järveoja (EST) - #8 |
|   | Dani Sordo (ESP) / Cándido Carrera (ESP) - #6 |
| M-Sport Ford WRT | Craig Breen (IRL) / Paul Nagle (IRL) - #42 |
|   | Sébastien Loeb (FRA) / Isabelle Galmiche (FRA) - #19 |
|   | Adrien Fourmaux (FRA) / Alexandre Coria (FRA) - #16 |
2022 FIA WORLD RALLY CHAMPIONSHIP CLASSIFICATIONS
The classification following round three of the 2022 FIA World Rally Championship season is available at this link: https://www.fia.com/events/world-rally-championship/season-2022/standings
2021 RALLY DE PORTUGAL RESULTS
| | | |
| --- | --- | --- |
| 1 Elfyn Evans/Scott Martin | Toyota Yaris WRC | 3h38m26.2s |
| 2 Dani Sordo/Borja Rozada | Hyundai i20 Coupe WRC | +28.3s |
| 3 Sébastien Ogier/Julien Ingrassia | Toyota Yaris WRC | +1m23.6s |
RECENT WINNERS
| | |
| --- | --- |
| 2021 Elfyn Evans/Scott Martin | Toyota Yaris WRC |
| 2019 Ott Tänak/Martin Järveoja | Toyota Yaris WRC |
| 2018 Thierry Neuville/Nicolas Gilsoul | Hyundai i20 Coupe WRC |
| 2017 Sébastien Ogier/Julien Ingrassia | Ford Fiesta WRC |
| 2016 Kris Meeke/Paul Nagle | Citroën DS3 WRC |