Rally Guanajuato Mexico - Press Conference
Pre-event press conference organised by the FIA for the 2014 Rally Guanajuato Mexico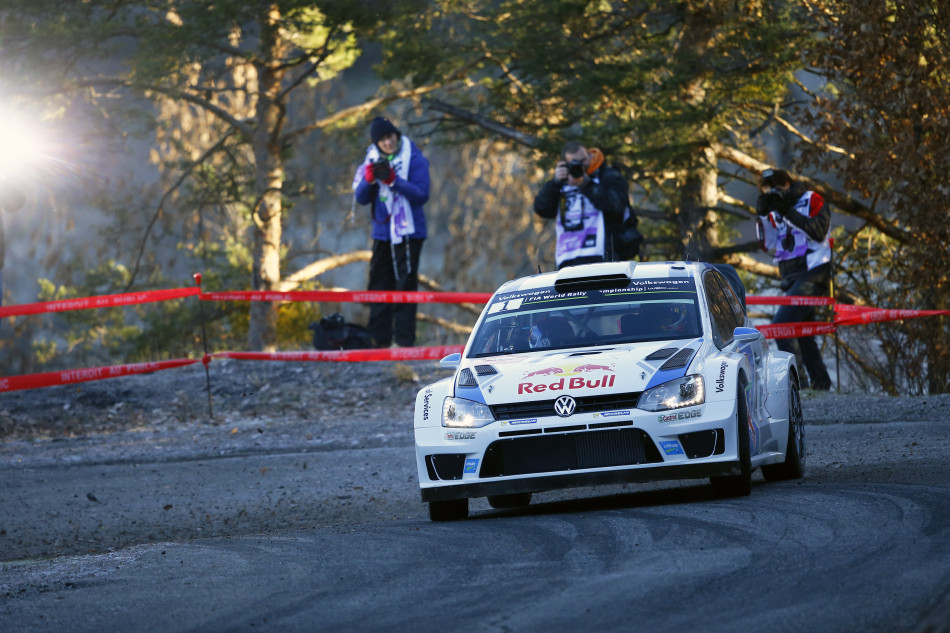 2014 FIA WORLD RALLY CHAMPIONSHIP
RALLY GUANAJUATO MEXICO
Present:
Kris Meeke, Citroën Total Abu Dhabi World Rally Team
Benito Guerra, M-Sport World Rally Team
Chris Atkinson, Hyundai Motorsport
Mikko Hirvonen, M-Sport World Rally Team
Sébastien Ogier, Volkswagen Motorsport
Q:
Kris, this is your first time competing in Mexico. Looking forward to the challenge?
KM:
It's going to be quite tricky to be honest. I always looked at the television in the past and I saw nice open, fast flowing stages. But it was quite a surprise when I saw them first hand with first and second gear corners in this heat. It is a good challenge, more tricky than I anticipated it would be. It's new to me, but I am comfortable with the car. Saying that, nothing beats actually coming to do the rally. I try and look at the videos, but that is no substitute for making your own notes and driving the stages in the car. I am quite comfortable with my ability to make pace notes, but there is no substitute for experience. 
Q:
We have many long stages here, how big a challenge are they?
KM:
Well, the last time I was in Mexico, I was on a motorcycle on a stage of 1,850 kilometres non-stop, and it took 41 hours on a motorbike. So 55 kilometres is a drop in the ocean to that….
Q:
You said in Monte-Carlo you were hungry for another podium - how possible would it be here?
KM:
It is always difficult to come to an event where other WRC drivers have been maybe five, six or seven times. To compete with them the first time is not realistic, but my first day road position is good. I have no specific target. I knew at the start of the season that Sweden, Mexico and Portugal were rallies that I had never done before. I need to get more experience. Saying that I will not be complaining if a good result comes my way. 
Q:
Benito, home event for you and you are in a WRC car with M-Sport. Are you ready for the rally?
BG:
It is really nice to be here in a WRC car again. It was my first time last year in the Citroën and I had a great experience. I want to be more aggressive this year and push more. I want to be setting better times at the end of the rally this time. I want to go faster in the sections of the stages I know well. I really appreciate M-Sport for giving me a second chance in a WRC car.
Q:
How are you finding the Fiesta WRC? How was the test?
BG:
I tested only today and this morning for the first time. I made a small test after Rally Spain just to know the car and the people in M-Sport, but that was only for 40 kilometres and it was muddy. Today was a good beginning, but I need to work a lot with the car. If I have a good feeling on Friday, then we are going to push a little on Saturday morning. 
Q:
What does the season ahead hold for you, how many more events will we see you compete on?
BG:
Last year I was eighth here and did not crash the car and I got some points. That was good for the sponsors, but I need to improve on that position this time. It won't be easy. There are more official teams and drivers this time. It is going to be a tough one. I will try and do my best and push on the stages where I feel safe. If I achieve a good result here, then I will have a chance to also drive in Argentina. I know that event more than European events. If Argentina goes well, there is a chance of six or seven races in the programme and a full season in 2015. There is a lot of pressure though. I am the only Mexican in a WRC car and I want to achieve a good result for all these people. 
Q:
Chris, welcome back to the WRC. This is your first event with Hyundai Motorsport and the i20. What are your initial thoughts on the car?
CA:
Yes, we are looking forward to it. It's the toughest event of the year with the long stages and the fact that I have not done a lot in the past. I know that back in the days of the Safari there were long stages, but 80% of this rally is 50 kilometre-plus stages. It's going to be tough. While these guys have been racing, I had plenty of time to train. I am nice and fit and have been preparing in Australia, but it's going to be tough in the car for everyone. It's a tough event. 
Q:
How much testing for this event have you completed?
CA:
It is always difficult to find something similar on a test road to these stages. There's nothing like coming here. We still have some work to do, but we will take it step-by-step and see where we are. 
Q:
What will be the strategy from you this weekend? Have the team given specific instructions - or can you go for it?
CA:
I think it is fairly obvious that we want to bring both cars to the finish. That is never easy, but we are here to do that. I have had some good results here in the past, so I am hopeful and that may play a part. 
Q:
You have been on the podium here in the past, so you know what it takes to achieve a successful result. So how does a driver do well in Mexico?
CA:
These guys are quick. There is a bit of a gap between the top few and the rest but this is a long, tough rally. Thierry (Neuville) was on the podium last year, even though he was four minutes down, so you never know. You need to be careful for punctures; It's going to be tough.
Q:
Mikko, you are back with M-Sport for this season and with two rallies already completed you lie seventh in the Championship standings. What's your assessment of your performance so far?
MH:
I have a good pace and hopefully we will get a good position. It has been a bit up and down so far this year. I hope we can continue with some good form and I will try to push very hard with a pace that feels comfortable. I think I just need to drive now.
Q:
You have tested before the event, are you happy with the set-up? How did the car feel at shakedown this morning?
MH:
Yes it was okay. But it was raining (at the test) and not really similar conditions. It was alright, but not exactly like here. It (the outcome) will not come down to that here. 
Q:
You have a good road position going into the opening day, is your plan to capitalise on that as much as possible?
MH:
We have to try. Sixth on the road is not bad. Kris (Meeke) and Mads (Østberg) have good positions as well and Seb (Ogier) is sure to push from second place. I will try and push. There are long stages, it's hot and we have the altitude. It's going to be tough for the drivers and the cars.
Q:
You have the most starts here out of all the WRC competitors (eight starts) - does experience count?
MH:
Yes, but maybe I just feel a bit older!
Q:
Sébastien, we saw you take the win here last year. This time around you have a better road position going into the opening day. A better advantage?
SO:
Last year it was a little bit different with the rules for qualification. I suppose I have a better position than Jari-Matti (Latvala). There is always a lot of cleaning of the stages here and loose gravel that we have to deal with. My pace on the shakedown was not bad; I am confident that I can fight for the victory. 
Q:
This event is always a challenge, the altitude, the long stages - is it an event you enjoy?
SO:
I think this rally always becomes harder than it looks. It looks okay on the recce, but every year there are a lot of rocks on the second loop. I don't know why and you don't expect them. You need to be careful for them. I am feeling confident and the car feels strong. I made a small mistake in Sweden but it was not a big thing. It is now a little bit easier for me on day one. It was a small relax, not too much in Sweden. Maybe this call was necessary and a warning that you have to give your best all the time. If you have a mis-concentration it is gone. At the end this is maybe a positive point. It has made me get more angry for this rally. I like this rally. Last year was my first victory and, in 2008, I was the first Junior here on my first ever WRC. I always like coming here. I get used to the altitude and adjust my driving style. My driving is clean and it helps in these conditions.
Q:
Did you manage to wear the cowboy boots that you won here last year? 
SO:
To be honest, no. I heard the ones of this year are more beautiful. Someone told me to win again. They are going to be much better….
FIA WRC 2 CHAMPIONSHIP
Present:
Ott Tanak
Nicolas Fuchs
Q:
Ott, we saw you at the last event in a WRC car and you put in an incredible performance for your first rally back after 12 months. How pleased were you with the result in Sweden?
OT:
Of course it was a great feeling after Sweden. I wasn't very confident before the event. We had some small testing before the event but I was not 100% happy. Many things are still new for me. After the first stages we had some good times and it was a lot easier. It was a really good feeling to finish like this and a good boost for me. 
Q:
We see you now in the R5 in the WRC 2 Championship; is it difficult to switch to the R5 after the WRC car?
OT:
It's quite different to the WRC car. It is what I expected and it is quite okay. It will take some time to get adapted to get the perfect feeling. We are in Mexico and this takes the power away. It was already different in the power terms before but I think, when we get going, we will try some different things and by the end of the race we should be on a good pace. That is our target
Q:
What is the objective here in Mexico? 
OT:
For sure, if I was not 100% confident I would not push for a good result. I am not there at the moment but, if I get some nice clean stages, then the feeling is coming. 
Q:
How tough are the stages here? Do you enjoy the longer tests? 
OT:
I had some pretty good results here before. I enjoy it, these long stages. Most of them are really slow. It is very tough in places for the car and very hard. We have to be smart in places. I think if we can keep it going we can find a good rhythm on the good stages and fight for a good place. We have a long season ahead of us. The target is to drive and get confident in the car. I am happy to drive so many events. I have to use this opportunity. Of course we need to fight for the top places in the Championship, it is just the beginning and, at the moment, a little strange for me. I need to get more mileage. We have eight more events in the R5, so I should be more competitive by then. 
Q:
Nicolas, we see you return to the WRC 2 Championship this year. What made you decide to compete within this Championship again?
NF:
Last year I was in the Production Cup with a Group N car and now we have the Ford Fiesta, a new car. It's all different for me. I will have new results for this car. I need rallies to learn. This is the first time for me. 
Q:
How are you finding the car?
NF:
It's nice to drive. It's very fast and amazing when you brake. It's different and I try and learn more these days. It's important not to stop or get a puncture in the tyre in the long stages. I will try and stay in the middle of the road to finish the rally. 
Q:
Do you feel you can compete for the title in WRC 2?
NF:
I think I just try to finish with a good result, but I am not sure in what position. I try to finish. This year I want to learn. On the next rally I have an R5, I have an RRC here and then I go to Argentina with an RRC again. We will see.