Porsche Carrera Cup Asia - Rounds 8&9
Bamber leads charge for Porsche Carrera Cup Asia Inje Speedium debut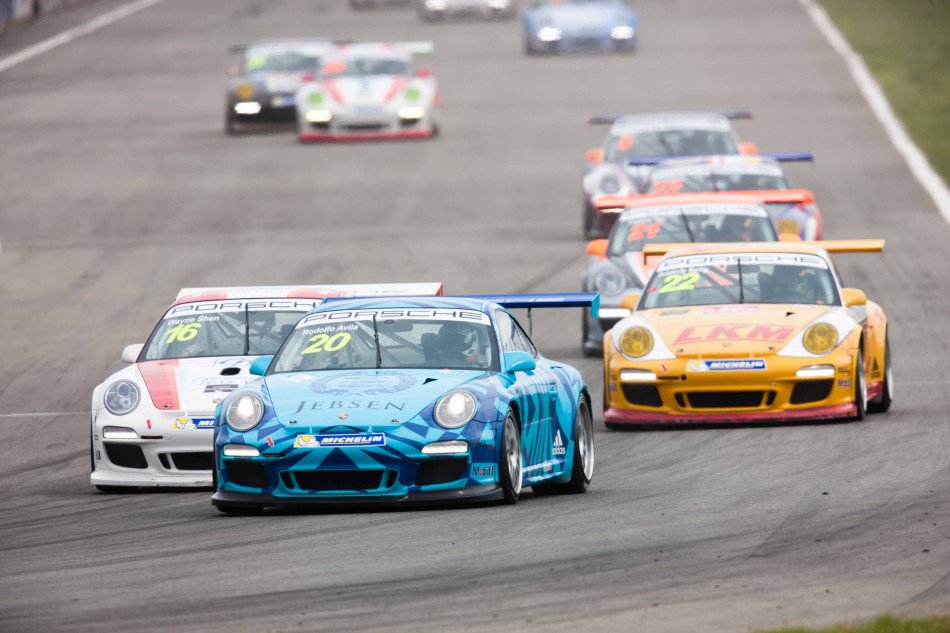 The region's leading sports car championship is set to make its return to South Korea with Rounds 8&9 of the Porsche Carrera Cup Asia this weekend at the new Inje Speedium International Circuit in support of the opening round of the Asian Le Mans Series. The prestigious championship visits South Korea for the first time since 2005 and brings with it a 25-strong fleet of Porsche 911 GT3 Cup racing cars ready for the intense on-track battles that are a signature of the series. 
Leading the charge is Nexus Racing's Earl Bamber of New Zealand, with the 23-year old having scored four successive victories, including completing a perfect weekend earlier this month in Ordos, Inner Mongolia. With five races remaining, the series newcomer has a nine-point lead over his closest rival, Austrian Martin Ragginger of Team Eagle, who started the season off with three straight wins of his own.
While Ragginger will be looking to master the 4.207 km circuit and gain an edge on Bamber, the rest of the field will be out to do the same as they hunt for valuable championship points and race wins. Third in the championship is Macau's Rodolfo Avila of Team Jebsen, with 2011 champion Keita Sawa of LKM Racing Team fourth and the series' top Chinese driver, Tung Ho-Pin of Budweiser Kamlung Racing, rounding out the top five. 
Reigning Porsche Carrera Cup Asia champion Alexandre Imperatori of PICC Team StarChase returned to the podium with a third-place finish in Round 7 in Ordos and will no doubt look to capitalize on his momentum in Korea. Team C&D driver Jason Zhang Zhi Qiang also arrives in Korea on a high note after the series newcomer's season-best fourth-place finish in Round 7.
Team Yongda Dongfang's Benjamin Rouget of France is currently sixth in the championship standings and will look to gain crucial ground this weekend, while Team Basetex driver Zhang Da Sheng continues to show the strides he has made following his debut season last year. Team Kangshun driver Ringo Chong and Team Betterlife's Wang Jian Wei are also on the hunt for success this weekend, making this weekend's races some of the most anticipated of the season. 
Flying the flag for Korea and racing in the Porsche Carrera Cup Asia for the first time this weekend is Recardo Bruins. Bruins, a former single-seater driver who finished fourth in the 2007 ATS Formel 3 Championship and has also raced in GP2 and Formula V6 Asia, is the 2012 Korea Speed Festival champion and will race with Team Carrera Cup Asia.  
In Class B, Mentos Racing driver Egidio Perfetti will look to continue his dominant season, which has seen him take six of seven category victories, including two in Ordos. In addition to leading the non-professional category, Perfetti is also eighth overall in the championship standings. Second in Class B is Asia Racing Team's Li Chao, who has finished second in each of the last three races, while the Singapore's Yuey Tan of Dorr McElrea Racing is enjoying a strong season and is currently third in the category. 
Opened earlier this year, the Inje Speedium International Circuit is located approximately 150km from Seoul and features significant elevation changes and several challenging corners. With the Porsche Carrera Cup Asia making its debut at Inje, the drivers will all be on a level playing field and the race will be on to see who can master the circuit first and ultimately stand atop the podium. 9
About Porsche Carrera Cup Asia
Now in its 11th season, the Porsche Carrera Cup Asia blasted off the starting grid in 2003 and has never looked back. Joining the family of hugely successful Porsche "one make" series, it is now firmly established as the Number One racing series in Asia.
The Porsche Carrera Cup Asia offers extremely exciting racing across the region and is truly international, with competitors from all over Asia as well as Europe and the Pacific. The field is made up of a combination of professional race drivers and ambitious and talented gentlemen drivers.