One-two-three secures World title for Volkswagen
Volkswagen Motorsport secured its first-ever clean sweep of an FIA World Rally Championship podium on Coates Hire Rally Australia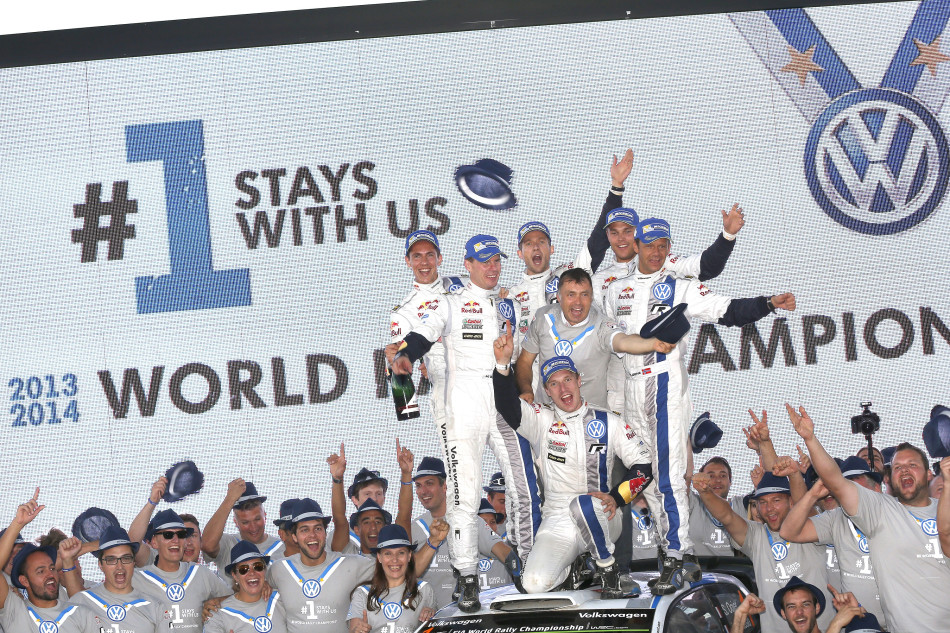 Sébastien Ogier and Julien Ingrassia claimed their sixth win of the season, beating team-mates Jari-Matti Latvala and Miikka Anttila by 6.8 seconds after just over 300 kilometres of competition. Locking out the podium for the team and the Polo R WRC, Andreas Mikkelsen and Ola Floene finished third. And, to round off the perfect weekend, Volkswagen Motorsport claimed the FIA World Rally Championship for Manufacturers.*
In the FIA World Rally Championship for Drivers, the Volkswagen drivers continue to battle for the crown, with Ogier, Latvala and Mikkelsen the only ones now mathematically able to clinch the title. While Volkswagen has secured the Manufacturers' Championship with three rounds remaining, Citroën, M-Sport and Hyundai all continue to battle for second position.
The final day of competition in Rally Australia took the crews over two identical loops of three stages covering 100.58 competitive kilometres, so it was no cruise to the finish. Ogier entered the final day in the lead but it was Latvala who set the pace in the first stage, pushing hard to overhaul his team-mate. The battling duo traded fastest times throughout the day but Latvala was simply unable to close the gap, but took some consolation in claiming the additional maximum points on the Power Stage. Mikkelsen had an uneventful drive to third today, such was the gap to Kris Meeke who incurred a penalty overnight for a large corner cut yesterday. He was docked one position in the overall classification, ruling out a battle with Mikkelsen today. He nevertheless finished fourth with a chasing Mikko Hirvonen just 9.6 seconds further adrift. Hayden Paddon finished first of the Hyundai i20 WRC drivers in sixth - his best result in a world rally car - with team-mate Thierry Neuville seventh. Elfyn Evans, Robert Kubica and Chris Atkinson rounded off the top 10 after Mads Østberg dropped 11 minutes with suspension damage.
The FIA World Rally Championship contenders now head back to Europe for Rallye de France Alsace (2-5 October). 
* Subject to the official publication of the results by the FIA
Rally Australia – Final Unofficial Results (subject to scrutineering)
| | | |
| --- | --- | --- |
| 1.   Sébastien Ogier/Julien Ingrassia | Volkswagen Polo R WRC | 2hr 53min 18.0sec |
| 2.   Jari-Matti Latvala/Miikka Anttila | Volkswagen Polo R WRC | 2hr 53min 24.8sec |
| 3.   Andreas Mikkelsen/Ola Floene | Volkswagen Polo R WRC | 2hr 54min 36.0sec |
| 4.   Kris Meeke/Paul Nagle | Citroën DS3 WRC | 2hr 55min 02.0sec |
| 5.   Mikko Hirvonen/Jarmo Lehtinen | Ford Fiesta RS WRC | 2hr 55min 11.6sec |
| 6.   Hayden Paddon/John Kennard | Hyundai i20 WRC | 2hr 56min 14.2sec |
| 7.   Thierry Neuville/Nicolas Gilsoul | Hyundai i20 WRC | 2hr 57min 46.2sec |
| 8.   Elfyn Evans/Daniel Barritt | Ford Fiesta RS WRC | 2hr 58min 28.0sec |
| 9.   Robert Kubica/Maciej Szczepaniak | Ford Fiesta RS WRC | 2hr 59min 57.8sec |
| 10. Chris Atkinson/Stephane Prévot | Hyundai i20 WRC | 3hr 02min 47.4sec |
FIA World Rally Championship for Drivers (after 10 of 13 rounds)
| | |
| --- | --- |
| Sébastien Ogier (FRA) | 214 points |
| Jari-Matti Latvala (FIN) | 164 points |
| Andreas Mikkelsen (NOR) | 125 points |
| Mikko Hirvonen (FIN) | 83 points |
| Thierry Neuville (BEL) | 79 points |
| Mads Østberg (NOR) | 74 points |
| Kris Meeke (GBR) | 67 points |
| Elfyn Evans (GBR) | 61 points |
| Martin Prokop (CZE) | 37 points |
| Henning Solberg (NOR) | 26 points |
| Juho Hänninen (FIN) | 20 points |
| Bryan Bouffier (FRA) | 18 points |
| Dani Sordo (ESP) | 18 points |
| Hayden Paddon (NZL) | 16 points |
| Robert Kubica (POL) | 14 points |
| Ott Tanak (EST) | 11 points |
| Benito Guerra (MEX) | 8 points |
| Chris Atkinson (AUS) | 7 points |
| Pontus Tidemand (SWE) | 6 points |
| Jaroslav Melicharek (SVK) | 4 points |
| Dennis Kuipers (NLD) | 4 points |
| Nasser Al-Attiyah (QAT) | 3 points |
| Lorenzo Bertelli (ITA) | 2 points |
| Matteo Gamba (ITA) | 2 points |
| Craig Breen (IRL) | 2 points |
| Yuriy Protasov (UKR) | 2 points |
| Jari Ketomaa (FIN) | 1 point |
| Karl Kruuda (EST) | 1 point |
| Khalid Al Qassimi (ARE) | 1 point |
FIA World Rally Championship for Manufacturers (after 10 of 13 rounds)
| | |
| --- | --- |
| Volkswagen Motorsport | 348 points |
| Citroën Total Abu Dhabi World Rally Team | 154 points |
| M-Sport World Rally Team | 146 points |
| Hyundai Motorsport | 141 points |
| Volkswagen Motorsport II | 109 points |
| Jipocar Czech National Team | 40 points |
| RK M-Sport World Rally Team | 25 points |
| Hyundai Motorsport N | 22 points |