Ogier signs off 2014 with win #8
Sébastien Ogier and Julien Ingrassia claimed their eighth win of the 2014 FIA World Rally Championship season on Wales Rally GB, Volkswagen Motorsport's 12th victory of the season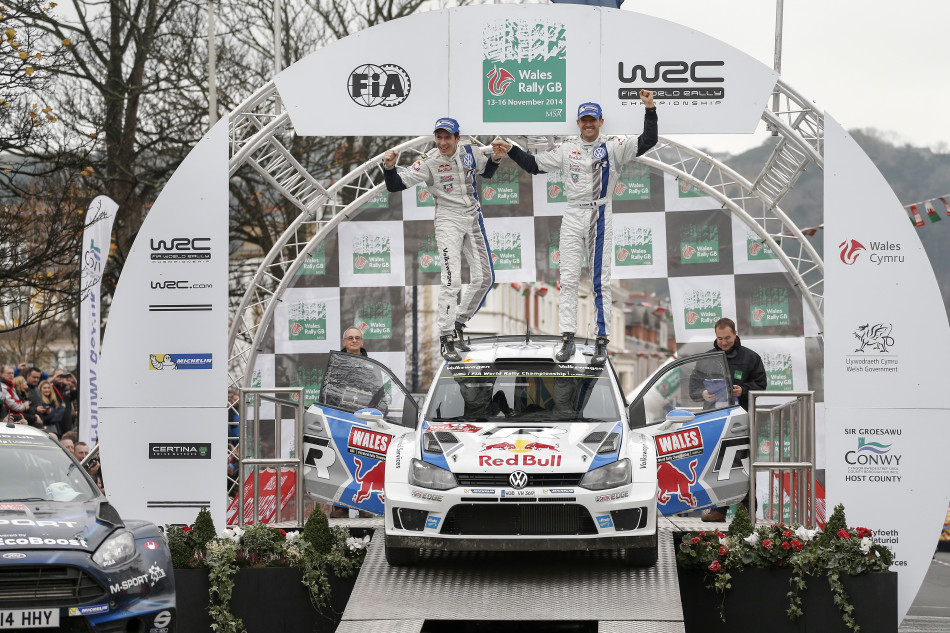 After their team-mates Jari-Matti Latvala and Miikka Anttila crashed yesterday, the duo were able to control the pace with a healthy advantage and go over the finish ramp with 37.6 seconds in hand to second-placed Mikko Hirvonen and Jarmo Lehtinen. The Citroën Total Abu Dhabi World Rally Team crew of Mads Østberg and Jonas Andersson climbed into third after problems struck their team-mates.
In the FIA World Rally Championship, Ogier, Ingrassia and Volkswagen Motorsport raise the trophies for the second consecutive year* with their team-mates Latvala and Anttila second in the Championship and Andreas Mikkelsen third. In the Championship for Co-drivers, Finland's Jarmo Lehtinen takes third position. Behind Volkswagen Motorsport, the Citroën Total Abu Dhabi World Rally Team claims an important second ahead of the M-Sport World Rally Team.
Today's route was by far the shortest and covered six stages and 46.12 competitive kilometres, closing with the Power Stage where Latvala, Thierry Neuville and Østberg claimed the additional points for setting the fastest times through this single live TV stage. This morning Ogier simply had to control the field and without winning a single stage, the Frenchman's advantage was reduced, but secure enough to rack up his eighth win of the season. Hirvonen and Kris Meeke were embroiled in a great battle for second position, but it all started to go wrong for Meeke in the first stage when he ran wide into a ditch, picked up a puncture and damaged a wheel. While the Northern Irishman was able to continue fighting he then lost nearly a minute in the penultimate stage with a continuation of his tyre problem. He dropped to fifth, behind Østberg - who had won the opening two stages this morning - and Thierry Neuville. And then, in the final stage, he lost out to a charging Elfyn Evans and ultimately finished sixth, but high enough to add points to Citroën's tally and ensure they secured second in the Championship. Ott Tanak took seventh ahead of Latvala, and Martin Prokop and Hayden Paddon rounded off the top 10. Leading retirements of the day included Andreas Mikkelsen, who went off the road, and Henning Solberg, who had to stop on a road section with a fuel leak.
In the FIA WRC 2 Championship, which went down to the wire on Wales Rally GB, Finland's Jari Ketomaa and Kaj Lindstrom won the category, but the title went to Nasser Al-Attiyah and Giovanni Bernacchini.* The FIA Junior WRC Championship category win was taken by Alastair Fisher and Gordon Noble in a Citroën DS3 R3.
The curtains may be drawn on the 2014 FIA World Rally Championship but the contenders will be back in action all too quickly, with the famous Rallye Monte-Carlo kicking off the 2015 season on 22 January.
Wales Rally GB – Final Unofficial Results (subject to scrutineering and anti-doping tests)
| | | |
| --- | --- | --- |
| 1.   Sébastien Ogier/Julien Ingrassia | Volkswagen Polo R WRC | 3hr 03 min 08.2sec |
| 2.   Mikko Hirvonen/Jarmo Lehtinen | Ford Fiesta RS WRC | 3hr 03 min 45.8sec |
| 3.   Mads Østberg/Jonas Andersson | Citroën DS3 WRC | 3hr 04 min 11.8sec |
| 4.   Thierry Neuville/Nicolas Gilsoul | Hyundai i20 WRC | 3hr 04 min 23.1sec |
| 5.   Elfyn Evans/Daniel Barritt | Ford Fiesta RS WRC | 3hr 04 min 32.5sec |
| 6.   Kris Meeke/Paul Nagle | Citroën DS3 WRC | 3hr 05 min 11.2sec |
| 7.   Ott Tanak/Raigo Molder | Ford Fiesta RS WRC | 3hr 05 min 37.9sec |
| 8.   Jari-Matti Latvala/Miikka Anttila | Volkswagen Polo R WRC | 3hr 05 min 55.7sec |
| 9.   Martin Prokop/Jan Tomanek | Ford Fiesta RS WRC | 3hr 06 min 51.5sec |
| 10. Hayden Paddon/John Kennard | Hyundai i20 WRC | 3hr 06 min 56.7sec |
FIA World Rally Championship for Drivers (after 13 of 13 rounds)
| | |
| --- | --- |
| Sébastien Ogier (FRA) | 267 points |
| Jari-Matti Latvala (FIN) | 218 points |
| Andreas Mikkelsen (NOR) | 150 points |
| Mikko Hirvonen (FIN) | 126 points |
| Mads Østberg (NOR) | 108 points |
| Thierry Neuville (BEL) | 105 points |
| Kris Meeke (GBR) | 92 points |
| Elfyn Evans (GBR) | 81 points |
| Martin Prokop (CZE) | 44 points |
| Dani Sordo (ESP) | 40 points |
| Henning Solberg (NOR) | 26 points |
| Bryan Bouffier (FRA) | 20 points |
| Juho Hänninen (FIN) | 20 points |
| Hayden Paddon (NZL) | 19 points |
| Ott Tanak (EST) | 17 points |
| Robert Kubica (POL) | 14 points |
| Benito Guerra (MEX) | 8 points |
| Chris Atkinson (AUS) | 7 points |
| Pontus Tidemand (SWE) | 6 points |
| Dennis Kuipers (NLD) | 4 points |
| Jaroslav Melicharek (SVK) | 4 points |
| Nasser Al-Attiyah (QAT) | 4 points |
| Lorenzo Bertelli (ITA) | 2 points |
| Matteo Gamba (ITA) | 2 points |
| Craig Breen (IRL) | 2 points |
| Yuriy Protasov (UKR) | 2 points |
| Jari Ketomaa (FIN) | 1 point |
| Karl Kruuda (EST) | 1 point |
| Khalid Al Qassimi (ARE) | 1 point |
FIA World Rally Championship for Manufacturers (after 13 of 13 rounds)
| | |
| --- | --- |
| Volkswagen Motorsport | 447 points |
| Citroën Total Abu Dhabi World Rally Team | 210 points |
| M-Sport World Rally Team | 208 points |
| Hyundai Motorsport | 187 points |
| Volkswagen Motorsport II | 133 points |
| Jipocar Czech National Team | 49 points |
| Hyundai Motorsport N | 28 points |
| RK M-Sport World Rally Team | 26 points |
* Subject to the official publication of the results by the FIA