A NEW STEP FORWARD FOR THE FIA SAFE & AFFORDABLE HELMET PROGRAMME IN NEPAL
On 24 September, the FIA Safe & Affordable Helmet Programme took a new step forward with a distribution of UN-standard helmets in Kathmandu, Nepal organised by the FIA, its Member Club Nepal Automobiles' Association (NASA), the World Bank and the Ministry of Physical Infrastructure and Transport of Nepal (MoPIT).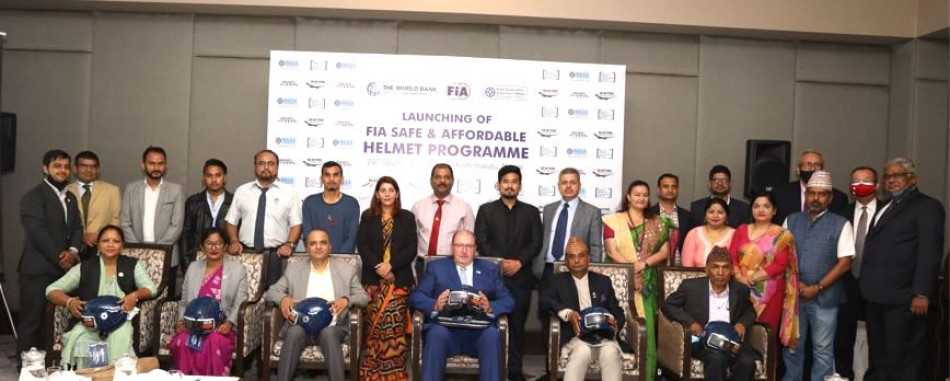 More than 1.35 million people die in road crashes every year. South Asia, with only 10% of the global vehicle fleet, accounts for more than a quarter of all road deaths. In Nepal, around 80% of vehicles are two wheelers and more than a third of all road fatalities are motorcyclists. Nepal lacks adequate regulatory standards for protective devices such as helmets and the helmet market, driven by affordability, mainly comprises of imports from India and China, which are largely uncertified.
In order to advocate for and raise awareness on the importance for Nepal to introduce higher safety standards for helmets, a distribution of helmets was organised in Kathmandu: representatives from the local government were given a helmet which is UN certified, affordable and adapted to local weather conditions.
Speakers included MoPIT Secretary Rabindra Nath Shrestha, World Bank Vice President for South Asia Hartwig Schafer, Member of the House of Representatives and Coordinator for the National Alliance for Safe and Sustainable Mobility Nepal Hon. Yogesh Bhattarai, Chief of Traffic Police Janak Bhattarai, NASA Nepal Chief Advisor Mr. Govinda Prasad Bhattarai, Member of the Development and Technology Committee and of the House of Representative Hon. Rangamati Shahi and NASA Foundation Nepal Chair Ms. Bhagabati Sedhai as the Moderator.
The three main goals of this event were to influence policy makers in Nepal on formulation and implementation of national-standard helmets meeting UN-standard regulations, to raise awareness on the importance of safe helmet use among two-wheeler riders and to encourage local manufacturers to produce or import high quality-standard helmets.
A first batch of 300 helmets will be distributed by NASA in the next months to local communities in need, as part of the FIA Road Safety Grants Programme, supported by the FIA Foundation.
FIA President Jean Todt, who also serves as United Nations Secretary-General's Special Envoy for Road Safety and visited Nepal in 2019, recorded a video message for that occasion: "Thanks to its expertise in motor sport safety, our Federation has contributed to the design a UN homologated helmet, suitable for humid climates and high temperatures, and available at a price of approximately 20 USD. Our goal is to make it available for the many, and for that, we need support from policy maker and the commitment of all the stakeholders. I am convinced that this programme has the power to make a change in our battle for safer roads. Let us join forces. Together, we can make a difference."