New FIA and Pirelli four-year agreement in support of the FIA Action for Road Safety campaign
The FIA and Pirelli have today signed a new four-year agreement in support of the FIA's Action for Road Safety campaign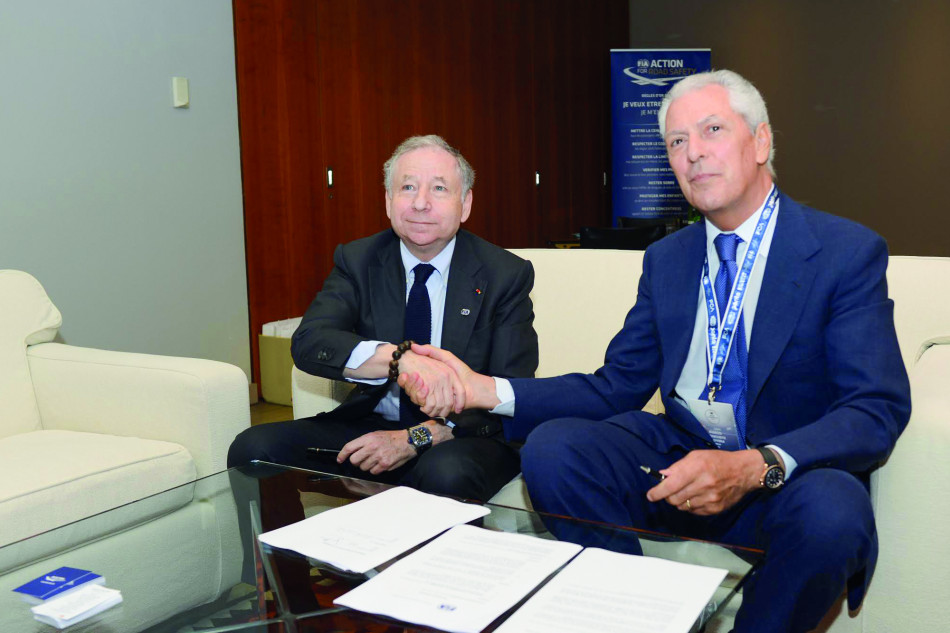 One of the primary goals of the campaign, launched in support of the UN Decade of Action for Road Safety 2011-2020, is to educate and better inform road users on the importance of respecting the rules of the road. According to the World Health Organisation, road crashes are today the number one killer worldwide of people aged between 15 and 29.
As a Global Partner of the campaign, Pirelli will promote the FIA's "10 Golden Rules" for road safety through all of its networks. Pirelli will also organise training programmes, as well as projects to raise awareness on safe driving, in collaboration with a selection of FIA Member Clubs.
During this week's 2016 FIA Sport Conference in Turin, Pirelli CEO Marco Tronchetti Provera said: "Safety has always been one of Pirelli's primary objectives. As well as being the maximum expression of high technology and performance, guaranteeing total driving pleasure, our tyres constantly strive to achieve the highest levels of safety, both for people and the environment."
FIA President Jean Todt said: "I am delighted that Pirelli have agreed to support the FIA Action for Road Safety campaign. Working together with our member clubs, this partnership can help spread the road safety message and the importance of respecting other road users to an even wider audience".
The existing partnership between the FIA and Pirelli relating to the FIA Mobility Conferences and FIA Sport Conferences has also been extended.
---
FIA et Pirelli signent un accord de partenariat sur quatre ans en soutien à la campagne FIA Action for Road Safety
La FIA et Pirelli ont signé ce jour un accord de partenariat sur quatre ans destiné à promouvoir la campagne FIA Action for Road Safety.
L'un des principaux objectifs de cette campagne, lancée en soutien à la Décennie d'action de l'ONU pour la sécurité routière 2011-2020, est d'éduquer et de mieux informer les usagers de la route sur l'importance du respect des règles de conduite. Selon l'Organisation mondiale de la santé, les accidents de la route sont aujourd'hui la première cause de mortalité dans le monde chez les jeunes de 15 à 29 ans.
En tant que partenaire mondial de la campagne, Pirelli assurera la promotion des "10 Règles d'Or" de la FIA sur tous ses réseaux. Le groupe organisera également des programmes de formation, ainsi que des projets de sensibilisation à une conduite sûre, en collaboration avec certains clubs de la FIA.
Dans le cadre de la Conférence Sport 2016 de la FIA organisée cette semaine à Turin, Marco Tronchetti Provera, PDG de Pirelli, a déclaré : "La sécurité a toujours été au cœur des objectifs de Pirelli. Synonymes de haute technologie et de performance, pour un plaisir de conduite total, nos pneus sont conçus pour garantir les plus hauts niveaux de sécurité, qu'il s'agisse des usagers ou de l'environnement."
Le Président de la FIA, Jean Todt, a déclaré :"Je suis très heureux que Pirelli ait accepté de soutenir la campagne FIA Action for Road Safety. Avec l'appui de nos clubs membres, ce partenariat contribuera à diffuser auprès d'un public encore plus large le message en faveur de la sécurité routière et du respect des autres usagers de la route."
Le partenariat déjà en place entre la FIA et Pirelli pour ce qui est des Conférences Mobilité et Sport de la FIA a également été étendu.