Motor sport champions of 2016 honoured in Vienna
The winners of this year's FIA Championships have been honoured in a glittering 2016 FIA Prize Giving ceremony at the stunning Hofburg Palace in Vienna, Austria.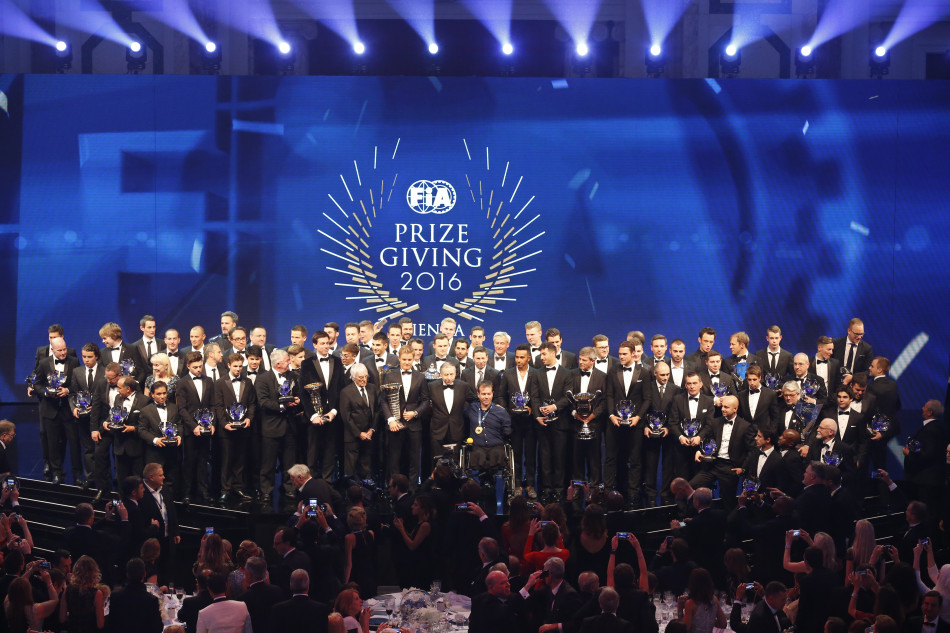 Highlight of the annual gala show was the presentation of the FIA Formula One World Drivers' Championship Trophy to Nico Rosberg.
An already emotional moment resonated even more in light of the German's earlier announcement that, having achieved his boyhood dream of winning the title, he is steeping back from F1 with immediate effect.
Rosberg's first title win came at the end of a titanic season-long battle with Mercedes team-mate and defending champion Lewis Hamilton. It also arrived 34 years after Rosberg's father, Keke, sealed his own world championship win.
After 20 races and with nine wins each for Rosberg and Hamilton the fight went down to the final round in Abu Dhabi last weekend. And at the end of a nail-biting duel, Rosberg's second place behind his great rival was enough for him to take the crown by just five points. The duo's 19 wins and 20 poles set new benchmarks in the sport for the Mercedes AMG Petronas F1 Team, which took it's third Constructors crown in a row.
"This year was extremely tough because I put absolutely everything into it. I pushed like crazy in all directions," said Rosberg of his triumph at the end of Formula One's longest ever 21-race season.
"I've achieved this childhood dream now and I'm not willing to do that sort of commitment again," he added. "I've decided to follow my heart and my heart has told me to stop and go on to other things. It's been wonderful but it just feels right."
In rallying, Sébastien Ogier's fourth consecutive FIA World Rally Championship title ties the Frenchman at joint second in the list of multiple title winners alongside legendary flying Finns Juha Kankkunen and Tommi Makinen.
In partnership with co-driver Julien Ingrassia, Ogier took six wins and five podium finishes from 13 rounds and sealed the title in Spain with two events in hand.
For the second year in a row, the winning crew of the 2016 FIA World Endurance Championship are all first-time World Champions, and for the second year in a row for Porsche.
Following the triumph of Mark Webber, Brendon Hartley, and Timo Bernhard last year, this year's crown went to the crew of Neel Jani, Romain Dumas and Marc Lieb.
Over the course of the nine-race campaign consistency was the key for the drivers of the No. 2 Porsche 919 Hybrid. Alongside two wins and a second place the trio scored four fourth-place finishes to amass a total of 160 points, 12.5 clear of nearest rivals Audi Sport Team Joest.
In the FIA World Touring Car Championship Argentina's José María López took an emphatic third title in a row, winning eight times to also hand Citroën its third consecutive manufacturers' trophy.
FIA World Rallycross, however, crowned a new champion in Mattias Ekström. The two-time DTM champion took four wins on the way to dethroning Petter Solberg, winner of the first two WRX campaigns.
After missing out on top spot in the inaugural FIA Formula E Championship by a single point a year ago Switzerland Sébastien Buemi made sure of the 2015-'16 title in a breathless final weekend at the season-ending London e-Prix, beating Lucas Di Grassi by just two points.
A number of special FIA awards were handed out on the night. For the second year in a row Max Verstappen won both the FIA Personality of the Year and the FIA Action of the Year Awards, the latter being presented for the teenager's stunning overtake of Nico Rosberg in the wet at this year's Brazilian Grand Prix. Eighteen-year-old FIA World Rallycross Championship star Kevin Hansen won the 2016 Rookie of the Year Award having won this year's European Rallycross Supercar Championship.
In a first for the FIA Prize Giving, a new President's Award was handed out by FIA President Jean Todt. The inaugural recipient was French racer Frédéric Sausset. Occupying Garage 56, the slot on the grid reserved for innovative vehicles, the quadruple amputee competed in this year's Le Mans 24 Hour race, driving a specially adapted LMP2 class car.
FIA President said: "Frédéric Sausset has proved that with absolute determination and passion one can attain unbelievable results. His participation in the Le Mans 24 Hours proves that any barrier, any obstacle can be overcome if the will to do so is strong enough."
The stars of the future were also honoured in Vienna, with champions from across the FIA racing pyramid being presented with their trophies.
Canada's Lance Stroll, who will in 2017 race for the Williams team in Formula One, took an emphatic title win in the FIA Formula 3 European Championship, taking 14 wins, including seven from the final nine races.
In Formula 4, the Federation's bridge between the worlds of karting and single-seater racing, the winners from seven championships (Britain, China, South America, Japan, North East Europe, Spain and the United States) were awarded their trophies.
CIK-FIA World Karting Champions Pedro Hiltbrand (OK class), Victor Martins (OK Junior) and Paolo De Conto (KZ) were also awarded.
Awards were handed out across the FIA's sporting discipline, including to female champion Anita Mäkelä in the Top Fuel category of the FIA European Drag Racing Championship, to Nasser Al-Attiyah and Mathieu Baumel, winners of the FIA World Cup for Cross Country Rallies and the FIA Middle East Rally Championship, as well as Esapekka Lappi and Jane Ferm in WRC 2 and Simone Tempesti and Giovanni Bernacchini in WRC 3.
Media images can be found at: www.flickr.com/photos/fia-official/
Les champions du sport automobile 2016 récompensés à Vienne
La FIA a rendu hommage aux vainqueurs des Championnats de la FIA 2016 à l'occasion d'une magnifique cérémonie de Remise des Prix organisée dans le somptueux Palais de Hofburg à Vienne, Autriche.
L'un des temps forts du gala annuel fut la remise du trophée de Champion du Monde de Formule Un de la FIA à Nico Rosberg.
L'émotion fut d'autant plus intense que le pilote allemand venait d'annoncer dans la journée sa décision de se retirer de la F1 après avoir réalisé son rêve de toujours.
Cette première consécration de Rosberg est venue conclure toute une saison d'une bataille titanesque contre son coéquipier Mercedes et tenant du titre Lewis Hamilton. Elle arrive également 34 ans après le triomphe de son père, Keke, au même championnat.
Après 20 courses et neuf victoires chacun, il a fallu attendre la dernière manche à Abou Dhabi le week-end dernier pour départager Rosberg et Hamilton. Au terme d'un duel acharné, la deuxième place décrochée par Rosberg derrière son grand rival lui a suffi pour emporter le titre avec seulement cinq points d'avance. Les 19 victoires et les 20 pole positions du duo feront référence dans la discipline pour l'équipe Mercedes AMG Petronas F1, qui repart pour la troisième fois d'affilée avec le titre Constructeurs.
"Cette année a été extrêmement dure car j'ai absolument tout donné, sur tous les plans", a déclaré Rosberg à l'issue de la plus longue saison de l'histoire de la Formule Un puisqu'elle comptait 21 Grands Prix.
"J'ai réalisé mon rêve d'enfant, je ne veux plus revivre ce genre d'engagement", a-t-il ajouté. J'ai décidé de suivre mon cœur et mon cœur me dit d'arrêter et de passer à autre chose. C'était fantastique mais c'est bien comme ça."
En rallye, la quatrième victoire consécutive de Sébastien Ogier au Championnat du Monde des Rallyes de la FIA hisse le Français en deuxième position sur la liste des tenants de titres multiples aux côtés des Finlandais légendaires Juha Kannkunen et Tommi Makinen.
En tandem avec son copilote Julien Ingrassia, Ogier a remporté six victoires et cinq podiums sur 13 manches et a scellé le titre en Espagne à deux épreuves de la fin.
Pour la deuxième année consécutive, les membres de l'équipage vainqueur du Championnat du Monde d'Endurance de la FIA 2016 sont tous Champions du Monde pour la première fois, et cette année encore c'est Porsche qui l'emporte.
Après le triomphe de Mark Webber, Brendon Hartley et Timo Bernhard en 2015, c'est donc au tour de l'équipage composé de Neel Jani, Romain Dumas et Marc Lieb de décrocher le titre.
Tout au long de ces neuf courses, les pilotes de la Porsche 919 Hybride n° 2 se sont démarqués par leur régularité. Outre deux victoires et une deuxième place, le trio a fini quatre fois quatrième pour engranger un total de 160 points, soit 12,5 points loin devant leurs plus proches rivaux d'Audi Sport Team Joest.
Dans le Championnat du Monde des Voitures de Tourisme de la FIA, l'Argentin José María López a décroché un troisième titre d'affilée, avec huit victoires offrant également à Citroën son troisième trophée Constructeurs consécutif.
Le World Rallycross de la FIA a couronné un nouveau champion en la personne de Mattias Ekström. Le double champion DTM a remporté quatre victoires, détrônant Petter Solberg, vainqueur des deux premières manches WRX.  
Après avoir manqué d'un seul point la première place au Championnat de Formule E inaugural de la FIA il y a un an, le Suisse Sébastien Buemi a gagné la saison 2015-16 lors d'une dernière course époustouflante à l'e-Prix de Londres, battant Lucas Di Grassi de seulement deux points.  
Un certain nombre de récompenses spéciales de la FIA ont également été distribuées au cours de la soirée. Pour la seconde année consécutive, le jeune Max Verstappen s'est vu attribuer les prix "FIA Personality of the Year" et "FIA Action of the Year", ce dernier pour avoir dépassé de manière spectaculaire Nico Rosberg sous la pluie lors du Grand Prix du Brésil. A 18 ans seulement, la star du Championnat du Monde de Rallycross de la FIA Kevin Hansen a obtenu le Prix "2016 Rookie of the Year" en remportant le Championnat d'Europe de Rallycross, catégorie Supercar.
Inédit, un nouveau "Prix du Président" a été remis par le Président de la FIA Jean Todt à l'occasion du Gala. Le coureur français Frédéric Sausset en a été le premier récipiendaire. Occupant le Garage 56, la place sur la grille réservée aux véhicules innovants, le quadri-amputé a disputé cette année la course des 24 Heures du Mans à bord d'une voiture de classe LMP2 spécialement adaptée.
Le Président de la FIA a déclaré : "Frédéric Sausset a démontré qu'avec détermination et passion on peut obtenir des résultats incroyables. Sa participation aux 24 Heures du Mans prouve que barrières et obstacles peuvent être surmontés si la volonté d'y parvenir est suffisamment forte."
Les stars du futur ont également été honorées à Vienne, des champions issus de la pyramide du sport automobile de la FIA s'étant vu décerner leurs trophées.
Le Canadien Lance Stroll, qui en 2017 courra pour l'équipe Williams en Formule Un, s'est brillamment assuré le titre dans le Championnat d'Europe de Formule 3, avec 14 victoires, dont sept lors des neuf dernières courses.
En Formule 4, passerelle de la Fédération entre le Karting et la monoplace, les vainqueurs de sept championnats (Grande-Bretagne, Chine, Amérique du Sud, Japon, Europe du Nord-Est, Espagne et Etats-Unis) sont venus retirer leurs trophées.
Des trophées ont également été remis aux Champions du Monde de Karting de la CIK-FIA Pedro Hiltbrand (classe OK), Victor Martins (OK Junior) et Paolo De Conto (KZ).
D'autres disciplines étaient à l'honneur, des prix ayant été attribués à la championne Anita Mäkelä dans la catégorie Top Fuel du Championnat d'Europe des Dragsters de la FIA, à Nasser Al-Attiyah et Mathieu Baumel, vainqueurs de la Coupe du Monde des Rallyes Tout-Terrain de la FIA et du Championnat des Rallyes du Moyen-Orient de la FIA ainsi qu'à Esapekka Lappi et Jane Ferm en WRC 2 et Simone Tempesti et Giovanni Bernacchini en WRC 3.
Les photos peuvent être téléchargées à l'adresse : www.flickr.com/photos/fia-official/